Elizabeth T. Bangs
Assistant Dean for Student Affairs
Dean Bangs is the primary advocate for law students within the School of Law and the university. She counsels students on academic, personal and professional matters. Together with the members of the staff, she coordinates and supports a range of student services, programming and special events. Dean Bangs graduated with honors from Harvard College and Harvard Law School. Prior to returning to academia, she was a judicial law clerk on the Ninth Circuit and in the Central District of California and a trial attorney in the United States Department of Justice.
Prior to coming to The University of Texas, she was the director of legal research and writing at Harvard Law School and the University of Oklahoma College of Law. She has also taught civil procedure and disability law and has experience in academic support and bar preparation.
Dean Bangs lives in Austin with her husband, who teaches religious studies at The University of Texas; their two children, Zack (born in 2011) and Charlotte ("Charlie," born in 2013); and their newest addition, Lab-Shepherd mix Molly. Dean Bangs spends Saturday mornings watching preschoolers play soccer, knows "Frozen" by heart and is always searching for new Austin restaurants that are both kid and adult friendly. She loves to bake. Her door is always open to students.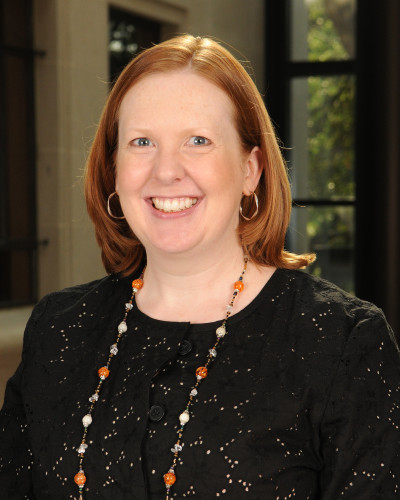 Send Email
Phone: 512-232-1313