Freshlaw Central
Congratulations on your admission! We're excited to have you become part of the Texas Law tradition and Longhorn family.
Our goal is to make your first year of law school a fantastic experience. You will be learning a new way to think. You will be taking your first steps toward a rewarding career. You will be getting to know the pleasures of Austin (if you haven't experienced them already!). And you will be joining a community in which everyone is passionate about everyone else's success.
It is an exciting time. The process starts with your transition to campus and to life as a first-year law student, or "freshlaw." The Office of Admissions, and the Student Affairs Office, are here to help make that transition smooth and successful for you. Below and to the right are links to help you get started.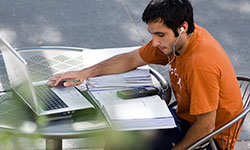 Getting Started
From signing your letter of intent, to figuring out fees, applying for scholarships, and finding housing – we have you covered. Learn more about the things you can check off your to-do list before arriving on campus.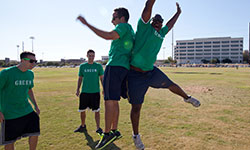 Getting Involved
At Texas Law, our students work hard. With programs such as the renowned Society Program and our 17 nationally recognized clinics, students experience a holistic approach to legal education and practice.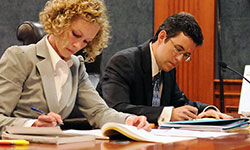 Working Toward a Career
As an incoming Texas Freshlaw, your legal career has already begun. All of your class work, activities, community service and work experience that you have and will acquire will shape your career.