Endowment for Excellence Recognition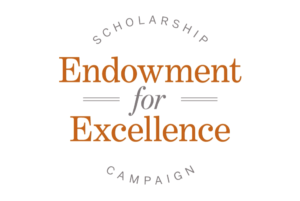 The Endowment for Excellence campaign was launched in 2014 with the goal of dramatically increasing the amount of funding available for student scholarships. These scholarships make it possible for the school to attract the most talented applicants and ensure that Texas Law remains the provider of our finest lawyers, judges, political leaders and public servants for decades to come.
The campaign has been an extraordinary success, doubling Texas Law's corpus of endowed scholarship funds from $40 million to $80 million.
Below is a list of the Endowed Scholarships in Law created through the Endowment for Excellence campaign. Words cannot adequately express our gratitude to the donors who made these scholarships possible. Their contributions will benefit our students for many generations.
Endowed Scholarships in Law
Lela and Robin Gibbs
Long Scholars
Massey Scholars
Wayne Reaud Public Interest Scholars
Marlee Baker
Jack and Mary Balagia
John L. King and David M. King
Neal and Nancy Manne
Vaughan Family
Mark S. Berg Family
Ruth K. Blair
Susan L. Blount
Robert J. David
Carolyn and Platt Davis
Joe and Susie Dilg
Eldredge Family
Michelle Parsons Goolsby and Bryan L. Goolsby
Thomas J. Gotliboski, Jr.
Hobby and Beckworth Families
Edward and Amy Knight
Ann Lents and David Heaney
Madison Charitable Foundation, Inc.
McKool Smith
Parents Leadership Association
Henry A. Sauer
David R. Stevenson
Vinson & Elkins Partners
Frank T. Abraham
Barry Abrams and Robert Scott
Morris Atlas
Nancy and Scott Atlas
David J. and Judith L. Beck
Martha and Gary Beckworth
Marvin Blum and Talmage Boston
Thomas Relyea Boone
Broillet Family
Fred and Leatta Burns
Ona Burns
Judge Ron and Joanna Clark
Robert J. David
Gwendolyn Dawson and Ba Nguyen
Frank Denius
Frank Russell Douglass
Wayne B. Duddlesten, Sr.
John Eugene Fisher
Antonio R. and Martha S. Gonzalez
Charles "Stormy" Greef
Robert S. and Eve L. Harrell
Richard Anthony Hawxhurst
James and Paulette Hime
Gary C. and Linda W. Johnson
Franklin Jones, Jr.
Vicki and Harris E. Kerr
Patti and Bill Kramer
Henry B. Levi
Marc L. Luzzatto
Jim Lyons
Stevens F. Mafrige
Betty and John H. Martin Family
David R. McAtee
Thomas M. Melsheimer
Metts Family
Milbank LLP
Stanley Eugene Neely
John and Florence Newman Foundation
Dudley and Judy White Oldham
Cynthia and Edward Pfiester
Mike Rosenwasser
Max and John Roy
George and Karan Ruhlen
Vernon and Marcia Sevier
Reagan W. Silber
Molly Stephens and Emily Stephens
David and Kimberly Sterling
Karl and Ann Barnett Stern
David F. Taylor
Wallace Capital Management
James W. Wilson
Wombwell Family
George and Pamela Ackert
Linda and Max Addison
Ruth and John Agather and The Kelleher Foundation
Richard Aguirre
Professor Alexandra Wilson Albright
The Honorable Leonel Alejandro
Art Almquist
Bolivar C. Andrews
Atlas, Hall & Rodriguez, LLP
Marcia Backus and Mike Hood
Baehl Family
Vanessa P. Bailey
Rex G. Baker III, Rex G. Baker IV, and Catherine Baker Ellis
Mary Margaret Bearden
John Beckworth
Jerry and Mary Bell
Seth R. Belzley
Brent Benoit and Bradley Benoit
James Milton Black
Jane and Doug Bland Family
Robert L. Blumenthal
Gloria K. Bradford
Jeffrey O. Bramlett
Richard and Penny Brann
John Samuel Broude
J. E. "Buster" Brown
John Browning and Mark Kopidlansky
Linda B. and Scott G. Burdine
Michael and Claudia Burnett
The Honorable George P. and Amanda Bush
Joseph Callier and Mark Collmer
Larry A. Campagna
Mary Jo and Ramon M. Cantu
Katy and Jeff Civins
Clark Family
Coats-Fallek Family
Ann and Tres Cochran
Cogan Family
Cohan Family
Nell Frances Connally
Emedes and Luisa Contreras
Mike and Fran Cook
Thomas D. Cordell
Nina Cortell
Roger and Rhonda Cowie
Kelty E. and Rogers L. Crain
Joel and Tammy Crouch
Paula Frazer Crowe
Kenneth S. Culotta
Wendy and Alistair Dawson
Elizabeth Marie De Leon
Hector De Leon
William Deffebach
Dick and Janie DeGuerin
Edwin R. DeYoung
Jeremy R. Dorsett
Stephen H. Douglas
Mark and Margaret Dundon
Billy Coe Dyer Family
East Texas Leadership
Bill and Cris Emmons
Laura Faibish
Fallek Family
Ward Farnsworth
Jan Woodward Fox
David C. Frederick
Carmela and Kelly Frels
Lynn and Gil Friedlander
Keith Fullenweider
Allison Fulton and Tatman Savio
Leroy and Myriam Gaffney
Mike and Jodie Gallagher
Harry and Antje Gee
Cheryl and R. James George
David and Heidi Gerger and Tim and Kristina Cleveland
John M. Gillis, Sr.
Michael and Carol Goldberg
Linda L. Golden and Patrick L. Brockett
Dewey Jude Gonsoulin, Sr.
Gino and Mary C. Gonzalez
Maine S. Goodfellow and Kate E. Hartfield
Salil Gopinath and Rupa Salil
Robert C. Grable
Professor Lino Graglia
Hagans Family
Christopher and Anne Hamilton
Jack and Susan Hawkins
Brad and Angela Hawley
Hidalgo County Women's Judiciary
William Walker Hobby
David H. Hockema
Richard Huff Hodges
Jennifer Bruch Hogan
James Holmes
Barry and Linda Hunsaker
Kathleen E. Irvin
Jackson Lewis P.C.
Brandon and June Janes
Deborah Y. and Frank G. Jones
Richard Page Keeton
Michael B. Kentor and Amanda M. Dealey
Mr. and Mrs. Robert H. Kern, Jr.
William M. Kerr, Jr.
Desirée K. Killen
Albert B. Kimball, Jr.
Mark L. Kincaid
Ronald Kirk
David Kitner Family
Rodney C. Koenig
Elizabeth Mata Kroger and Bill Kroger
Jeffrey S. Kuhn
Jim and Sandy Langdon
Allyson and Hays Lindsley Family
Kristine Karla Ramming Linville
Jeff B. and Katherine B. Love Foundation
Lance and Kim Lubel
Lucksinger Family
Chris Luna
Odette and Bob Mace
Joel H. Mack
Ross D. Margraves, Jr. and John M. Nolan
Henry and Jean May
Demetrius Glenn McDaniel
Rebecca Edgar Melton and Jeffrey L. Melton
Charles R. and Kimiko Meyers
Brian and Colleen Miller
Richard G. Miller Memorial Foundation
John Moody
Morgan and Brad Moody
Jane and Keith Morgan
Dottie M. and Lonny D. Morrison
Jennifer and Jon Mosle
William J. Mounce
Franci Neely
Larry and Jenny Nettles
Link Newcomb and Kurt Berney
David R. Noteware and David F. Noteware
Patti and Curtis Ohlendorf
Dina S. and James J. Ormiston
Joan and Terry Oxford
Linda S. Paine
Carrin F. Patman and James V. Derrick, Jr.
J. Hoke Peacock II
Robert J. Peroni
Michael J. Piuze
Harry and Margaret Potter
Charles D. Powell
James M. and Carol G. Prince
G. Dwayne Pruitt and Carol Crawford Pruitt
Carmen and Robert Puente
Quist Family
Shawn and Dina Rabin
Raffkind Family
Ratiu Family
Gay and Shannon Ratliff
Alicia and Shawn Raymond
Susan and Barrett Reasoner
Reynolds Frizzell LLP
Jody Richardson
Cary and Kenneth Roberts
Gregory Scott Roden
Carlos Rodriquez and Donato Ramos, Jr.
Glen A. Rosenbaum
Brent and Betty Rosenthal
Sue D. Rosenthal
Scott E. Rozzell
Steven S. Runner
Maidie Ryan
Sabre and Sarah Safi
Travis and Sandy Sales
Danie A. and Alejandra Q. Sanchez
Lorraine M. and Joseph C. Sarles
Larry Schoenbrun
Lionel and Marsha Schooler
Brad and Denise Seidel
Joel and Margaret Shannon
Eden and Gregg Sholeen
Sidley Austin LLP
Reagan W. Simpson
Stephanie and Todd Slobin
Frederic and Rhoda Spindel
Broadus A. Spivey
Wendy and Marc Stanley
Charles L. Stidham
W. Matthew Strock
Stephen L. Tatum Sr. and Stephen L. Tatum Jr.
1977-1978 Teaching Quizmasters
Michael J. and Elizabeth F. Tomsu
Robert Wayne Turner
Paul J. Van Osselaer and W. Jewel Arrington
Carlos A. Villarreal
William R. Volk
Steve and Jenger Waters
Bill Watkins
W. Thomas Weir
Professor Guy Wellborn
Professor Jay L. Westbrook
Robert M. Weylandt
H. Philip Whitworth, Jr.
Callie Williams
Wright, Close & Barger
David E. and Sarah Caton Wynne
Judge Lee Yeakel and Anne Yeakel