QR Codes: What Is It and How To Download a QR Reader
A QR Code, a.k.a. Quick Response Code, is a type of matrix barcode that when scanned will send users to additional content such as a mobile-friendly website, microsite, comment card, streaming video, downloadable contact information, and more. You may have seen QR Codes in magazines, stores, and restaurants, that when scanned will take you to a newsletter sign-up page, coupons, marketing sites, and more. QR Code content can almost be delivered in any way imaginable.
The CSO is using QR Codes to direct you to either UT Law Symplicity or Eventbrite to RSVP for an event; to videos or quick comment cards about CSO programs; or to specific websites of interest to you. The sample below will lead you to the UT Law Symplicity student login page.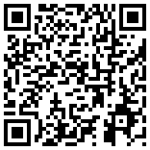 We encourage you to download a QR Code reader on your smartphone. You may do so by going to the iPhone App store, Andriod Marketplace, or any other "app" store available for your phone's brand.  If you like a shortcut, send a text to 44040 with the word 'scan' in the message.  Austin-based 44doors will reply to your text with a link to a QR Code reader for your type of phone.