Home Safe Home
Each semester, University of Texas School of Law students take on some of the most emotionally charged and complex cases in the judicial system. The stories of domestic cruelty are often appalling—shocking violence, sexual abuse, and even fear of imminent death. The outcomes aren't always perfect. Yet, for victims of domestic violence, these students are making a difference. The Clinic recently celebrated its Tenth Anniversary with a conference, "Progress in Using Law to Battle Domestic Violence." The two-day conference highlighted Clinic alumni and students, and their ongoing efforts to assist clients affected by abusive relationships.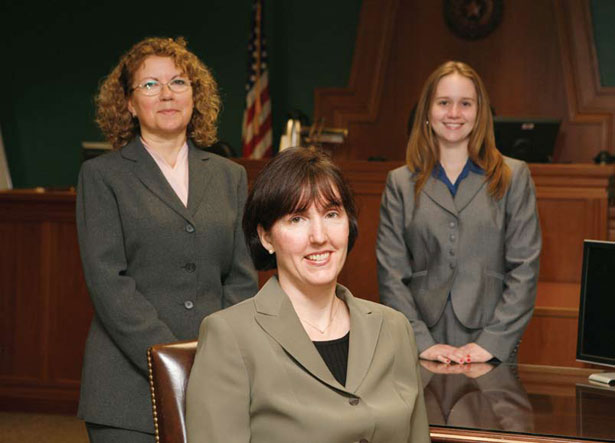 Just over ten years ago, two remarkable women joined forces to create something new. Nationally known domestic abuse advocate Sarah Buel, and Jeana Lungwitz, the former Legal Services Director for what was then called the Woman's Advocacy Project, launched the Domestic Violence Clinic at the University of Texas School of Law in 1997.
When clients come to the Texas Law Domestic Violence Clinic, they often have no money, no resources, and nowhere else to turn. Beaten physically and emotionally, many victims have tried to leave abusive partners more than once. The Clinic offers not just legal help, but hope for a new life. Students step in to try to meet legal and other needs. The Clinic has a two-fold purpose: serving victims of domestic violence and giving students hands-on, multi-faceted legal experience.
A Tremendous Need
"We knew that there was a tremendous need for civil legal representation for domestic violence victims here," said Buel. "When we talked to judges and lawyers in the community as well as Legal Aid, they identified that as their number one need. At that time, the vast majority of lawyers simply did not know how to adequately represent abuse victims; they hadn't been trained or didn't understand comprehensive, ongoing safety planning."
Today, thanks largely to the efforts of Lungwitz, Buel, and a cadre of "very enthusiastic students"—160 have participated in the Clinic since its inception—the Clinic enjoys widespread support among community service organizations, law enforcement, and other specialty groups. They have made great strides, but Buel and Lungwitz both know that there are many who still need help.
Bronwyn Blake, '05, is now a senior attorney with the Texas Advocacy Project and has become a vocal advocate for teens, spearheading a statewide program to prevent and protect against dating violence. She became interested in family law and youth rights after taking Buel's Domestic Violence and the Law class, and then participating in the Domestic Violence Clinic.
"I was excited about taking the Clinic and getting that experience," said Blake. "The Clinic obviously gives people in law school an opportunity to learn skills that will help them later, but more importantly, it increases access to justice for victims of abuse," she said. "It's training a whole fleet of attorneys to be sensitive to these issues and to help people."
Lisa Snead, '09, originally from Virginia, came to Texas Law because of the Domestic Violence Clinic. She said, "I didn't have an interest in family law until I started volunteering for a battered women's shelter. That really piqued my interest, plus I started to see how completely underserved these women are."
Snead participated in the Clinic this spring and worked on three cases. "With the Clinic, I know I am helping real people and gaining real experience. It's nice to know that what I am doing is making a difference." She is also the president of the Domestic Violence Survivor Support Network at Texas Law.
Sara Kim, '09, a Dallas native, also participated in the Domestic Violence Clinic this spring. "It's one thing to read about a courtroom in a book," she said, "and another entirely to see how much time goes into drafting documents, talking to clients and witnesses, getting all the evidence you need, going to court, presenting your case, and actually seeing how the legal system works."
"Originally, we thought our cases would be fairly simple, like filing protective orders," said Lungwitz. In reality, the Clinic has evolved to handle much more complex matters. Now, when students foray into the thorny issue of family law and domestic violence, they may encounter many other concerns including immigration, disability, bankruptcy, personal injury, and even criminal law.
"The students do anything a private lawyer would do," explained Lungwitz. "They meet with clients, fill out paperwork, prepare initial pleadings, go to the court and get them filed. They communicate with opposing counsel or the opposing party, or any other parties, a guardian ad litem, for example, and try to negotiate a settlement. If that is unsuccessful, they go to trial."
When a case goes to trial, the lead student sits "first chair" and Lungwitz sits "second chair." Blake says that she was surprised at how much responsibility Clinic students assume. Going to court as a student was "nerve-wracking, but extremely beneficial," she said. "You have the benefit of everyone's help and experience. I cannot imagine having had my first courtroom experience until after graduating from law school. It is so much better to have it in the Clinic with so much help and so many people holding your hand."
For many students, trial cases have a lasting impact and result in memorable personal victories. In one of Snead's cases, her client had been abused for twenty years. "Seeing her get on that stand and completely stand up for herself was amazing. I was so glad that I could be there to help her do that."
A Personal Connection
Students who participate in the Domestic Violence Clinic often have some sort of personal connection to this issue, said Lungwitz. Part of Buel's motivation stems from being a survivor herself who fled a violent ex-husband before she, as a single mother, worked her way through Harvard Law School.
Lindsey Byers, '08, learned firsthand of the agonizing process victims can face in the legal system after she was attacked by a former boyfriend during her first year of law school. "I went through the system as a victim and started realizing the injustices victims face and how difficult it can be," she said. "In the whole process, it was almost as if I were being re-victimized. That inspired me to get into the Clinic, and I love my work there."
Kim also has experienced domestic violence. "My mom and dad had a violent relationship," she said. "I wanted to know what legal representation was available and accessible for victims of domestic violence and figure out what actually works versus what is lacking in our system. I feel that it is necessary for our system to be victim-friendly and not pose another hurdle for them to overcome," she emphasized. Kim now is helping her mother file for divorce.
Students also discover that cases don't always conclude neatly. Snead observed, "I have one client now who I am afraid has changed her mind. She's not answering my calls. But, you know, it's just one more step. If she tries again, maybe next time will be the time that she really leaves."
"It's really amazing what Professor Lungwitz and Professor Buel have done starting this Clinic from nothing and creating alumni who are really loyal to the Clinic and this issue," said Lauren Mutti, '06, now a labor employment attorney. "They have done a lot of work in Austin, too, toward changing the laws. The Family Code wouldn't exist as it does today without Sarah Buel."
"It's so rewarding for me to hear straight from the client's mouth that without the Clinic, without my help, they wouldn't be where they are today," Kim added. "They are so grateful that there is such a program as the Domestic Violence Clinic available to them."
While the majority of students in the Clinic do not end up pursuing domestic violence work in their full-time careers, they actively pursue pro bono opportunities as a result of their Clinic experience, said Buel. "My goal is to teach them to be champions for social justice. Whatever their job is, it should have some facet of giving back to the community." She continued, "It is truly such a gift to have a law degree, and in particular, one from UT. It enhances the quality of your life to give back and to use your legal skills to greatly benefit others."
—Diana Smith