Learn more about the Children's Rights Clinic
To learn about what students do in the Children's Rights Clinic, watch this very short video: Fostering Justice – Children Need A Lawyer!  The Children's Rights Litigation Committee of the Section of Litigation of the American Bar Association produced the video.
In Texas, whenever the Department of Family and Protective Services alleges abuse or neglect by a parent and seeks custody of a child, the child has a right to a lawyer.   In Travis County, the district court appoints the Children's Rights Clinic as the "attorney ad litem" for the child.
At the beginning of each semester, our students apply for a "bar card" that allows them to practice law under the supervision of an attorney.  After the students get their bar cards, the clinic assigns each student a mix of newly filed cases and ongoing cases. By focusing on teaching lawyering skills through our work representing children, the clinic prepares students to represent clients in whatever practice area they ultimately chose.
Under the guidance of two very experienced family-law practitioners, Leslie Strauch, a former assistant district attorney, and Lori Duke, a former private practitioner, students sit "first chair" at hearings, mediations, and trials.  The clinic is an excellent way to get out of the classroom and gain real experience.
Most important, the clinic provides students the opportunity to work with real clients.  Students work closely with the clinic's clients—children and youth from birth to seventeen.  Students meet their clients before each hearing or other turning point in the case.  They learn to interview clients and collaborate with them to develop the objectives of the representation.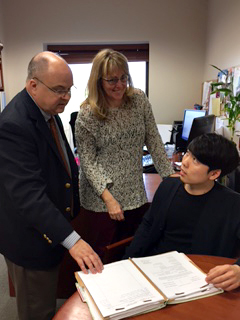 The supervising attorneys meet weekly with the student attorneys to discuss case developments and strategies.  The supervising attorneys also review and sign all pleadings and accompany the students at every court hearing, deposition, and trial. Within a week or two, though, each student attorney can expect to take the lead in the case.
Each student will have several opportunities to appear in court during the semester. Most of the court appearances involve a preliminary hearing or a review hearing, though the clinic regularly tries contested matters, including bench trials and jury trials.
F. Scott McCown, a retired state district judge, is the clinic director and teaches the clinic's class, which focuses on child welfare policy, substantive family law, trial procedure, and legal ethics.
Throughout the semester, students interact professionally with a wide variety of people, including other lawyers, DFPS caseworkers, CASA guardians, foster parents, teachers, medical and mental health professionals, and police officers.  Through these professional interactions, students hone their lawyering skills.  The clinic is a great place to begin practicing law!