Jeffrey K Tulis
Professor of Government
Professor of Law
Faculty Profile: Jeffrey K Tulis
Main Profile Content
Featured Work
Legacies of Losing in American Politics
The University of Chicago Press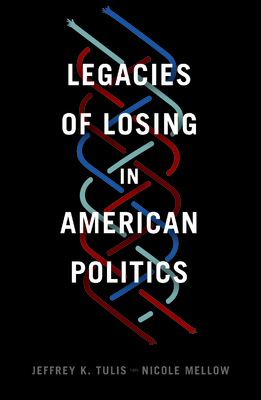 Publishers description:
American politics is typically a story about winners. The fading away of defeated politicians and political movements is a feature of American politics that ensures political stability and a peaceful transition of power. But American history has also been built on defeated candidates, failed presidents, and social movements that at pivotal moments did not dissipate as expected but instead persisted and eventually achieved success for the loser's ideas and preferred policies.
With Legacies of Losing in American Politics, Jeffrey K. Tulis and Nicole Mellow rethink three pivotal moments in American political history: the founding, when anti-Federalists failed to stop the ratification of the Constitution; the aftermath of the Civil War, when President Andrew Johnson's plan for restoring the South to the Union was defeated; and the 1964 presidential campaign, when Barry Goldwater's challenge to the New Deal order was soundly defeated by Lyndon B. Johnson. In each of these cases, the very mechanisms that caused the initial failures facilitated their eventual success. After the dust of the immediate political defeat settled, these seemingly discredited ideas and programs disrupted political convention by prevailing, often subverting, and occasionally enhancing constitutional fidelity. Tulis and Mellow present a nuanced story of winning and losing and offer a new understanding of American political development as the interweaving of opposing ideas.
Reviews:
"Legacies of Losing in American Politics is one of the best books I've ever read. I lost track of the number of 'ah-ha moments' when, in the course of reading, I understood something vital as if for the first time, or rethought a settled understanding I had never fully examined. The book is truly a major contribution to American political science, political thought, and constitutional law." -- Russell Muirhead, Dartmouth College
"Jeffrey Tulis and Nicole Mellow have written a great book that should be added to the short list of essential works on U.S. constitutional development. . . . [an account that] is powerful and illuminating." -- Mark Tushnet ― The New Rambler
"The book is subtle, rewarding, and full of insight, and it is now a must-read for anyone trying to understand the American political regime and its history." -- Bryan Garsten ― Political Theory
Read more
Biography
Jeffrey K. Tulis is Professor of Government in the College of Liberal Arts, his primary appointment at The University of Texas at Austin. He is also Professor of Law in the School of Law, and Professor of Communication Studies in the College of Communication.
Professor Tulis's interests bridge the fields of political theory and American politics, including more specifically, American political development, constitutional theory, political philosophy and the American presidency. His publications include The Presidency in the Constitutional Order (LSU, 1981; Transaction, 2010), The Constitutional Presidency (Johns Hopkins, 2009), The Limits of Constitutional Democracy (Princeton, 2010), and The Rhetorical Presidency, (Princeton, 1987, Princeton Classics edition, 2017). Four collections of essays on The Rhetorical Presidency with responses by Tulis have been published, including a special double issue of Critical Review: An Interdisciplinary Journal of Politics and Society, (2007), where his book is described as "one of the two or three most important and perceptive works written by a political scientist in the twentieth century." It received the American Political Science Association's Legacy Award in 2018. In 2022, Bates College awarded him its Sesquicentennial Prize given to an alumna/us for a significant academic, artistic or scientific achievement.
His most recent book (co-authored with Nicole Mellow) is Legacies of Losing in American Politics (Chicago, 2018). Two symposiums on this book have been published -- in the LSE USAPP American Politics and Policy Blog in 2019, and in the journal Political Theory in 2020.
Since 2016, Tulis has been regularly writing for the public sphere, including essays and articles in: The Atlantic, Washington Post, The Bulwark, Public Seminar, The Constitutionalist, and the LSE American Politics and Policy Blog.
He has served as President of the Politics and History Section of the American Political Science Association. He received the President's Associates Teaching Excellence Award at the University of Texas. He has held research fellowships from NEH, ACLS, Olin Foundation, Harvard Law School, and the Mellon Preceptorship at Princeton University, where he taught before moving to Texas. He has held visiting positions at Notre Dame and Harvard. He has served as associate chair of the Department of Government from 1989-2001 and was acting chair during 1992-93. and for part of each year between 1989 and 2001. During the academic year 2008-09, he was a Laurance S. Rockefeller Visiting Fellow at the University Center for Human Values at Princeton. During Spring 2016, he was a Dahrendorf Visiting Fellow at the London School of Economics and Political Science.
Jeffrey Tulis recently served as President of the University of Texas at Austin chapter of Phi Beta Kappa, Alpha of Texas, 2017-2022.