Penned in solidarity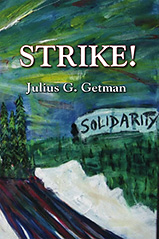 Strike!
By Julius G. Getman
Plain View Press,
January 2007,
228 pp., $18.95
Now available from Plain View Press, Amazon.com, BN.com, and local book stores.
Mr. Ray Routher, Staff Writer, Portland Press Herald.
This interiew ran on Sunday, Jan. 14, 2007.
As a professor of labor law, Julius Getman was intensely interested in the strike at International Paper Co. in Jay in the late 1980s. So interested that he wrote a non-fiction book about it called "The Betrayal of Local 14: Paperworkers, Politics and Permanent Replacements" (Cornell, 1998).
But learning about the drama of the strike, and the lives of all involved – including some 1,200 striking workers – convinced Getman that he had more to write. And that he could tell the story better, in some ways, by writing a work of fiction.
The result is his new book, "Strike!" (Plain View Press). The book is set in a rural Maine town in the 1980s, and is based somewhat on the Jay strike, though is not an exact retelling.
Getman, who had a summer home in Bristol in the 1970s and '80s, is a law professor at the University of Texas. He lives in Austin, Texas.
Q: What made you decide to write a novel based on the paper mill strike in Jay?
A: My goal was to write a novel showing the drama of a strike, and its potential to rally or to destroy a community. I also wanted to show the tough odds that workers who strike face today, because of the law and the currently fashionable, take-no-prisoners style of bargaining, increasingly adopted by management. I didn't originally intend to set it in Maine. But I gradually came to realize that a small-town Maine paper mill is the perfect setting in which to show a way of life under attack and to demonstrate the basic decency, and fortitude, of blue-collar workers.
Q: Was there something about the strike in Jay that makes it different from other strikes?
A: Yes. The Jay part of the 1987-88 paperworkers' strike was unique. The solidarity of the workers was always impressive and often inspiring. I had never before witnessed a strike in which an entire community was involved. The enthusiasm and mutual commitment of the strikers was a throwback to the early days of labor unions and showed the similarities between organized labor at its best, (which it rarely is) and the civil rights movement. The Wednesday night meetings were marvelously run, and for a time they made Jay the rallying point for organized labor throughout the country. I consider this a rather amazing achievement for a small, insular, not very political community.
Q: How close is your story and setting to real life? Do you name Jay?
A: This novel is not simply a retelling of the Jay story. I created a fictional community and fictional paper company. The characters are fictional. Some were based initially on people involved in the Jay strike, but others were simply literary creations. Also, many elements of the book were not present during the strike. For example, I added the element of civil disobedience which the Jay strikers considered but rejected. In the novel, a replacement worker is killed crossing the picket line, union leaders are indicted under the RICO statute and a management official comes to the aid of the workers. None of these things happened during the strike.
Q: As someone who has previously only written non-fiction, was this difficult?
A: It was difficult and challenging. I had to learn to write in a new, less omniscient, more colloquial voice, and to tell my story through the thoughts and actions of the characters. The whole process was new to me. But I am a life-long reader, so I had a good idea of what it should look and sound like. I found that I immensely enjoyed working in this new style, from the first moment I sat down at the computer with little idea of where I was going to wind up. It was ultimately empowering. One of the great difficult challenges was to make my characters complex human beings and not stereotypes. I wanted to capture the closeness and the courage of the workers, but I wanted to show them as complex and conflicted people with flaws. I also tried to capture the humanity of company executives and replacement workers. I didn't want this to be simply good guys against bad guys because labor relations is always more complex than that.
And anyway, you can't write good fiction without creating complex human beings.
Q: Why didn't you just write a non-fiction book on the strike?
A: I already had done that in "The Betrayal of Local 14," a book that I am proud of. Why didn't I stop there? I had more to say and some of it could best be said through the medium of a novel. Sometimes it's easier to tell the truth through fiction. For example, in the novel I could deal with sex and romance, the personal feuds between strikers, the inner conflicts of company officials without betraying confidences. The novel focuses more on relationships than "The Betrayal of Local 14" did. And there are issues that I wanted to deal with that weren't involved in the Jay strike, such as the value and morality of civil disobedience, and the current effort to use law to punish union leaders for violence that they did not cause, and did not want.
Q: How detailed do you get with the wider labor-related topics, since that is your expertise?
A: Some of the more pressing issues of labor relations such as the current weakness of the right to strike and the new more aggressive market-oriented approach of management are central to the book, but they are not discussed. I try to follow the famous writing maxim of show don't tell.
Q: Has anyone connected with the Maine strike read the book? Any feedback so far?
A: Two people who are seed characters for characters in the novel have read parts of it. Their response has been very complimentary. One of them even suggested to me that I write a follow-up novel, to show the continuing impact of the strike on the lives of the people who took part 20 years later. It's and interesting idea and might make for a fine, thoughtful, sad novel, but it's not something that I want to undertake right now.
Q: What do you hope people get out of this book?
A: I hope that some readers will come to realize that America needs a strong, progressive, democratic labor movement. I want to show how the law which is supposed to provide and protect a right to strike doesn't do anything of the kind. Our pretend right to strike has become an invitation to tragedy under current law. I would like upper-middle class professional readers to realize that working people are far brighter, more capable and more complex than they are normally presented on television or in films. I hope that the book will illustrate that the speech of ordinary working people, especially when they are involved in struggle, has its own sometimes eloquent rhythms.
Staff Writer Ray Routhier can be contacted at 791-6454 or at:
rrouthier@pressherald.com