Faculty Profile: Linda Bray Chanow
Main Profile Content
Featured Work
Center for Women in Law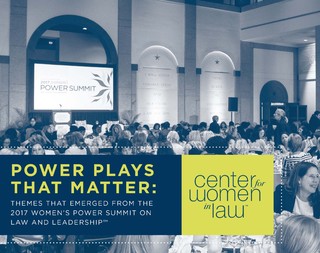 In April 2017, more than 340 leaders from both the public and private sectors came together with the goal of leveraging their power to advance their careers and the careers of other women. The platform was the Center for Women in Law's fifth biennial Women's Power Summit on Law and Leadership™.
This white paper details the themes and takeaways on making power plays that emerged from the provocative and dynamic interactions that took place between our speakers and attendees.
Read more
Biography
Linda Chanow is a lawyer, non-profit executive, professor, and nationally-recognized authority on women lawyers with more than 20 years of experience researching and writing on women's leadership, diversity, and flexibility programs. Linda is well-known for uniting stakeholders and inspiring action. Her renowned educational programs have empowered hundreds of women nationally to achieve fulfilling careers and significant leadership posts in their respective firms, corporations, and associations. For nearly a decade, Linda led the Center for Women in Law at Texas Law, where she grew its influence nationally and increased revenues by more than 300%.
Linda has substantial experience working with a wide array of stakeholders, including CEOs, general counsel, chairs of global law firms, judges, deans and government officials. Linda led all aspects of the Women's Power Summit on Law and LeadershipTM, a national conference that convenes chairs of global law firms, CEOs, general counsel, judges, law school deans, and government officials with the goal of moving women into positions of power and influence. Under her leadership, the Women's Power Summit™ grew to be one of the most sought-after invitations in the national legal community. Linda also built and directed the Consortium for Advancing Women Lawyers, the leading convocation of advocates of women lawyers in the profession that gathers every year in New York City to exchange ideas and share resources.
Linda is a sought-after speaker who has presented to hundreds of audiences on a variety of topics, including leadership, grit and growth mindset, unconscious bias, pay equity, and workplace flexibility. Since 2014, Linda has taught a leadership theory course at Texas Law that explored the gap between the number of women law school graduates and the number of women who occupy leadership positions in the legal profession. The class has been oversubscribed each year.
Linda was selected to serve on two Presidential Initiatives for the American Bar Association (Achieving Long-Term Careers for Women in Law and ABA Toolkit for Gender Equity in Partner Compensation) and as a liaison to the ABA Commission on Women in the Profession for the past nine years. She served as a Team Advisor for the first Women in Law Hackathon and is a member of the advisory board for the Bexar County Women's Bar Foundation LEAD Academy.
Linda has authored or co-authored six publications as well as two op-ed pieces for The Texas Lawyer. Her writings include Power Plays that Matter, Power for Change; Power in Law; Reduced Hours, Full Success: Part-Time Partners in U.S. Law Firms; Actions for Advancing Women Into Law Firm Leadership: Report of the National Association of Women Lawyers National Leadership Summit (2008); and Creating Pathways to Success: Advancing and Retaining Women in Today's Law Firms (2006)(chaired Reporters' Committee). She has been quoted or her organization featured in USA Today, The Washington Post, The Austin-American Statesman, Dallas Morning News, The American Lawyer, The Texas Lawyer, ABA Journal, Bloomberg Law, Law360, The Texas Lawbook, HBR Blog Network, Forbes, ForbesWoman, and Postcards (Fortune).
Prior to joining CWIL, Linda was an Assistant Director of the Project for Attorney Retention, an initiative of the Center for WorkLife Law of the University of California Hastings College of the Law. While at PAR, Linda conducted research regarding flexible work schedules, assessed law firm and law department policies on flexible work schedules, and provided implementation guidance to legal institutions. Linda has also designed and conducted training workshops for law firm leaders, supervisors, and lawyers on a variety of topics, including identifying and correcting gender bias, sustaining work-life integration, working a flexible work schedule, and managing attorneys on flexible work schedules.
The Texas Minority Counsel Program recently honored Linda with the 2016 Lifetime Achievement Award and Lawdragon named her one of the 100 Leading Legal Consultants and Strategists for 2018, 2017, and 2016. In 2013, the Travis County Women Lawyers' Association presented her with the 2013 Advancement of Women Award and she was selected to be one of two University of Texas professors to participate in Leadership Women that year. Linda is a Fellow of the American Bar Foundation and a member of the Dell Medical School Society for Health & Women. She served on the Board of Directors of the Women's Bar Association of the District of Columbia (Term 2007-10) and co-chaired its Initiative on Advancement and Retention of Women. Linda began her legal career as a commercial litigator at WilmerHale in Washington, D.C. after graduating magna cum laude from American University's Washington College of Law in 1999. While in law school, Linda focused on employment law and worked with Distinguished Professor of Law Joan C. Williams on the development of her book, UnBending Gender: Why Family and Work Conflict and What to Do About It.
Professional Activities
2019
October 2019
Featured Speaker - How to Build Inclusive Women's Initiatives (with Daphne Turpin Forbes)
The Conference Board: Leadership Council on Advancing Women, New York
June 2019
Featured Speaker - Gender Diversity for a New Generation in a Global Legal Profession:  US and UK Perspectives
Institute for Inclusion in the Legal Profession, London
March 2019
Featured Speaker - Building Growth Mindset Teams to Advance Women Lawyers
Federation of Defense Corporate Counsel, Austin
2019
Lunch Speaker - Building Growth Mindset Teams to Advance Diversity
Reed Smith 2019 D&I Leadership Retreat, Austin
2018
2018
Invited Speaker - Grit and Growth Mindset: Why You Need Them on Your Teams
2018 NAPABA Convention, Chicago
2018
Invited Panelist - Corporate Panel
Haynes and Boone Partner Retreat, Los Angeles
2018
Invited Speaker - Grit for Growth
Ms. JD LaddHer Up, Napa, California
2018
Invited Speaker - Building Growth Mindset in Individual Women Lawyers and Team Leaders
ALAS, Chicago
2018
Invited Facilitator - #MeToo, Now What?
Harvard Law School, Cambridge
2018
Invited Speaker - Inclusiveness vs. Initiatives: Women in Leadership
ABA Business Law Section Annual Meeting, Austin
2018
Invited Speaker - Getting Results for Women of Color
NALP Diversity and Inclusion Summit, Washington, D.C.
2018
Invited Panelist - RBG Documentary Panel Discussion 
Austin Film Society, Austin
2018
Invited Panelist - Moving Women into Positions of Power: Men as Allies and Champions
The ABA TIPS Section Conference, Hollywood
2018
Invited Featured Speaker - Best Practices for Hiring and Retaining Women
NALP Hiring Partner Conference, Houston
2018
Invited Speaker - Grow Your Mindset
Sheppard Mullin New Lawyer Academy, Los Angeles
2018
Invited Panelist - Developing & Retaining Today's Fast Moving Talent
ALM LegalDiversity & Talent Management Forum, New York
2017
2017
Invited Panelist - Designing Equality in the Legal Profession
Harvard Law School, Cambridge
2017
Invited Panelist - NAPABA Women Rising: Unconscious Bias
National Asian Pacific American Bar Association Convention, San Diego
2017
Invited Keynote Speaker- Power for Change
NAWL Meeting the Challenge, Austin
2017
Invited Guest Speaker - Women in the Profession Strategic Planning Meeting
North Carolina Bar Association, Cary
2017
Invited Moderator - Diversity and Inclusiveness in a Global Context
Shell Oil Company, Houston
2017
Invited Panelist - Closing Plenary Session
NAWL Mid-Year Meeting, Chicago
2017
Invited Opening Keynote - Women Leading in Law, Business & Philanthropy Conference
University of Nebraska College of Law, Lincoln
2017
Invited Speaker - Initiatives that Promote Structural Change to Minimize Gender Bias:  The Austin Manifesto, Cultivating a Growth Mindset, and Creating Pathways to Success
The Florida Bar Gender Bias Committee Strategy Session
2017
Invited Speaker - Gender and Defender Office Management and Leadership
2017 National Conference of Chief Federal Defenders, Houston
2017
Invited Featured Speaker - Bold Strategy
Haynes and Boone Women Partners' Retreat, Dallas