Alumna Spotlight: Carina Souflee, BA '10
This fall, we connected with Rapoport Center Alumna, Carina Souflee, who was an undergraduate intern at the Center in 2007. Carina reflected on her time with the Center, and updated us on her career and academic path since graduating from UT in 2010.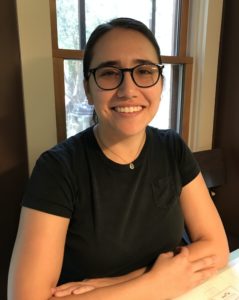 How did your experience at the Center impact your understanding of human rights?
Before interning with the Rapoport Center after my first year as a UT student, "human rights" was a concept that I associated with people and time periods distant to my lived experience as a young person in Texas in the 21st century. As a Latin American studies major at UT, I learned of the history of human rights abuses and victories in various Latin American countries throughout the centuries, and I also learned of the rich history of struggle for human rights in the United States. As a Rapoport Center intern, I met people who were actively pursuing the promotion of human rights in the present. Protecting human rights became a very tangible concept, as it pertained to working conditions in my own city, natural resources and indigenous nations across the Americas, access to education and healthcare for all people in our country, and the process of migration to the US.
How did your experience with the Center shape your personal and professional development?
Surrounded by the inspiring work taking place by Rapoport staff, scholars, fellows, and visiting lecturers, human rights work came alive for me. I graduated from my Rapoport experience asking myself an exciting, open-ended question: "What will your contribution be?" I chose to pursue other social justice and human rights experiences as an undergraduate as a way to feel out what my path forward might be. I interned for labor organizations both in Austin and in New York City, and I dedicated my combined Latin American studies and anthropology degree coursework to research on human rights in autonomous indigenous territory held by Zapatista communities in Mexico. I considered scholarship and research at the graduate level to be the trajectory on which I felt most comfortable. However, through my experiences I learned a great deal from the people I met in each community I visited, and I also learned about myself. I realized that the contribution I wanted to make existed in the realm of the interpersonal rather than the scholarly.
What type of human rights work have you participated in since your time at the Center?
When graduating from UT a decade ago, I knew I wanted to work on community development initiatives through education and healthcare. Torn between a career in education or in medicine, I graduated from UT and pursued education. I trained as a teacher at Harvard University's Graduate School of Education and taught high school English on the Navajo Nation as a Teach For America corps member and an alumnus of the organization. Decolonial, culturally relevant, and trauma informed teaching became my professional focus.
Working with students and families on the reservation and the border towns of the reservation shifted my perspective on my professional life. Schools in rural areas serve many purposes other than education; they are a locus of community activity and a nexus where health concerns, especially mental health, rise to the surface between students and their trusted teachers and guidance counselors. There was a great need for accessible, high quality healthcare in the region where I was teaching, and I felt largely powerless when my students needed to connect with health services. Inspired by Native American charter schools in the state of New Mexico that were integrating wellness into their school models, I felt called to find a way to build a bridge between access to education and access to healthcare. I decided to return to the old fork in the road I'd passed years earlier, and I chose to leave the field of education to study medicine.
What are your future plans?
I believe that access to excellent and affordable health care is a human right from birth to death, and I intend to do whatever I can to make that a reality in communities that I serve and in our nation. At the halfway point in my medical school training, I am personally interested in being a primary care physician able to provide behavioral health and substance use disorder treatment. I also intend to find a way to build that bridge I'd envisioned while teaching– some kind of project that brings healthcare and healing to rural young people and their families in an accessible community space, like a school. Finally, I hope to pursue fellowship training in palliative care, as that would allow me to bring end-of-life care and chronic illness management to people in a way that is dignified and patient-focused.
Carina Souflee | Dell Medical School | Class of 2022