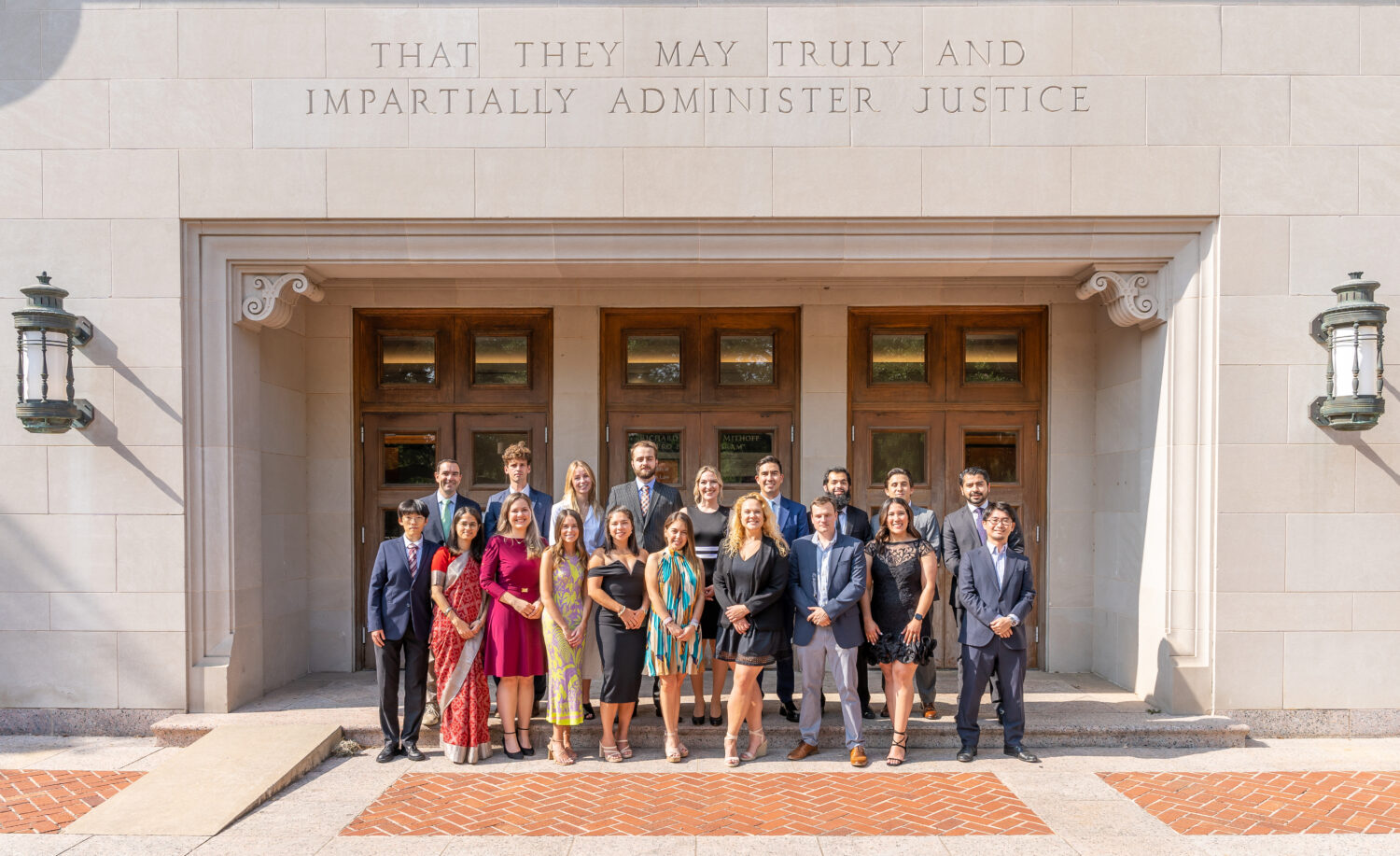 Mary Mikeska LL.M. Scholarship
The LL.M. Program established the Mary Mikeska LL.M. Scholarship in 2013 in honor of Mary Mikeska, a former longtime program coordinator of the LL.M. Program. Gifts to the Mary Mikeska LL.M. Scholarship enable the LL.M. Program to bring the best students to Texas, enriching their lives and nurturing their development as future leaders while benefiting those students who face the prospect of serious loan debt. Thank You to Our Donors.
To set up an LL.M. scholarship in your name or in honor of someone else, please contact LLM@law.utexas.edu.
Alumni Highlights
Our Alumni come from all over the world and go on to change the world after the LL.M. year is over.
Ken Roberts

LL.M. Class of 1953

C. Kenneth Roberts J.D. '51, LL.M. '53, was the former Chair of the UT Law School Foundation, Life Trustee, colleague, and long-time friend of Texas Law. Roberts graduated from The University of Texas Law School in 1951 and received his Master in Law in 1953. Following service with the U.S. Army, he joined Exxon Company, USA (then Humble Oil) where he served as an attorney in the Contract and Title Section. During his time at Exxon, he served in many positions, risin g to become General Counsel of Exxon USA in 1979, and becoming Vice President and General Counsel of Exxon Corporation in 1992, before retiring with distinction in 1995. Read more.
Miguel Hernández Romo Valencia

LL.M. Class of 1994

Miguel Hernández Romo Valencia is a trilingual litigation attorney in Foley Gardere Arena's Mexico City office focusing his practice on complex litigation in civil, commercial, professional responsibility, family litigation, medical malpractice and insurance sectors. He also specializes in International arbitration and bankruptcy proceedings as well. Mr. Hernandez Romo serves as the Mexico City Office Chair for the firm's Litigation Department.
Ariel Ramos

LL.M. Class of 1995

Ariel Ramos is a partner in Mayer Brown's global Energy group and Banking & Finance practice and is based in the firm's Mexico City office. Ariel primarily focuses on transactions related to power, oil and gas, finance, energy-related infrastructure, EPC, and Mexican energy reform, including Round One and procurement matters. A former J. Curtiss Brown LL.M. Scholar, Ariel and his wife recently established the Ariel and Ileana Ramos LL.M. Scholarship in Energy Law or Project Finance.

Robin Mardemootoo

LL.M. Class of 1995

Robin Mardemootoo is Managing Partner of Mardemootoo Solicitors and Founder of SPEAK Human Rights & Environmental Initiative. He was awarded a scholarship from the Univeristé de Aix-Marseille III to attend the LL.M. Program at Texas, from where he obtained an LL.M. in 1995. He served as Lecturer at the University of Mauritius School of Law from 1996-2000. His practice areas include Corporate Law and Human Rights Law. He speaks regularly at law conferences and law schools worldwide and most recently gave a lecture at Texas Law on Human Rights and the Chagos Islanders.
Ruben Minutti Zanatta

LL.M. Class of 1999

Ruben Minutti Zanatta was appointed Consul General of Mexico in San Antonio in December 2019. The new Consul General holds a LL.B. from the Escuela Libre de Derecho in Mexico, a LL.M. from The University of Texas School of Law, and a Ph.D. from the Universidad Nacional Autonoma de Mexico. He has served as an administrative law judge in Mexico since 2003.

Martine Kraus

LL.M. Class of 1999

After Martine Kraus graduated from the LL.M. Program at Texas Law in 1999, she worked as a banking and capital markets lawyer at Linklaters in Luxembourg for 3 years. She then moved back to Austin for a year and worked at Hance Scarborough, LLP as a legal assistant. When she returned to Luxembourg in 2004, she became a judge at the District Court of Luxembourg. She first worked at one of the District Court's commercial chambers but then moved on to work as an investigating magistrate (juge d'instruction). In this capacity, she investigates serious white collar offenses and gathers all possible evidence before a criminal trial can take place.
Roberto Aguirre Luzi

LL.M. Class of 2003

Roberto Aguirre Luzi is a partner in King & Spalding's Houston office, where he specializes in counseling multinational corporations on complex arbitration. A partner in the firm's International Arbitration practice, Roberto is experienced in administrative and civil law, government contracts, oil and gas contracts, public utilities, and power and infrastructure projects.
Humberto Padilla Gonzalez

LL.M. Class of 2006

Humberto Padilla Gonzalez is a partner in Morgan Lewis's Houston office, where he represents clients in a broad range of cross-border matters including mergers and acquisitions, joint ventures, international commercial finance transactions, and contractual and simple operational matters throughout Latin America. Further, he often assists clients with respect to internal compliance investigations under the Foreign Corrupt Practices Act (FCPA), as well as data privacy issues.
Dr. Martin Kessen

LL.M. Class of 2007

Dr. Martin Kessen was appointed as judge at the German Federal Court of Justice, Germany's highest court in civil matters, in 2018. The Federal Court of Justice is Germany's highest court of civil and criminal jurisdiction. The task of the Federal Court of Justice is primarily to ensure uniform application of law, clarify fundamental points of law, and develop the law. Prior to his appointment at the German Federal Court of Justice, Dr. Kessen was a judge at the Higher Regional Court of Cologne.
Adriana Reyes

LL.M. Class of 2012

"My favorite part of the Texas Law LL.M. Program is the people; having access to such a select group of attorneys that later become long-lasting quality connections is invaluable. I chose Texas Law because of the faculty and the international courses offered. I am currently an associate at the K&L Gates LLP. My LL.M. degree is certainly an advantage when it comes to advising my clients on their cross-border transactions between Latin America and the U.S."
Juan Carlos Valdivieso

LL.M. Class of 2015

"After several years working in law firms in the US and Chile, I have been working as general counsel of Prime Energia Spa, a Chilean power generation company, since September 2017. I am also a professor of commercial law at the Catholic University. I chose UT's LL.M. Program, among other things, after going through its course offerings, particularly concerning energy and project development. Looking back, I am happy I did, since it is patent that I would not be in my current position without it. The fact that it is located in Austin was a huge plus."
Mario Boisselier

LL.M. Class of 2016

"Having previously obtained professional degrees from universities in three different countries, I chose the LL.M. Program at Texas Law because of its world-class faculty and curricular diversity. Studying at Texas Law will give foreign-trained attorneys the opportunity to discuss international legal perspectives with attorneys from around the world while studying the U.S. legal system. For students interested in acquiring a U.S. law license, the LL.M. Program will provide you with an excellent academic foundation After being licensed in Texas, I was an associate at O'Connor & Associates, PLLC, and was recently admitted to practice before the U.S. Court for the Western District. I recently opened my own boutique immigration law firm serving Austin and Central Texas."

Marggy Pabon

LL.M. Class of 2016

Marggy Pabon is originally from Venezuela. Marggy earned her law degree in 2003 and is board certified in administrative law in her home country. She practiced administrative law for over 8 years and was very involved in the politics that defended Venezuelan democracy. After a communist government was implemented in Venezuela, Marggy decided to move to Austin to practice law and raise her family. Marggy completed a Master of Law at the University of Texas and earned her license to practice law in Texas in 2016. Marggy specializes in civil litigation, including DTPA, construction and breach of contract disputes. Marggy also specializes in Family Law.

Andrés Rodríguez-Gómez

LL.M. Class of 2016

"Coming from Colombia, I chose Texas Law for three main reasons: (1) Texas Law is the #14 law school in the U.S.; (2) the LL.M. Program offers a unique degree program that combines global energy and international arbitration; and (3) Texas Law offers robust curricular offerings in energy and arbitration taught by world-renowned experts. The LL.M. Program also strives to expand opportunities for students interested energy careers, including organizing field visits that allow students to learn firsthand how the energy sector is transforming the economy of Texas. Earning my LL.M. from UT Austin has opened doors and helped me expand my professional network. I now have the job I always wanted – litigating major energy infrastructure disputes."

Chao (Charles) Tang

LL.M. Class of 2016

"Texas Law is one of the best law schools in the U.S. for foreign LL.M.s because it provides you with the opportunity to tailor your concentration to fit your needs. In contrast to most LL.M. programs in the U.S., Texas Law has a low student-teacher ratio, giving each LL.M. student ample opportunity to get the attention and support they need to reach their highest potential. As an LL.M. student, I learned new ways of thinking about and analyzing the law. As an LL.M. alum, I take great pride in letting American clients and other attorneys know that I earned my LL.M. from The University of Texas at Austin – a name they recognize and respect."
Jack L. Moxon

LL.M. Class of 2017

Jack was a member of V&E's worldwide Energy Transactions and Projects practice group and is now an associate at White & Case LLP. His principal areas of practice are domestic and international commercial transactions in the energy industry, including asset acquisitions and dispositions, project development, private equity investment and joint ventures.
Murtaza Rahimi

LL.M. Class of 2018

"I received my first law degree in my home country in private and criminal law from the University of Balkh Law School. Then I started teaching at private universities and worked as a member of a research center of a private university. After finishing my LL.M. degree, I started working as an associate attorney at Kakar Advocates Law Firm in Kabul, Afghanistan, focusing on labor and employment law."

Dr. Moritz Kriegs

LL.M. Class of 2018

Dr. Moritz Kriegs graduated from The University of Texas School of Law as Master of Laws (LL.M.) in 2018. He received his first law degree in his home country, Germany, where he also researched bankruptcy law at Heinrich-Heine-University Düsseldorf. After finishing his doctoral degree (Dr. iur.) and his legal clerkship, Dr. Kriegs was admitted to the Bar in 2015. Since then, he is an associate at White & Case's Düsseldorf office and practices in the area of restructuring and insolvency administration. His focus is on the handling of insolvency proceedings from all economic sectors.

Francis Kaifala

LL.M. Class of 2018

On June 20, 2018, Julius Maada Bio, the President of Sierra Leone, appointed Francis Kaifala Head Commissioner of the country's Anti-Corruption Commission. At Texas Law, the former Fulbright Scholar earned an LL.M. in Human Rights & Comparative Constitutional Law. In addition to being a Fulbright Scholar, Kaifala was an MD Anderson Scholar in Transnational Law in the Law School's Institute for Transnational Law and a Human Rights Scholar in the Law School's Rapoport Center for Human Rights & Justice.
Kendra Smith

LL.M. Class of 2020

"My year at UT still remains one of the best years of my academic career! I was surrounded by inspiring and impressive colleagues and staff that went above and beyond to support and ensure my success. It was a healthy balance of fun, hard work and bar prep!! My year at UT opened all sorts of doors I didn't even know were possible. I am very grateful for the UT LLM program! Hook 'em!" Kendra is currently an associate in Sidley's office in Dallas focusing on global finance.

Merel Pontier

LL.M. Class of 2020

"I specifically chose Texas Law because of its outstanding Capital Punishment Clinic Center. After graduation, I founded the Clinton Young Foundation in Austin. This nonprofit focuses on the representation of people convicted of capital murder and either sentenced to death or life in prison. Our first success was to get Clinton Young — who spent 18.5 years on Texas' death row — out on bail after his conviction got overturned. Earning my LLM from UT has changed my life in more ways I could ever have imagined, but more importantly: it changes the lives of the people who need help. Clinton being the first one, but many more to follow!"
Gabriel Cagija

LL.M. Class of 2022

"I'm a Panamanian lawyer working in a law firm in Panama City. Thanks to the Cybersecurity LLM, I have been able to assist a multinational company in adopting data privacy measures and be a panelist in cybersecurity and public policy forums. As a researcher for the Panamanian Institute of Law & New Technologies and in partnership with the Electronic Frontier Foundation, we will soon publish "Who's Got Your Back", a guide on mobile network operator's information-sharing practices with governments. My favorite part of the LLM was networking! Nearing the end of my LLM, I was reflecting on this with a friend, and he told me: 'The best takeaway from an experience are the relationships you make and build. The knowledge and swag are nice but that's something else.'"