🤘STUDENT SPOTLIGHT: Sergio Cavazos
For this edition of Texas Law's Student Spotlight series, meet 2L Sergio Cavazos, who works at the Texas Legislature!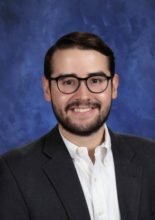 Q: Can you tell us about your experience working at the Texas Legislature?
I've worked at the Texas Legislature since 2013 and currently serve as Director of the House Committee on Insurance. In the past, I've worked on several different policy areas, but this session developed a passion for healthcare. Our committee passed major legislation this session to protect consumers by combatting surprise medical bills and other related issues. I now hope to practice healthcare law and look forward to learning more about the industry in my time at Texas Law.
Q: What has made you feel part of the Texas Law community?
I think we have an incredibly unique environment at Texas Law that makes all of us feel comfortable and appreciated throughout the school year. The many events and the 1L-specific activities really allowed for all of us to get to know each other and made my first year a memorable one. Even after being away for a semester, I came back and feel like I never left. Our community really is second to none.
Q: What is your favorite thing about the culture of UT?
My favorite thing about the culture at UT is how it immediately manages to bring people in and make them feel like they've been a part of the campus community for years. There's something here for everyone and it shows through the diverse opportunities and interests on campus.