🤘 STUDENT SPOTLIGHT: Wes Dodson '24
For this edition of Texas Law's Student Spotlight series, meet Wes Dodson, Texas Law 1L and former Chief Justice of the UT Austin Student Government Supreme Court!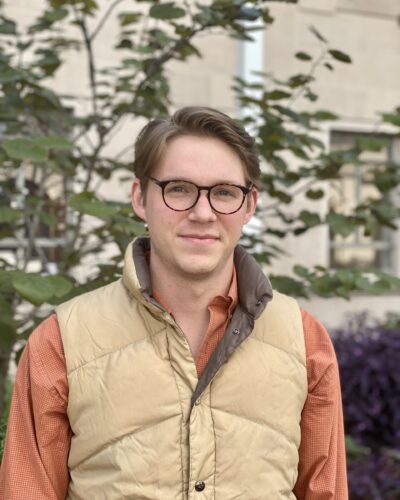 Q: What has been the best surprise about your law school experience?
The best surprise of UT Law so far is the learning community. I assumed that I would be walking into a nest of vipers (do vipers even have nests?), but all of the students and professors have been incredibly welcoming, supportive, and thoughtful.
Q: Can you tell us a bit about your experience as Chief Justice of the UT Austin Student Government Supreme Court?
The UT SG Supreme Court is the judicial branch of the student government responsible for interpreting the Student Government governing documents as a matter of original jurisdiction and handling campus-wide election disputes on appeal. The Court has a very real impact on Student Government, but whether this impact is felt outside the walls of the SG assembly room is, I think, less definite. I mostly saw it as an opportunity to practice legal writing with a bit more room for flair. Being on the UT SG Supreme Court felt a bit like playing "dress up" or "invisible soldiers": you can appreciate that there's an element of pretend, but it's fun nevertheless. Sometimes the "Wonderland" aspect of Student Government even made it more interesting—such as when the SG Court became the first court (at least that I'm aware of) to hold that a constitutional amendment was itself unconstitutional!
Q: What do you like about going to law school in Austin?
My favorite thing about Austin is that it happens to be in Texas. Jokes aside, going to law school in Austin means that you are no more than a few hours drive from just about any outdoor activity you could imagine and that you're guaranteed to find adventure walking down any street as well (if you're looking).