The Blackbook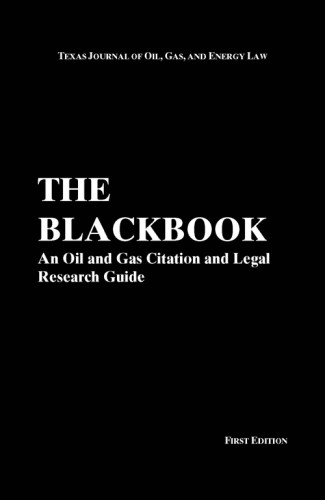 ISBN:

978-0-692-40101-9

Edition:

First (2015)

Pages:

56
The Blackbook
is an oil and gas citation and legal research guide intended to supplement
The Bluebook
and
The Greenbook Texas Rules of Form
. As a citation guide,
The Blackbook
demystifies oil- and gas-related citations by setting forth decisive citation form for industry-specific sources — many not addressed in
The Bluebook
or
The Greenbook
— and providing condensed guidelines for these citations. As a research manual,
The Blackbook
provides a sketch of legal research tools by outlining useful information sources, defining key terms and industry acronyms, describing the unique procedural rules of the Railroad Commission of Texas, and listing the largest oil and gas companies operating around the world.
The Blackbook
was created for the professional unfamiliar with the oil and gas industry — whether a law student, first year-associate, or seasoned attorney new to oil and gas law. As technological innovations and expanding markets increase the amount of energy work domestically and abroad, attorneys lacking experience with oil and gas law may find themselves with clients in need of oil- and gas-focused legal work. It is the Journal's hope that when practitioners unfamiliar with the subject find themselves in an energy-related matter, they will reach for
The Blackbook
.
The Blackbook
is not a comprehensive citation and research manual intended to supplant other resources or to be used without reference to the law. Rather,
The Blackbook
is an intuitive, abridged, and condensed guide designed to provide practitioners with an accessible and bare bones outline of oil and gas law. Through clarity, brevity, and practicality,
The Blackbook
seeks to arm practitioners with the resources and information necessary to navigate the energy industry.