Exam4 Remote Exam Instructions – Fall 2020
The Honor Code remains in full effect. You will have access to all resources on your computer and online during your exam. Pay close attention to each exam's instructions and only use the materials your instructor allows. It is an Honor Code violation to use any materials not approved by your instructor for the exam. It is also an Honor Code violation to discuss the exam with classmates who are taking the exam or have yet to take the exam. You are required to work on your exams individually.
These instructions apply to final exams administered by the Student Affairs Office (SAO) using the Exam4 software. It is your responsibility to carefully read and follow these instructions, as support will be limited. Technology support for Exam4 is available Monday through Friday, as well as Saturday, December 12, from 8:00 a.m. until 5:00 p.m. using the Tarlton Law Library's Virtual Tech Desk or by phone at 512-232-1567 or email at techdesk@law.utexas.edu. To access the virtual tech desk, you will need to log in with your UT EID. The SAO and Tech Desk will not be available after 5:00 p.m.
You may begin your scheduled exam any time between 8:00 a.m. and 4:00 p.m. CST on the assigned date, unless you have made special arrangements with Brandi Welch (bwelch@law.utexas.edu) – check your student dashboard for your individual exam schedule. For Floating exams using Exam4, you may begin your exam any time between 8:00 a.m. on December 9 and 4:00 p.m. on December 17.
All exams must be completed and submitted within the time limit allotted by your professor in your exam instructions. Up to 10 additional minutes will be allowed for Exam4 submission without penalty. Anything beyond that 10 minutes (even 10 minutes and 1 second) will be marked as late.
Complete each of the following steps at least 48 hours in advance of your first final exam:
Claim your Exam ID for the current semester. A new 4-digit Exam ID is assigned each semester.
Register for, download and install the latest version of Exam4 at https://www.exam4.com/. At the first screen, confirm the expiration date is January 30, 2021 and that University of Texas – Austin Law is listed. All previous software releases will not work.
Take and remotely submit a practice exam! Run through the full set of instructions below at least once. Because tech support will be limited, the best way to ensure things go smoothly is to test everything prior to your scheduled exam time and let us know in advance of any issues. Please note you will not be able to access your practice exam after you submit it. Practice exams should not contain content you wish to retrieve.
Contact the Tarlton Law Library Tech Desk with any questions about Exam4 in advance of your exam. For questions related to the exam itself or emergencies during the exam, contact Student Affairs.
Taking an Exam
Close anything you don't need for the exam. Turn off auto-updates and reboot your computer shortly before each exam.
To retrieve your exam questions, go to https://www.exam4.com/org/774. This is the same page where you downloaded the software. It will say University of Texas – Austin Law at the top of this page.
Available exams will be listed on the right-hand side of this page in a blue box. Click on the listing with your course and professor's name, or if you are taking a practice exam, click Practice Exam. A link with your course name will not appear here until your scheduled exam time.
Carefully read and follow all instructions on the screen.
Enter your personal 4-digit Exam ID and click CONTINUE.
Click START EXAM. Your time begins when you click START EXAM on the Exam4 website. For a timed exam, it will show how much time is allowed and when your exam is due (see Due Date in top right corner).
Read any Exam Instructions and download the exam file.
Now, follow the steps below to take and submit a practice exam to the SAO.
Launch the Exam4 software you have installed on your computer or download and install it now.
Click PREPARE TO START NEW EXAM, then click NEXT.
Enter your personal 4-digit Exam ID twice.
Select Practice Exam if you are testing the software in advance of your exam. On your scheduled exam day you will select your course and instructor name, then click NEXT.
If you get a pop-up, review the information, check the box to RE-CONFIRM, click OK.
You may choose to receive OPTIONAL alerts from Exam4's timer. If you choose to receive alerts, note that while alerts will momentarily interrupt your exam, they won't prevent you from continuing to type and they won't end your exam. Select your preferred options and click NEXT.
Take a moment to read the notices. Click the box marked GOT IT? Then, click NEXT.
Check the box to confirm Exam Mode, then click NEXT. You will receive a pop-up to reconfirm. Check the box to re-confirm, then click OK. Open Laptop + Network mode will be used for all exams labeled "Final" in your exam schedule. Takehome mode will be used for all exams labeled "Floating" or "Take-home 9-24 hrs" in your exam schedule. See the FAQ for more information on Exam Modes.
Click BEGIN EXAM.
Thoroughly test all menu options to ensure that Exam4 will function properly on your computer: type, cut, copy and paste within the exam window; insert special characters; perform a spell-check; insert answer separators and display statistics like word count by checking the appropriate box on the right side of the screen or selecting it from the Tools menu at the top.
Navigate to Multiple Choice and submit practice responses using the instructions below.
Click Multiple Choice on the menu bar at the top of the Exam4 window. You will see a Document ID box at the top. If your professor has opted to deliver your MC questions in Exam4, there will be a Document ID code included in your exam document. Enter this code and click Fetch. For the purposes of taking a practice exam, please enter A-PracMC and click Fetch. You should now see your first practice question displayed.
Use the A-F fields to answer your questions. Once a question is answered, you can change your response by navigating back to the question, clicking UNLOCK and selecting a new answer. If you would like to remove your answer and leave the question blank, click UNLOCK and then CLEAR. When you are done answering your multiple choice questions or if you would simply like to return to your essay, click the HIDE button.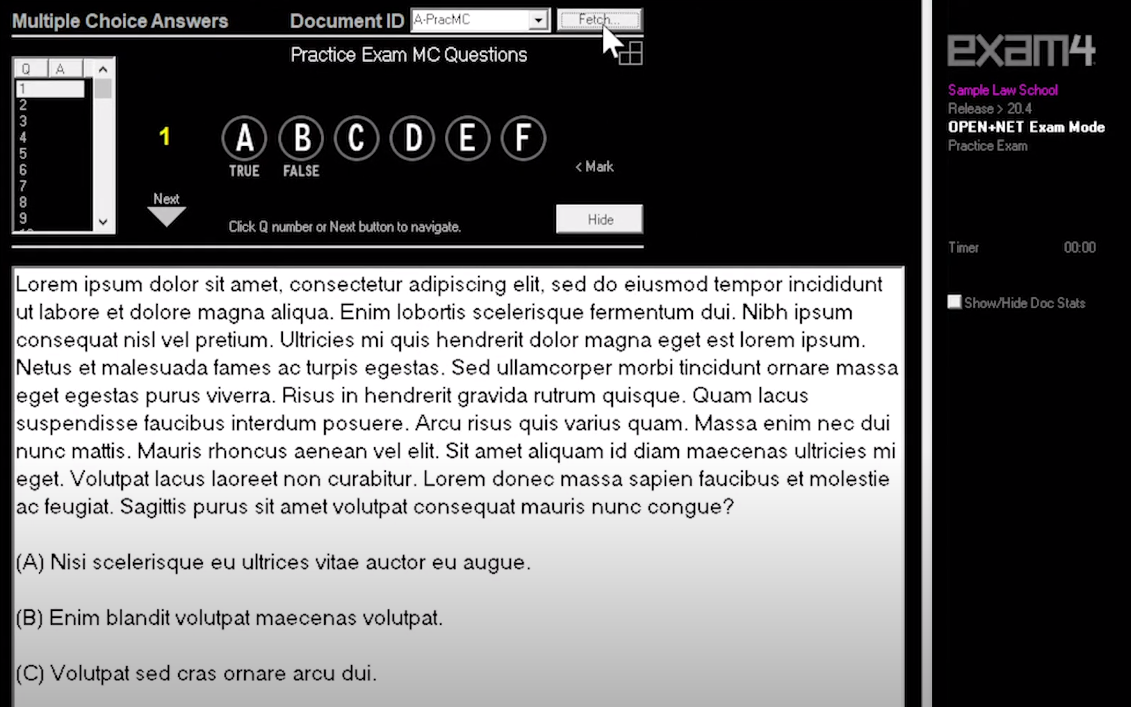 To exit the Exam4 interface and resume later (this option is only available for Floating exams and Take-home exams of 9-24 hours):
Select END EXAM from menu bar. Confirm that you'd like to end the exam and click OK.
Click SUSPEND EXAM. Do not SUBMIT ELECTRONICALLY unless your exam is finished. Please note that suspending your exam does not stop your exam time. Your exam is due based on when you began it.
Select EXIT EXAM4, click I'M SURE to confirm you have saved your exam, and click EXIT EXAM4.
Reopen the Exam4 software when you are ready to continue by clicking SELECT EXISTING EXAM from the Exam4 start screen. Choose the correct exam file and click BEGIN EXAM. You are now back in your exam and can continue to work on it. Don't forget to submit (see below) when finished!
If you experience technical issues with the Exam4 software during your exam:
Power down your computer completely (NOTE: your work has been saved automatically and you will not lose what you have already completed in Exam4 by powering down.)
Power back on, reopen the Exam4 software and click SELECT EXISTING EXAM.
Highlight the correct exam file.
Click BEGIN EXAM.
Click OK when you receive the pop-up.
If you are unable to reopen the exam file in Exam4 after restarting, you should immediately begin typing the rest of your responses in a Word document. Email the Word document to StudentAffairs@law.utexas.edu immediately upon the conclusion of your exam with a short explanation of your technical difficulties. The SAO will provide instructions on how to submit the Exam4 document that you were not able to reopen. Contact the Tech Desk after your exam has ended to resolve any issues prior to your next exam. You will not receive additional time for technical issues.
You are responsible for tracking your time during the exam and submitting your responses within the time limit. Your exam will be marked as late if it is submitted more than 10 minutes after the time allotted in your exam instructions and your professor will have discretion to deduct points.
To submit your exam:
Select END EXAM from menu bar. Confirm that you'd like to end the exam and click OK.
Select the option to SUBMIT ELECTRONICALLY. Do not submit until you are absolutely sure you are done.
You will see a message stating the exam was stored successfully. The next screen is your receipt that is sent from our exam receiver. If you see a green EXAM SUBMITTAL SUCCESSFUL message, we have received your test. Only one submission will be received.
Time is marked as stopped when you submit your exam electronically. See screenshot below.
Check the box next to I UNDERSTAND, then click OK.
The timestamp will show the date and time you submitted your exam.
Click CLOSE, select FILE AND SAVE OPTIONS, then select EXIT.
Check the box next to I'M SURE, then select EXIT EXAM SOFTWARE.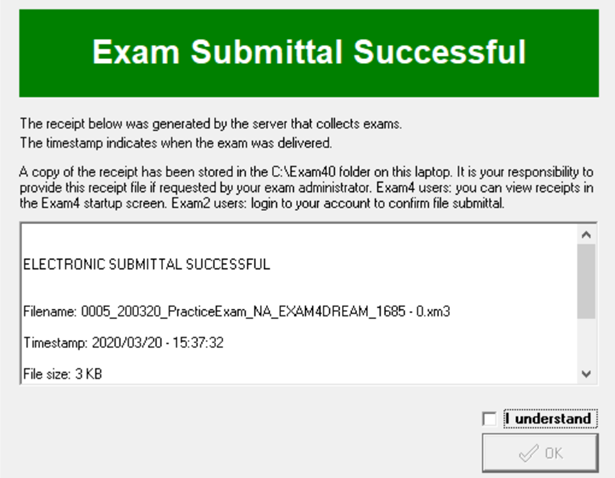 A final back up of your typed responses was made when you ended the exam and an extra back up of your work was saved and encrypted on your computer – on the C: drive for PCs, and in your CACHES folder for Macs. Do not alter or delete your exam documents. If your typed work is not received immediately, you will be contacted by the SAO, who will guide you on the best way to resubmit. If you experienced technical issues during your exam or during submission, let the SAO know as soon as your exam is complete.
Time of receipt and amount of time spent on exam will be checked by the SAO to ensure time limits have been followed. Fully exit the browser window or close the tab with your exam questions. Fully delete any copies of the exam questions from your computer unless your professor indicates in their instructions that you are allowed to keep them.
Exam Software Billing Information
You will need to register for and download Exam4 to type your exam(s). Your UT account will be charged with a $20 annual software fee on December 16th and you will receive an email with payment instructions. This $20 annual fee covers Exam4 use for all of your exams for the entire academic year (Fall 2020, Spring 2021, and Summer 2021). Because we do not have a safe way to collect handwritten exams in Fall 2020, all students are strongly encouraged to use Exam4.
If you must hand-write your exam responses, contact StudentAffairs@law.utexas.edu prior to the first day of exams. If you are not scheduled to take any exams that will use Exam4, submit this opt out form before December 16th.
Postponements
If you believe you are eligible for a postponement but have not heard from us, email Brandi Welch (bwelch@law.utexas.edu) immediately. Do not contact your professor. It is an Honor Code violation to contact your professor about your exam.
Questions?
Find answers to frequently-asked questions by reading the FAQ and visiting the Exam4 Support page.