Get Involved in the Society Program!
Interested in being a part of shaping the culture at Texas Law?
Apply to be a Society Coordinator and/or Dean's Fellow!

The first step is attending a mandatory informational meeting. Information sessions are on
Thursday, February 10 at 4:00pm in TNH 2.123 and Monday, March 7 at 3:30pm in TNH 2.140. 
Society Coordinator Ben Kelton '20, Faculty Advisor Susie Morse,
and Dean's Fellows Emily Kercheville and Audrey Briscoe
After a year unlike any other, the law school is hoping for an event-filled Fall semester. The Society and Dean's Fellows Programs are integral to the experience of 1L students, and this year especially, we are looking for Society Coordinators who also are eager to engage our returning 2Ls and 3Ls. Society Program leaders work closely with the Student Affairs Office to carry out their mission: make Texas Law feel like home.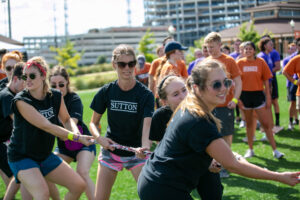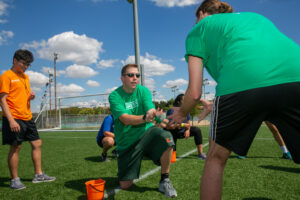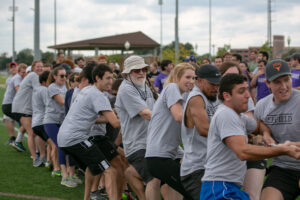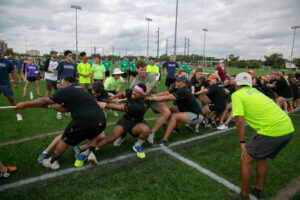 Faculty Advisors Jennifer Laurin, Steve Vladeck, Michael Sturley, and Kevin Haynes get in the Games. 
The Student Affairs Office is looking for dedicated, service-minded students to serve in two roles:
Society Coordinators are the heart of the Society. As the event planner for the Society, the Coordinator shapes the culture and connections within their Society. Society Coordinators excel at big picture/big event planning. Coordinators plan the Society Games (law school field day!), boat cruises and welcome events. They serve as captains for the Society flag football team in the fall (no football experience necessary). Coordinators also work closely with the Society Faculty Advisors. As a member of the three person team that includes the two Dean's Fellows assigned to a Society, the Coordinator is essential to creating as sense of community the 1Ls. In 22-23, Society Coordinators will also be tasked with planning events designed for 2Ls and 3Ls who did not have the opportunity to participate in some of Texas Law's greatest traditions. Do you like event planning? Meeting new people? Helping people through a new experience? Apply to be a Society Coordinator!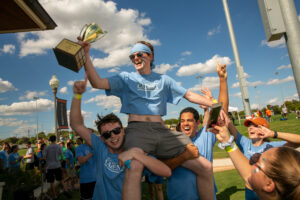 Cadena wins!
Dean's Fellows guide 1Ls through the first year of law school. 1L can be both an exhilarating and stressful experience. Dean's Fellows plan meet-ups before Orientation and throughout the year to help acclimate 1Ls to the culture at Texas Law and law school itself. Fellows encourage the students in their small groups to support and encourage each other. They are available to answer all questions, big or small. In addition to social events, Fellows also offer academic skills guidance.  Would you like to help new law students survive and thrive in their 1L year? Apply to be a Dean's Fellow!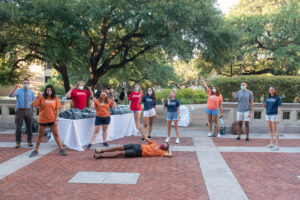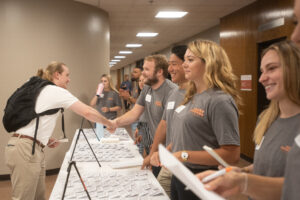 Dean's Fellows and Society Coordinators welcoming 1Ls to Orientation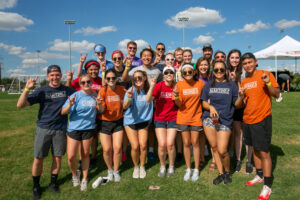 2019-20 Society Coordinators and Dean's Fellows
What students say about the Society Program and the Dean's Fellows:
My DF has made UT Law home. She's warm, down to earth, and has straightforward advice. Honestly, without her I'm not sure I would've made it through last semester.
I think it is an outstanding way to build the already strong community at Texas Law. I feel like the society program is the main reason I know as many people as I do across the law school.
My DF has helped me not only get acclimated to the law school but also the city of Austin. I don't honestly think I would be as happy as I am at the law school right now if it was not for her influence and help.
I think the Society Program is one of the best parts of UT Law. It provides new students with a sense of community and makes it easy to make new friends in an intimidating new environment.

My DF has been wonderful all around. He has done especially well in making all of us feel welcome and comfortable in our transition into law school. He has made us feel safe to ask any and all questions we might have, and he has on numerous occasions organized events to help us feel prepared for our studies. He has done very well in creating a fun environment and promoting a cohesive group that has functioned as a wonderful support team through all the ups and downs of school.

My DF has been a ray of light and positivity during my first year. Coming in to law school, I had a lot of anxieties about the process of looking for summer employment, and she has adeptly addressed those concerns and provided invaluable advice.

My absolute favorite part about UT Law is the focus on forming relationships with each other (instead of focusing all of our time/events with each other on studying or class), and I feel like the Society program really represents that.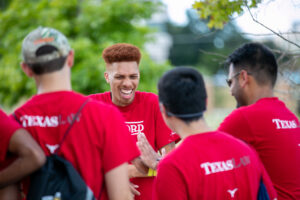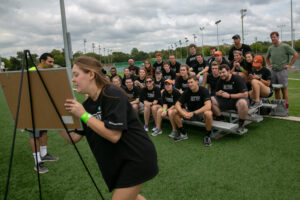 Future DFs Brandon Stephens and Audrey Briscoe at their 1L Society Games
About the Society Program: Created in 2004, the Society Program helps build community at Texas Law and provides students with greater access to faculty, administration, and upper-class students. First-year students are assigned to one of eight societies during Orientation, and remain in the same society throughout their years in law school. Each society has a Faculty Advisor, a Society Coordinator, and two Dean's Fellows who plan activities for their groups in an effort to ease the adjustment, both academically and socially, to law school. The eight societies carry the names of people closely associated with the Law School, such as Leon Green, a 1915 graduate who was one of the twentieth century's most important torts scholars; and Gloria Bradford, the first African-American woman to graduate from Texas Law. Throughout the year, the Societies engage in a wide range of public service, social, professional, and athletic activities. Events include an annual food drive benefiting Caritas of Austin, boat cruises on Lady Bird Lake, intramural flag football, and the annual Society Games.