Alumni Spirit Thrives with 100% Giving Challenge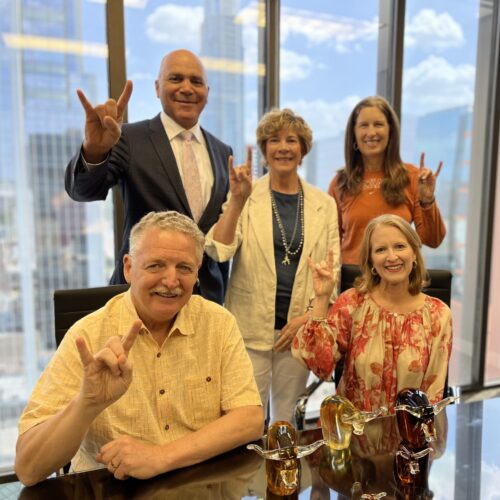 The Texas Law alumni of Alexander Dubose & Jefferson are "all in" to support their alma mater, making their firm the first 100% Giving Challenge Champion for 2022. 
An appellate law firm, ADJ has offices in Austin, Dallas, Houston and San Antonio. Almost one-third of the firm's 16 attorneys are alumni of Texas Law. That group consists of: Alex Albright '80, Anna Baker '94, Kevin Dubose '79, Wallace Jefferson '88, and Amy Warr '95. 
"We are proud Texas Law grads and give every year—we consider it a moral imperative to give to the institutions that make it possible for us to have the life we have," said Albright, who serves as of-counsel at the firm. "We are grateful to Texas Law for the outstanding legal education we received and the life-long friends we made. Texas Law gave each of us opportunities in the legal world that we never dreamed of.  We all love our work and the people we work with. Thank you, Texas Law." 
In addition to the five ADJ attorneys who are graduates of Texas Law, two of them have children who have graduated from or are current students here. Albright's son Wilson is a 2017 graduate and daughter Alissa Parsley earned her J.D. in 2012. Jefferson's son Sam will be a 3L in 2022-23. 
The Challenge is an opportunity for alumni to make a collective difference at their alma mater. Participating firms and offices collaborate to achieve 100% alumni giving in their respective organizations, providing integral support to the Law School, our students, faculty, and programs. 
"I love seeing the Texas Law spirit thrive with our alumni," said Double Longhorn Jennifer W. Sloan, who serves as director of development and annual giving. "We welcome our fellow alumni at any firm or organization to join the Challenge!" 
Fiscal Year Ends August 31
To enroll your firm in the 100% Giving Challenge, please email jsloan@law.utexas.edu or call 512-232-0729. 
All alumni donations made to the Law School during the fiscal year (September 1–August 31) are counted towards your firm's participation. Make your gift count today.  
Learn more about the 100% Giving Challenge.