Roy Martin Mersky (1925–2008)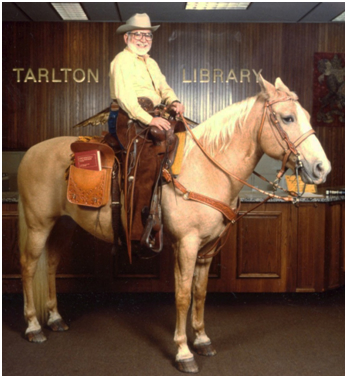 Professor Roy M. Mersky, the Harry M. Reasoner Regents Chair in Law and Director of the Jamail Center for Legal Research, served 42 years as director of the Tarlton Law Library at The University of Texas School of Law. Generations of law students knew him as the co-author with J. Myron Jacobstein of one of the classic legal research texts, Fundamentals of Legal Research, first published in 1975. From his many accreditation visits and law library consultancies, generations of deans knew him as a source for information about library administration and for talent. He served as mentor to a host of law school directors throughout the country.
Mersky's first law library position was at the University of Wisconsin Law Library, working as U.S. Government Documents Cataloger in the early 1950s. He served as Director of the Washington State Law Library and Professor of Law and Law Librarian at University of Colorado before his Texas appointment.
He was named a "Mover and Shaker 2003" by the Library Journal, as one of the most innovative librarians working today in libraries across the U.S. and Canada. Other honors include a Life Member of the Fellows of the American Bar Foundation, the American Association of Law Libraries Distinguished Service Award, AALL's Presidential Certificate of Merit, and the University of Wisconsin-Madison School of Library and Information Studies Alumni Association's Centennial Celebration Alumnus of the Year Award.
Mersky's interest in judicial biography and particularly in the justices of the Supreme Court of the United States was long-standing. In 1959 he produced a selected bibliography on the history of the United States Supreme Court. In 1972 he and his good friend Al Blaustein surveyed 65 law school deans and professors of law, history and political science to compile a ranking of the first 108 justices. A summary of their work appeared in Life Magazine on October 15, 1971, with a well-known caricature of the top twelve justices, and the full survey was subsequently published in the American Bar Association Journal. This was followed by The First One Hundred Justices: Statistical Studies on the Supreme Court of the United States (1978), The Rejected: Sketches of the 26 Men Nominated for the Supreme Court but Not Confirmed by the Senate (1993), and The First One Hundred Eight Justices (2004), where Mersky and William Bader analyzed the selection, nomination, biography, politics, confirmation, and relative performance and ranking of the 149 nominees to the Supreme Court of the US at that date, and in greater detail, the 108 who actually served. Mersky also edited two documentary series on the Supreme Court: Landmark Supreme Court Cases: The Most Influential Decisions of the Supreme Court and The Supreme Court of the United States : Hearings and Reports on Successful and Unsuccessful Nominations of Supreme Court Justices by the Senate Judiciary Committee.
Professor Sanford Levinson recalls raising the idea in 2008 with Roy Mersky of a symposium in his honor:
I have for many years described my feelings vis-a-vis the Library (and its staff) as similar to those of a kid in the candy store (and all of you know how much I like candy). Ask and it shall be given unto you seemed the operative ethos that Roy instilled. Like most people, I probably didn't do enough to thank Roy directly for the almost literally endless contributions that the institution he created and managed made to my own flourishing at UT. Fortunately, Scot and I had the pleasure [some weeks before he died] of proposing to him an idea for a symposium in his honor, in the fall of 2009, on judicial biography. He took up the idea with alacrity and started suggesting some names, but he made it absolutely clear that he had no intention of retiring or otherwise leaving an institution that he clearly loved and was completely devoted to. We assured him that we well understood, and that the symposium would only a marker of his continuous service. We will, obviously, plan the symposium with even greater dedication and, alas, it will necessarily be a memorial. But there will be nothing at all contrived about memorializing someone who himself contributed so much to judicial biographies and helped countless scholars navigate what was available in our remarkably rich collection of materials. But, as with Christopher Wren, Roy will need no statues or lectureships to be properly memorialized. All one has to do is to "look around" as one enters, with pleasure and anticipation, the Library and know that there is literally no more user-friendly (and physically attractive--thanks to Roy's work with Elton and Martha Hyder) such facility in the country.