Vinson & Elkins Again Reaches Full Alumni Giving
The connections between The University of Texas School of Law and Vinson & Elkins run deep and long, forming a bond that has helped nurture the venerable institutions for more than a century.
James A. Elkins Sr. graduated from Texas Law in 1901, 16 years before co-founding his namesake firm. Generations of Vinson & Elkins lawyers have followed in his footsteps, graduating from a law school that imbued them with the skills vital to a successful career in the law: critical reasoning, a commitment to the rule of law, and an appreciation for the decorum and civility that underpin the profession.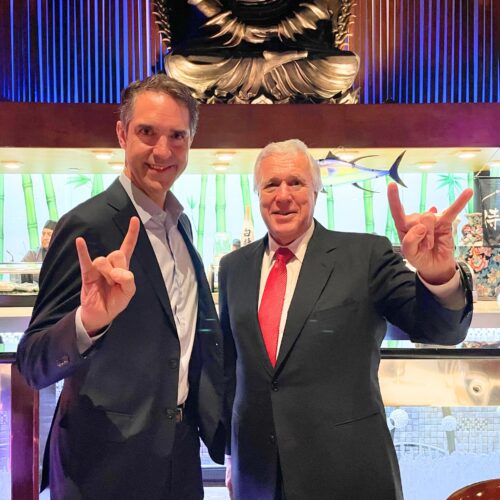 With the firm's recent award for 2023 Texas Law 100% Giving Challenge Champion, it's clear the passage of time has not dimmed Vinson & Elkins' commitment to the law school. Indeed, the firm has attained "champion" status for all 20 years that Texas Law has conducted the Giving Challenge, which recognizes law firms that achieve 100% alumni participation during the fiscal year.
"The annual contributions made by so many Texas Law alumni at Vinson & Elkins speak to the genuine gratitude our lawyers feel for an institution that played a formative role in their development," said Vinson & Elkins Chair Keith Fullenweider '88. "Even those who are not formally part of can't help but feel admiration for a world-class institution that has been such a powerful engine of growth in Texas and beyond."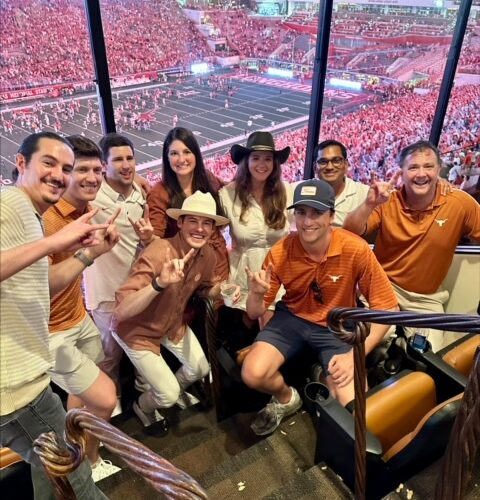 The legion of proud Texas Law alumni within the firm's ranks includes Senior Partner Glen Rosenbaum '72 (Houston) and Partners David Peck '98 (Dallas), Milam Newby '03 (Austin), and Chris Popov '01 (Houston), all of whom play an active, ongoing role in sustaining the firm's commitment to Texas Law. Vinson & Elkins' donors this year also hailed from offices outside the state, including London, New York City, and Washington, D.C.
"Soliciting contributions to Texas Law is one of the easier asks I make all year," says Peck, head of the firm's tax department, who has been conducting job placement interviews for Vinson & Elkins at his alma mater since 1999. "Our Texas Law alumni very much appreciate the lifelong gift a first-class legal education bestowed upon them and are eager to give back to the institution that is so integral to our success that it is commonly referred to as the lifeblood of the firm."
In addition to annual giving by its lawyers, Vinson & Elkins finds other ways to support the law school's mission of recruiting and training leaders who can address society's most intractable challenges. The law firm, for example, generously donates to many student organizations, including the Student Bar Association, the Women's Law Caucus, the Texas Journal of Oil, Gas & Energy Law, and the Texas Business Law Society. Vinson & Elkins also is a sponsor of Texas Law's Pipeline Program, which is dedicated to supporting aspiring lawyers from first-generation and low-income backgrounds.