Texas Journal of Oil, Gas, and Energy Law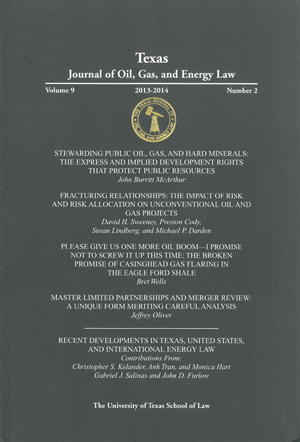 The
Texas Journal of Oil, Gas, and Energy Law
(
TJOGEL
) is the newest serial publication at the University of Texas School of Law, and the only student-edited journal in the country focused on promoting scholarship in the energy legal field.
TJOGEL
was formally created and endorsed by the Dean in the summer of 2005. The
Journal
 maintains a full staff of over 60 students. The
Journal
is published under the umbrella of the Texas Law Publications department, and joins the school's other stable of excellent legal periodicals. Each issue of
TJOGEL
features full-length articles touching some of the most important topics facing oil and gas attorneys today, ranging from upstream drafting and interpretation of instruments to downstream transactional and regulatory issues.
TJOGEL
hosts an annual energy law symposium, as well as several events throughout the year that give practitioners opportunities to network and interact with students interested in pursuing careers in energy law.
Journal homepage:
www.TJOGEL.org
About the Journal
ISBN:

1559-2189

Publication Schedule:

Fall, Spring.

Year Founded:

2005

Primary Readership:

International
Law
Legal
Legislation
National
Professional
Scholarly
Ordering Information
Purchase a subscription and recent issues
Officers
Editor-in-Chief (2019-2020): Caleb Martin
Managing Editor (2019-2020): Arsalan Eftekhar
Recent Developments Editor (2019-2020): Trevor Sloan
Chief Articles Editor (2019-2020): Patrick Maloney
Director of Submissions (2019-2020): Olivia Landry
Symposium Director (2019-2020): Colton Lyons
Chief Financial Officer: David Vige