The University of Texas School of Law began as The University of Texas at Austin's Department of Law when the university was founded in 1883. The law school started with two professors and 52 students in the basement of the university's Old Main Building. The school has since grown to more than 900 students and offers the Doctor of Jurisprudence (J.D.) and the Master of Laws (LL.M.).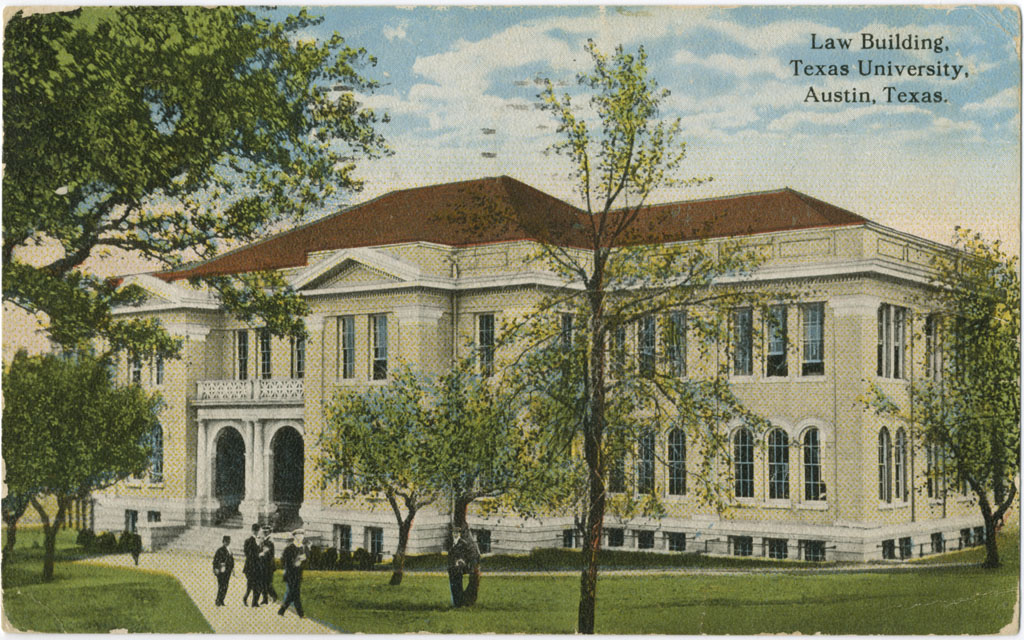 On July 1, 2022, Robert (Bobby) Chesney became Dean, taking over the role from Ward Farnsworth who served as Dean for 10 years. The Department of Law appointed its first dean, John C. Townes, in 1901, and moved out of the basement and into its own building in 1908. The Department of Law became The University of Texas School of Law in 1920. By 1935, it had become one of the largest law schools in the United States, and required a new building. In 1952 construction began on Townes Hall. Two additional buildings were later added: Jones Hall, completed in 1981, which became home to the Tarlton Law Library, which houses the Susman Academic Center; and the Connally Center, dedicated in 2001, which houses the Eidman Courtroom, the Advocacy Program and much of the Clinical Program. In 2021, renovations to outdoor spaces to the north side of Townes Hall included the Patman Family Plaza and Dee J. Kelly Courtyard.
Clinical legal education at the School of Law began in 1974, and has steadily expanded. Today, there are more than 15 different legal clinics as well as numerous internship programs that provide extensive opportunities to work on legal issues in real-world settings. Clinics have allowed students to represent clients in misdemeanor proceedings, attend oral arguments in the United States Supreme Court of cases they worked on, represent families seeking asylum, and assist victims of domestic violence, to name only a few examples.
The Advocacy Program was founded in 1978 to facilitate the teaching of advocacy at Texas Law. The program supports both academic courses and extracurricular competitions and activities in the advocacy field. Texas Law student teams have won numerous regional and national advocacy championships, with hundreds of students participating annually in mock trial, moot court, transactional, and dispute resolution competitions.
The law school has approximately 26,000 living alumni who have forged distinguished careers in government, public-service organizations, corporations, and law firms throughout Texas, the nation, and the world. Well-known graduates include former U.S. Secretary of State James A. Baker III; former U.S. Ambassador Robert S. Strauss; former Secretary of the Treasury Lloyd M. Bentsen Jr.; Seventh Circuit Court of Appeals Judge Diane Wood; Fifth Circuit Court of Appeals Judge Reynaldo Garza; former U.S. Senator Kay Bailey Hutchison; Secretary of Energy Federico Peña; former Dallas Mayor and U.S. Trade Representative Ron Kirk; presidential advisor Paul Begala; litigator Joe Jamail; criminal defense attorney Dick DeGuerin; Ford Foundation president Darren Walker; and cartoonist Sam Hurt.
Related Links
The Tarlton Law Library has created a series of digital resources that provide additional information about the University of Texas School of Law.