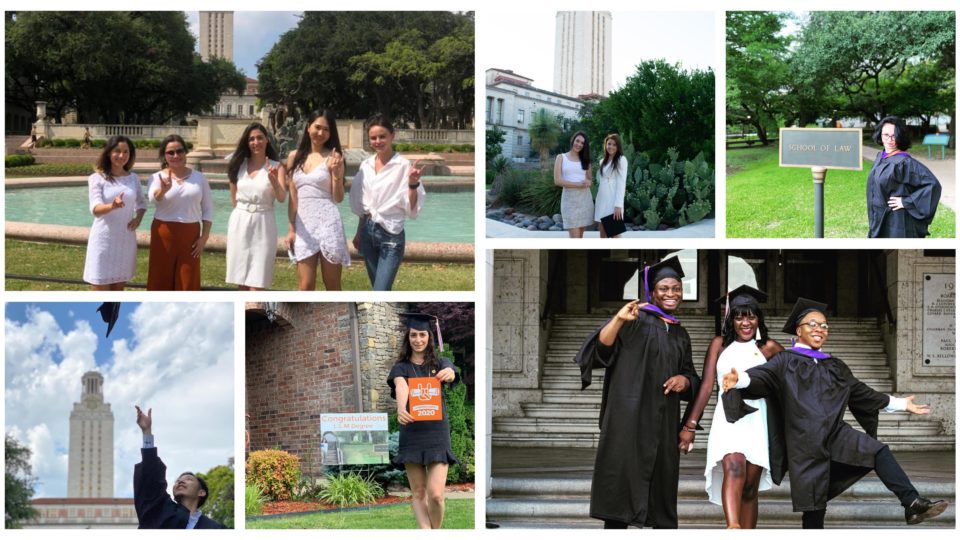 Master of Laws (LL.M.) Program
Lawyers from all over the world come to The University of Texas at Austin to expand the breadth and depth of their legal knowledge and invest in an internationally recognized Master of Laws. The LL.M. Program is diverse, selective, and small, with a maximum of 50 spots for each incoming class. LL.M. students from foreign countries and the U.S. are fully integrated into the academic life of the Law School, learning side by side with J.D. students. The LL.M. class is global in reach, with 35 students from 25 different countries in the Class of 2020, including 6 Fulbright students. In fact, The University of Texas at Austin is home to over 5,000 international students, and the rich diversity on our campus is essential to our success as a global learning community.
The University of Texas School of Law began as The University of Texas at Austin's Department of Law when the University was founded in 1883. The Law School started with two professors and 52 students in the basement of the University's Old Main Building. The Law School has since grown to more than 1,200 students and offers the Doctor of Jurisprudence (J.D.) and the Master of Laws (LL.M.). The Law School has catalogs dating from 1927 that refer to the LL.M. Program, making our program nearly a century old.
In addition to being ranked among the top 16 national law schools and among the top 5 public law schools in the nation, Texas Law also has the most affordable tuition among the top 20 law schools in the nation. With a network of graduates 24,000-strong, whatever you want to do, wherever you want to do it, there will be a Texas Law alum ready to help. Additionally, we have an unbeatable set of 14 clinics, 16 programs and centers, 13 student-run journals, and 35 student organizations that round out law students' legal education. Finally, we are in Austin–the Live Music Capital of the World, the second fastest growing city in the U.S., and the second best city for liberals to live. Boasting 400 live music venues, 100 barbecue restaurants, 200 miles of urban hike and bike trails, and 300 sunny days each year, Austin is the best place in the world to be a law student.
Concentrations
The University of Texas School of Law offers a single LL.M. degree with six different concentrations. Each degree concentration provides students with the opportunity to complete specified courses and obtain a certificate of specialization in that concentration. The LL.M. Program is flexible and allows each student to design an individual course of study tailored to their academic and professional interests. Our LL.M. concentrations are:
The U.S. for Foreign Lawyers concentration is a flexible program that provides students with a foreign law degree the opportunity to focus on a particular area of study or gain a broad foundation in U.S. law by taking courses in a variety of areas. Students with a foreign law degree are eligible for all six concentrations. Students with a U.S. J.D. are eligible for all concentrations except the one in U.S. Law for Foreign Lawyers.
Texas Law: This is Where it Begins
Here is a sneak peek at our amazing city and beautiful campus, and a little taste of what it is like to be part of our Texas Law community. At The University of Texas, we say "What Starts Here Changes the World"—and this is where it all begins.
What Students Are Saying
"I am currently completing a clerkship with Judge Michael J. Truncale for the Eastern District of Texas. I will begin clerking with the Texas Supreme Court's Justice Guzman in September 2020. With Judge Truncale's trust, I became the first foreign LL.M. graduate in the history of Texas Law to clerk for a United States Federal Court, and for that, I will be eternally grateful to Judge. The opportunity to clerk for Judge Truncale has allowed me to fast-track that learning curve and made me feel very confident to begin practicing. My advice for fellow foreign-trained lawyers interested in U.S. litigation is to take as many litigation-focused classes as possible during their LL.M. degree, to take every opportunity to participate in mock trials and moot court, and to focus on passing the bar exam to prove to employers that they are able to learn a new legal system in a short period of time."
Isaac Villarreal, Class of 2018, Judicial Clerk at U.S. District Courts
"Last week, we toured the Sweetwater Wind Farm – one of the largest wind farms in the world! We attended a presentation on wind turbine operation and went inside an operational wind turbine. We also discussed issues pertaining to contracts and environmental law. The wind tour is a unique experience offered by the Law School's Institute for Transnational Law and the best way to learn!"
Francisco Lanusse, Class of 2018, Associate at Latham & Watkins
"When I learned I had been awarded a Fulbright Scholarship, I must admit that The University of Texas School of Law (Texas Law) was not the first school that came to mind when assessing where I would eventually end up doing my LL.M. However, I could not be happier that it turned out the way it did - that I did my LL.M. at Texas Law. Texas Law was a great match for me (which is why Fulbright recommended it to begin with) since the courses they offer matched what I wanted to focus on very well, namely international commercial arbitration."
Andreas Hallbeck, Class of 2018, Senior Associate at Advokat på Roschier, Attorneys Ltd.