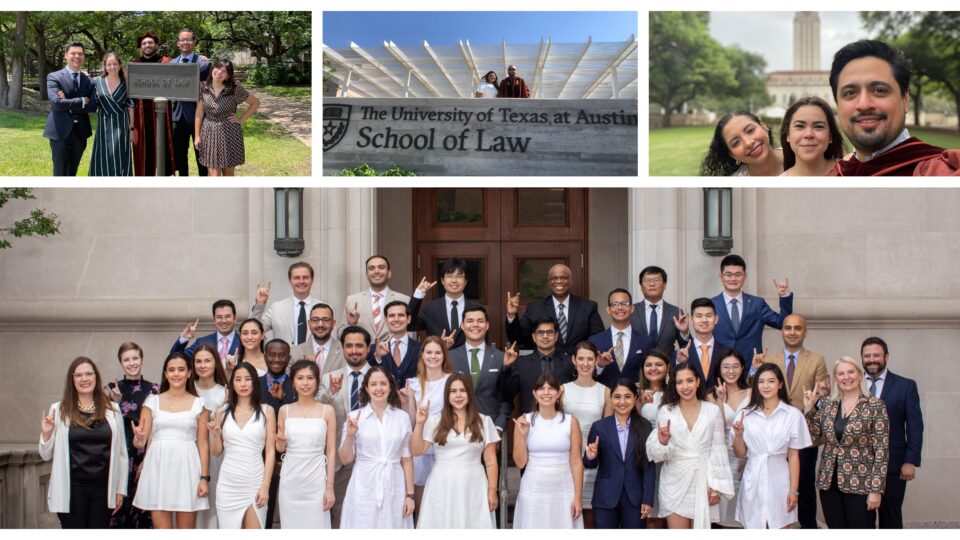 Master of Laws (LL.M.) Program
Lawyers from all over the world come to The University of Texas at Austin to expand the breadth and depth of their legal knowledge and invest in an internationally recognized Master of Laws. The LL.M. Program is diverse, selective, and small, with 25 spots for each incoming class. LL.M. students from foreign countries and the U.S. are fully integrated into the academic life of the Law School, learning side by side with 880 J.D. students. The LL.M. class is global in reach, with students from 15 different countries in the Class of 2023, including 4 Fulbright students.
Texas Law is situated on the northeast quadrant of campus, a short walk to 8 museums, 2 recreation centers with pools, and a football stadium. Law School facilities include 2 courtrooms; study lounges; state-of-the-art classrooms; a café; and the Tarlton Law Library, one of the largest academic law libraries in the world. Additionally, we have an unbeatable set of 16 clinics, 16 programs and centers, 13 student-run journals, and 44 student organizations that round out law students' legal education.
Finally, we are in Austin–the Live Music Capital of the World, the fastest-growing big city in the country, and the second best city for liberals to live. Technology companies such as Google, Apple, Amazon, Facebook, SpaceX, and Tesla have established major operations in Austin. Boasting 400 live music venues, 100 barbecue restaurants, 200 miles of urban hike and bike trails, and 300 sunny days each year, we say that Austin is the best place in the world to be a law student.
Concentrations
The University of Texas School of Law offers a single LL.M. degree with 7 different concentrations. Each degree concentration provides students with curricular flexibility and the opportunity to complete a specific course of study and obtain a certificate of specialization in that concentration. Students with a foreign law degree are eligible for all 7 concentrations. Students with a U.S. J.D. are eligible for all concentrations except the one in U.S. Law for Foreign Lawyers. Our LL.M. concentrations are:
Texas Law has 130 faculty with over 125 areas of specialty and boasts a low student-faculty ratio of 5.8:1.
Texas Law: This is Where it Begins
Here is a sneak peek at our amazing city and beautiful campus, and a little taste of what it is like to be part of our Texas Law community. At The University of Texas, we say "What Starts Here Changes the World"—and this is where it all begins.
What Students Are Saying
"I'm a Panamanian lawyer working in a law firm in Panama City. Thanks to the Cybersecurity LLM, I have been able to assist a multinational company in adopting data privacy measures and be a panelist in cybersecurity and public policy forums. As a researcher for the Panamanian Institute of Law & New Technologies and in partnership with the Electronic Frontier Foundation, we will soon publish "Who's Got Your Back", a guide on mobile network operator's information-sharing practices with governments. My favorite part of the LLM was networking! Nearing the end of my LLM, I was reflecting on this with a friend, and he told me: 'The best takeaway from an experience are the relationships you make and build. The knowledge and swag are nice but that's something else.'"
Gabriel Cajia, Class of 2021 & Fulbright Student Alumnus, Associate Attorney at Cajigas & Co.
"My year at UT still remains one of the best years of my academic career! I was surrounded by inspiring and impressive colleagues and staff that went above and beyond to support and ensure my success. It was a healthy balance of fun, hard work and bar prep!! My year at UT opened all sorts of doors I didn't even know were possible. I am very grateful for the UT LLM program! Hook 'em!"
Kendra Smith, Class of 2020, Associate at Sidley Austin LLP
"I am a litigation associate in Winston & Strawn's Houston office, focusing my practice on domestic litigation and international disputes. I am licensed to practice law in Texas and Mexico and have gained litigation experience in both legal systems. Prior to joining Winston, I served as law clerk to the Honorable Justice Eva Guzman at the Supreme Court of Texas and the Honorable Michael Truncale at the Eastern District of Texas, becoming the first foreign-trained attorney to clerk for the State's highest court and first to clerk for a federal court."
Isaac Villarreal, Class of 2018, Associate, DuBois Bryant & Campbell