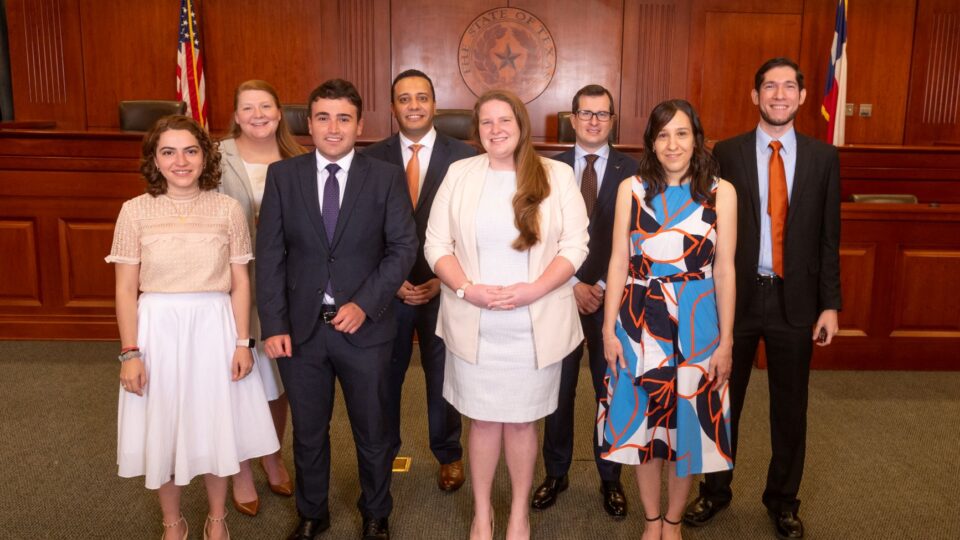 LL.M. Recruiting Events
Each year we meet with thousands of prospective students all over the world. LL.M. Program staff, faculty, and alumni travel to meet prospective applicants in person at information sessions and fairs. We also offer live virtual sessions. Please see below for details on how to join one of our admissions sessions.
Event details will be posted as they are finalized and are subject to change.
Live Virtual Admissions Information Sessions
We hope that you will join us for an upcoming virtual admissions information sessions. Admissions sessions are offered once a month on Wednesdays. You will need a computer or mobile device and an internet connection to access virtual sessions. You must also download the Zoom app and create a Zoom account. Register for an upcoming virtual session. Note that all times are Central Daylight Time.
Guided Tour and Class Visits
Law School guided tours and class visits are not available at this time.
Campus walking tours are currently only offered to admitted students on a limited basis. Additionally, we are limiting tours to 9 participants plus 1 tour guide. If you are an admitted student, schedule a walking tour.
LL.M. Consortiums and Partnerships
The Texas Law LL.M. Program is proud to be part of two LL.M. Consortiums, bringing together law schools from around the world to give prospective students a wide variety of benefits and information to assist in the admissions process, the LL.M. experience, the bar exam, and more! Both offer live and recorded sessions for prospective students to learn and speak with law school representatives, faculty, alumni, and current students. Upcoming events and registration information can be found on the consortium websites linked below.
The LL.M. Program is part of the U.S. LL.M. Consortium, a partnership of elite law schools from across the United States. Our mission is to provide prospective students with consolidated access to exclusive resources and support by some of America's most innovative law schools.
The LL.M. Program is also a part of the Global Law Consortium. The GLC is a global group of world-class LL.M. programs, and we are proud to bring together leading law schools of the world on a single virtual platform.
Summer 2021 Recruiting Events
Event: 2021-22 LSAC Law School Forum
Date: September 10, 2021
Time: 9-11 am CT and 2-6 pm CT
Registration: https://lsacforums21.vfairs.com/
---
Event: U.S. LL.M. Legal Education Conference
Date: October 15, 2021
Time: 9-10:30 am CT and 7-8:30 pm CT
Registration: TBA
---
Event: U.S. LL.M. Legal Education Conference
Date: December 3, 2021
Time: 9-10:30 am CT and 7-8:30 pm CT
Registration: TBA
---
Event: 2021-22 LSAC Law School Forum
Date: December 4, 2021
Time: 9-11 am CT and 2-6 pm CT
Registration: https://lsacforums21.vfairs.com/
---
Event: 2021-22 LSAC Law School Forum
Date: February 5, 2021
Time: 9-11 am CT and 2-6 pm CT
Registration: https://lsacforums21.vfairs.com/