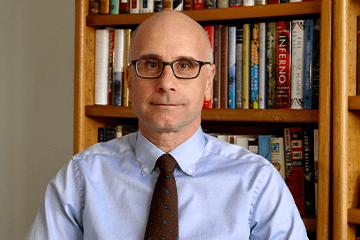 Mark Movsesian (St. John's University School of Law)
Location:
Atlas Seminar Room - TNH 3.129
With an increase in people leaving organized religion in the United States, Professor Mark Movsesian will discuss his recent essay, "The New Thoreaus", on how the law should treat these religious "Nones." Moderated by Steven Collis, Director of the First Amendment Center.
Read the work:  The New Thoreaus by Mark Movsesian
Professor Movsesian is the Frederick A. Whitney Professor of Contract Law and Co-Director of the Center for Law and Religion. His work has appeared in the Harvard, North Carolina, and Washington & Lee Law Reviews, the Oxford Journal of Law and Religion, the American Journal of International Law, the Harvard International Law Journal, the Harvard Journal of Law and Public Policy, the Virginia Journal of International Law, and many other journals, and has been cited by the United States Supreme Court. He has been a visiting professor at Notre Dame and Cardozo Law Schools and has delivered papers at numerous workshops in the United States and Europe. He teaches offerings in contracts, law and religion, comparative law, and federal courts. Professor Movsesian serves on the board of editors of the Journal of Law and Religion (Cambridge). He posts regularly at First Things, the Law and Religion Forum, the Library of Law and Liberty, and the Volokh Conspiracy, and co-hosts the Legal Spirits podcast series.