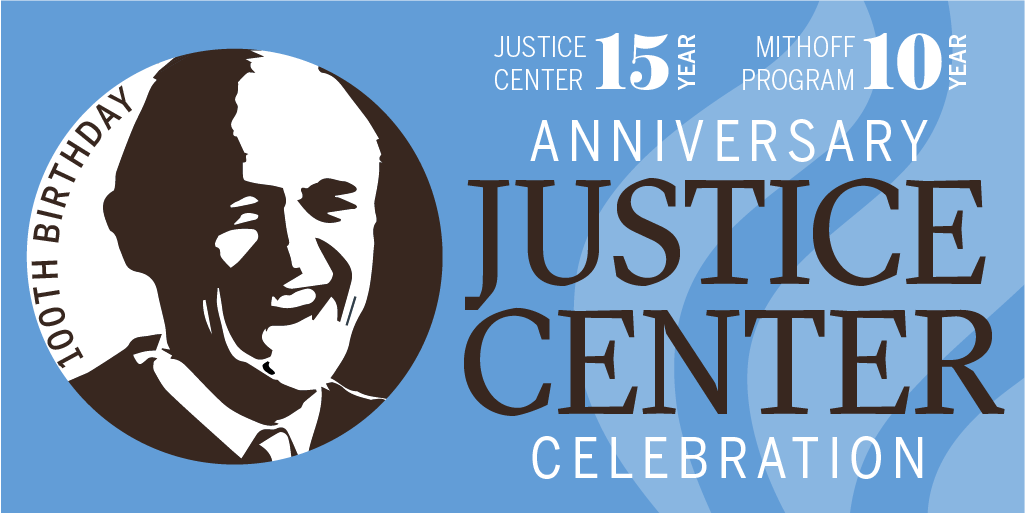 Justice Center Anniversary Celebration
Location:
Susman Godfrey Atrium, Eidman Courtroom
Lunch program and panel discussion celebrating what would have been Judge William Wayne Justice's 100th birthday plus 15 years of the Justice Center and 10 years of the Mithoff Pro Bono Program.
*RSVP for lunch required by February 13.
11:45 am – 1:15 pm: Lunch Program* (Atrium)
Judge Justice at 100: Honoring the Man and His Legacy
The program will include remarks by former clerks of Judge Justice about him as a judge and about the ongoing effects of his landmark rulings safeguarding civil rights and upholding constitutional freedoms for all.
1:30 pm – 3:30 pm: Panel Discussion (Eidman Courtroom)
Passing the Torch: The Justice Center at 15 Years and the Mithoff Program at 10 Years
The panel will feature recent Texas Law graduates who are advocating for social justice in various fields, paired with more experienced attorneys (mostly former Judge Justice clerks) with whom they have worked. Their comments will highlight the Justice Center's work in tandem with the Mithoff Program to increase access to justice and foster the next generation of public interest lawyers.
3:30 pm: Happy Hour (Jamail Pavilion)
RSVP is not required for panel discussion or happy hour. Afternoon events are open to all.
Lunch Program Speakers
Eric Albritton, Nelson Bumgardner Albritton
Professor Lynn Blais, UT School of Law
Steven Farr, Teach For All
Rob McDuff, Mississippi Center for Justice
Audrey Selden, National Alliance for Partnerships in Equity
Panel Speakers
Meg Clifford '12, UT School of Law
Erin Gaines '13, Texas RioGrande Legal Aid
Wesley Hartman '18, People's Community Clinic
Amy Johnson, Texas RioGrande Legal Aid
Marissa Latta '18, Texas RioGrande Legal Aid
Andrea Meza '15, Refugee and Immigrant Center for Education and Legal Services
Nelson Mock '98, Texas RioGrande Legal Aid
Lochlin Rosen '17, Colorado Public Defender
Professor Elissa Steglich '00, UT School of Law
Stephanie Trinh '14, City of Austin
Professor Heather Way '96, UT School of Law
Professor Lucy Wood, UT School of Law
Please check back for speaker bios.
Questions? Contact us at JusticeCenter@law.utexas.edu or 512-232-6277.