Student Awards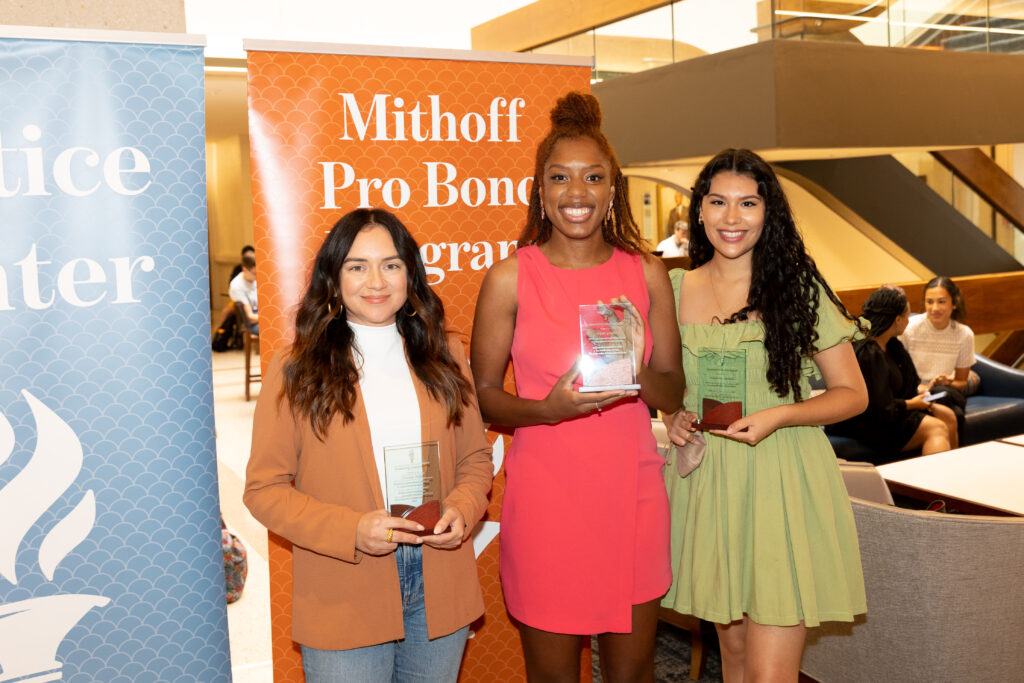 The Justice Center promotes equal justice at Texas Law and seeks to build the law school's public interest community. In spring 2023, the Justice Center will honor up to three graduating students for outstanding contributions to building and supporting Texas Law's public interest community and the culture of service.
"Public interest" is broadly defined to include pro bono, nonprofit, government, legislative, and other not for profit sectors. The Justice Center is eager to recognize students who have provided extraordinary leadership, mentorship, or support to their fellow public-interest minded students or who have otherwise helped strengthen the law school's commitment to service. The award recipients will each receive $500 as well as other recognitions.
Students graduating in December 2022, May 2023, or August 2023 are eligible for this award. The selection committee will consider student applications and peer nominations.
Application Information
The deadline for class of 2023 applications and peer nominations is Friday, March 24, 2023. The award recipients will be announced by Friday, March 31.
Applications: Students are invited to apply by submitting an online application using the link below. Applicants are asked to describe their contributions and why they should receive this award in a short essay and to provide an updated resume, an informal transcript, and the name of a student reference (who the Justice Center will contact for additional information).
Peer nominations: A student may nominate another student by submitting an online nomination using the link below. The nominator is asked to describe the nominee's contributions and why they should receive this award in a short essay. The Justice Center will contact nominees to ask them to submit their resumes and transcripts and any additional information they would like to provide by March 27. The nominees and the selection committee will not be told the names of peer nominators.
Recipients
2022
2021
2020
2019
2018
2017
2016
2015
2014
2013
2012
2011