Student Advisory Board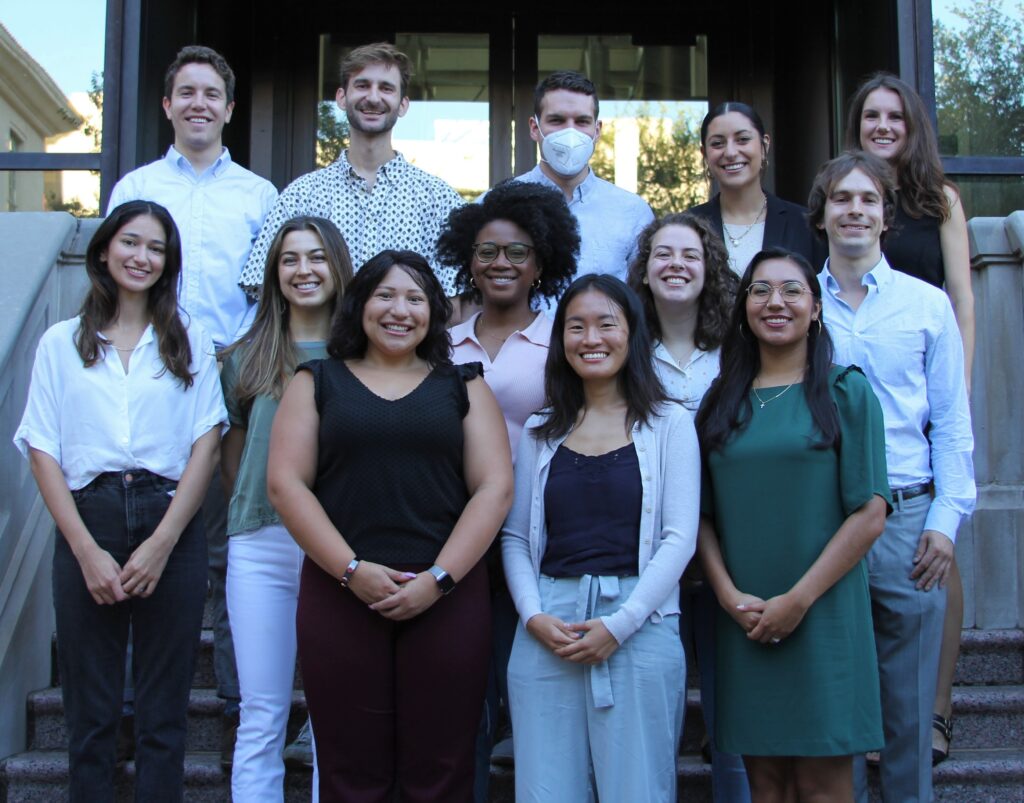 The Justice Center works closely with students through many programs and, in particular, our Student Advisory Board. The board is composed of recipients of the Equal Justice, G. Rollie White, Public Service, and Reaud Scholarships. Its purpose is to provide the Justice Center with insight into the experiences of students pursuing public service and public interest law; to facilitate communication between the Justice Center, students, and student organizations with a public interest focus; and to continue to build the Law School's public interest community and culture of service.
The board meets with Justice Center staff four to five mornings each semester, and students also occasionally meet in smaller groups to discuss particular ideas. At board meetings, students are asked to provide input and assistance on programs and initiatives; students share student organization news; and small groups report on their ideas and discuss them with the larger group. In past years, members of the board have suggested and worked with Justice Center staff to implement a number of initiatives, such as planning the first winter break pro bono trips, hosting the Justice Center's annual open house, creating programing on public service loan forgiveness, and strengthening student ties to public-interest alumni.
Student Advisory Board 2022-23
Public Service Scholars:
Justin Atkinson '24, Amelia Austern '24, Emani Brown '24, Lea Kokenes '23, Lauren Schoen '24
G. Rollie White Public Service Scholars:
Alice Min '25, Alyse Munrose '23
Public Service Scholars Emeritae:
Luke Freedman '23, Adarsh Parthasarathy '23, Evan Snyder '23
Equal Justice Scholars:
Araceli Garcia '24, Joshua McClain '25,  Nicole Steinberg '23
Wayne Reaud Public Interest Scholars:
Sally Vandenberg '23, Courtney Weber '24
Student Advisory Board 2021-22
Public Service Scholars:
Samantha Acuña '22, Emily Bloom '22, Luke Freedman '23, Adarsh Parthasarathy '23, Evan Snyder '23,
G. Rollie White Public Service Scholars:
Anthony Collier '22, Alyse Munrose '23
Public Service Scholars Emeritae:
Alyssa Gordon '22, Zoraima Pelaez '22, Carolina Rivera '22, Emily Guzman Sufrin '22
Equal Justice Scholars:
Araceli Garcia '24, Nicole Steinberg '23, Liam Veazey '22,
Wayne Reaud Public Interest Scholars:
Lourdez Ortiz '22, Sally Vandenberg '23, Courtney Weber '24
Student Advisory Board 2020-21
Public Service Scholars:
Alyssa Gordon '22, Carolina Rivera '22, Emily Guzman Sufrin '22
G. Rollie White Public Service Scholars:
Anthony Collier '22, Alyse Munrose '23, Melissa Sopher '21
Public Service Scholars Emeritae:
Zoraima Pelaez '22, Kristin Schulz '21
Equal Justice Scholars:
David Giannaula '21, Nicole Steinberg '23, Liam Veazey '22
Wayne Reaud Public Interest Scholars:
Jill Applegate '21, Lourdez Ortiz '22, Sally Vandenberg '23
Student Advisory Board 2019-20
Public Service Scholars:
Fabiola Casas '20, Zoraima Pelaez '22, Kevin Robinson '20, Kristin Schulz '21, Julia Wang '20
G. Rollie White Public Service Scholars:
Anthony Collier '22, Natalie Fine '20, Melissa Sopher '21
Public Service Scholars Emeriti:
Savannah Kumar '20, Natalie Neill '20, Josh Wagner '20
Equal Justice Scholars:
David Giannaula '21, Anna Roberson '20, Liam Veazey '22
Wayne Reaud Public Interest Scholars:
Jill Applegate '21, Lourdez Ortiz '22
Student Advisory Board 2018-19
Public Service Scholars:
Justin Chung '19, Savannah Kumar '20, Taylor Loynd '19, Natalie Neill '20, Josh Wagner '20
G. Rollie White Public Service Scholars:
Camille Fenton '19, Natalie Fine '20, Melissa Sopher '21
Public Service Scholars Emeriti:
Marcus Martinez '19, Leah Rodriguez '19
Equal Justice Scholars:
Marissa Balonon-Rosen '19, David Giannaula '21, Anna Roberson '20
Wayne Reaud Public Interest Scholar:
Jill Applegate '21
Student Advisory Board 2017-18
Public Service Scholars:
Sarah Mae Jennings '18, Marcus Martinez '19, Leah Rodriguez '19, Alex Shahrestani '18
G. Rollie White Public Service Scholars:
Camille Fenton ' 19, Natalie Fine '20, Tyler Somes '18
Public Service Scholars Emeritae:
Reema Ali '18, Eva Sikes '18, Kendall Williams '18
Equal Justice Scholars:
Marissa Balonon-Rosen '19, Elizabeth Esser-Stuart '18, Anna Roberson '20
Student Advisory Board 2016-17
Public Service Scholars:
Reema Ali '18, Briana Perez '17, Eva Sikes '18, Kendall Williams '18
G. Rollie White Public Service Scholars:
Paige Duggins '17, Camille Fenton ' 19, Tyler Somes '18
Public Service Scholar Emeritus:
Lochlin Rosen '17
Equal Justice Scholars:
Marissa Balonon-Rosen, '19 Elizabeth Esser-Stuart '18, Alex Stamm '17
Student Advisory Board 2015-16
Public Service Scholars:
Hannah Alexander '16, Camila Cossio '16, Hannah Herzog '16, Seth Manetta-Dillon '16, Lochlin Rosen '17
G. Rollie White Public Service Scholars:
Paige Duggins '17, Tyler Somes '18
Public Service Scholars Emeriti:
Hensleigh Crowell '16, Karly Jo Dixon '16, Daniel Hatoum '16
Equal Justice Scholars:
Kelsey Chapple '16, Elizabeth Esser-Stuart '18, Alex Stamm '17
Student Advisory Board 2014-15
Public Service Scholars:
Kallie Dale-Ramos, '15; Karly Jo Dixon, '16; Nora Gay, '15; Daniel Hatoum, '16
G. Rollie White Public Service Scholar:
Paige Duggins, '17
Public Service Scholars Emeritae:
Stephanie Brosig, '15; Hensleigh Crowell, '16; Eleanor D'Ambrosio, '15; Sofia Meissner, '15
Equal Justice Scholars:
Kelsey Chapple, '16; Chris Larson, '15; Alex Stamm, '17
Student Advisory Board 2013-14
Public Service Scholars:
Stephanie Brosig, '15; Sarah Bryant, '14; Kali Cohn, '14; Hensleigh Crowell, '16; Eleanor D'Ambrosio, '15; Stephanie Matherne, '14; Catherine McCulloch, '14
Public Service Scholars Emeriti:
Samantha Jarvis, '14; Mackenzie Meador, '14; Sofia Meissner, '15; Brian Quillen, '14
Equal Justice Scholars:
Kelsey Chapple, '16; Chris Larson, '15; Cassie McCrae, '14
Student Advisory Board 2012-13
Public Service Scholars:
Abby Anna Batko-Taylor, '13; Amy Friedman, '13; Coulter Goodman, '13; Mackenzie Meador, '14; Sofia Meissner, '15; Brian Quillen, '14
Public Service Scholars Emeritae:
Joanne Heisey, '13; Samantha Jarvis, '14
Equal Justice Scholars:
Erin Gaines, '13; Chris Larson, '15; Cassie McCrae, '14
Student Advisory Board 2011-12
Public Service Scholars:
Amelia Ruiz Fischer, '12; Michael Garemko, '12; Joanne Heisey, '13; Samantha Jarvis, '14; Christine Nishimura, '12; Sara Puls, '12
Public Service Scholars Emeriti:
Michael O'Keefe Cowles, '12; Brandi Mirzakhani, '12; Alec Swafford, '12
Equal Justice Scholars:
Erin Gaines, '13; Cassie McCrae, '14; Jordan Pollock, '12
2L Representative:
Molly Barron, '13
Student Advisory Board 2010-11
Public Service Scholars:
Michael O'Keefe Cowles, '12; Brandi Mirzakhani, '12; Meredith Shytles, '11; Alec Swafford, '12; Susannah Volpe, '11
Public Service Scholars Emeriti:
Leah Farrell, '11; Devon Helfmeyer, '11; Anjela Jenkins, '11; Daniel Lenhoff, '11
Equal Justice Scholars:
Erin Gaines, '13; Lawson Konvalinka, '11; Jordan Pollock, '12
1L Representative:
Molly Barron, '13
Student Advisory Board 2009-10
Public Service Scholars:
Leah Farrell, '11; Devon Helfmeyer, '11; Anjela Jenkins, '11; Daniel Lenhoff, '11; Ruth Rosenthal, '10
Public Service Scholars Emeritae:
Stephanie Kolmar, '10; Lindsey Peebles, '10
Equal Justice Scholars:
Lawson Konvalinka, '11; Jordan Pollock, '12; Kyle Marie Stock, '10
Student Advisory Board 2008-09
Public Service Scholars:
Brett Kaufman, '09; Stephanie Kolmar, '10; Lindsey Peebles, '10; Terry Schuster, '09; Spencer Wilson, '09
Public Service Scholars Emeriti:
Whitney Hill, '09; Aron Israelite, '09; Meghan Shapiro, '09; Lisa Snead, '09
Equal Justice Scholars:
Jessica Cassidy, '09; Lawson Konvalinka, '11; Kyle Marie Stock, '10
Student Advisory Board 2007-08
Public Service Scholars:
Whitney Hill, '09; Aron Israelite, '09; Kate Lincoln-Goldfinch, '08; Meghan Shapiro, '09; Lisa Snead, '09
Public Service Scholars Emeriti:
John Belanger, '08; Paul Sebastian Di Blasi, '08; Molly Spieczny, '08
Equal Justice Scholars:
Jessica Cassidy, '09; Kyle Marie Stock, '10; Amber VanSchuyver, '08
Student Advisory Board 2006-07
Public Service Scholars:
John Belanger, '08; Paul Di Blasi, '08; Parisa Fatehi, '07; Shirley Horng, '07; Molly Spieczny, '08
Equal Justice Scholars:
Jessica Cassidy, '09; Amber VanSchuyver, '08
Student Advisory Board 2005-06
Public Service Scholars:
Kathryn Karam, '07; Ashley Morris '06; Taylor Falls Olson, '06; John Tustin, '06; Elizabeth Wagoner, '07
Equal Justice Scholar:
Kathrine Russell, '08