Public Service Scholarships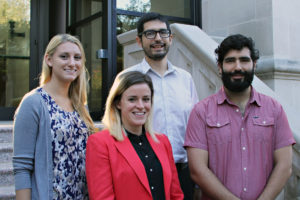 Each year the Public Service Scholars Program provides scholarships to second and third year students with a demonstrated commitment to studying and working in public service and promoting it at the Law School. Public service for this program includes legal work in non-profit, government, and legislative settings. Scholars are selected based on their commitment to public service, financial need, and academic credentials.  The four 2017-2018 recipients were awarded scholarships of $3,500.
Scholars work closely with the Justice Center and serve on the Center's Student Advisory Board, which meets regularly to advise the Center about programming, speakers, and outreach to student organizations.  The Scholars attend and assist with events and conferences sponsored by the Center, publicize Center events and initiatives, serve as mentors to students and liaisons to student organizations, and are encouraged to initiate programs and projects.
2017-2018 Scholars:
For more information, please email: justicecenter@law.utexas.edu
Application Information
Students in their second or third year of law school are invited to apply by submitting an online application. Applications for the 2018-2019 scholarships will be made available in late spring 2018, and applications will be due in August 2018.
Recipients
2017
2016
2015
2014
2013
2012
2011
2010
2009
2008
2007
2006
2005