The Richard and Ginni Mithoff Pro Bono Program recently added the Parole Project to the list of internal pro bono projects it has developed for the Texas Law community. Law student volunteers prepare parole packets for women incarcerated in Texas prisons to provide the Texas Board of Pardons and Paroles with a more complete picture of clients in determining their eligibility for parole.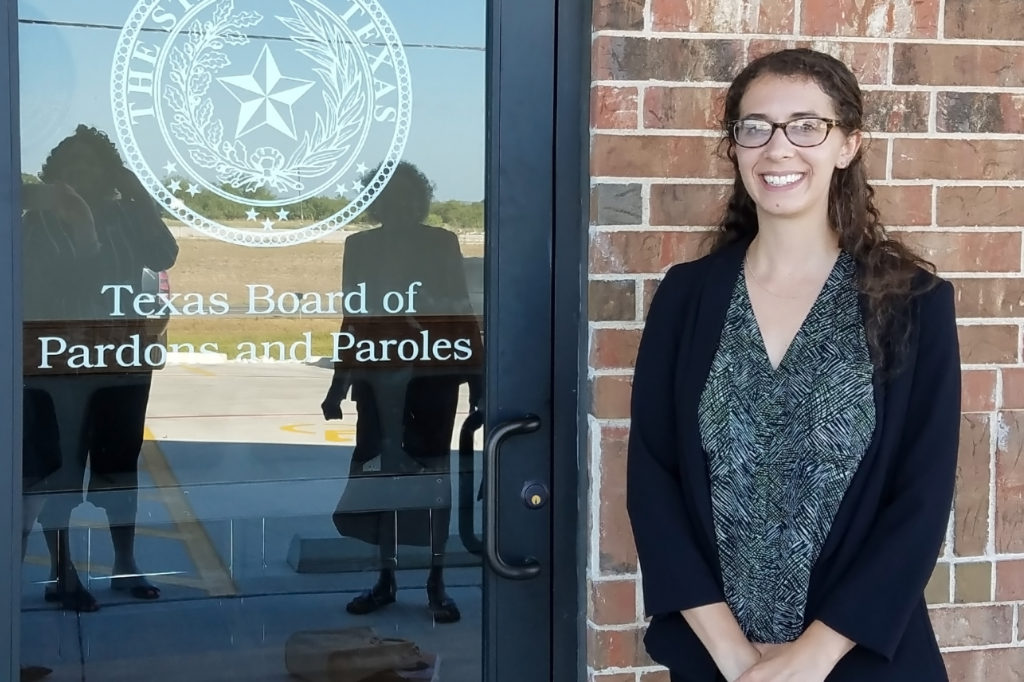 The project is the brainchild of 3L Natalie Fine, who came to Texas Law with prior experience preparing parole and clemency packets in New York. As a 1L, she learned about the huge need for parole assistance in Texas from Professor Raoul Schonemann in the Capital Punishment Clinic. She applied to become a Pro Bono Scholar with the Mithoff Program as a 2L to address that need and worked with Helen Gaebler, senior research attorney at the Justice Center, to develop the Parole Project.
The Parole Project launched with three clients during its development phase last year and has recently taken on six more. The model is for teams of three students to work with clients to prepare packets well in advance of the clients' eligibility for parole. Students travel to the prison to meet with clients and learn about their backgrounds, rehabilitative efforts, and future plans for reentering their communities. Students then interview family members and other supporters, obtain records, prepare affidavits, research legal issues, and draft the parole packet. The goal is to submit a holistic narrative, photographs, letters of support, certificates, medical records, and other relevant documents — information beyond the minimal (and often unbalanced) information typically available to the Board. The project's first two cases culminated with Fine and fellow 3L Julia Chung recently giving presentations to the Board under Gaebler's supervision, with very favorable results for their clients.
"Building on the Mithoff Program's existing reentry focus, this project offers students meaningful opportunities to work directly with clients earlier in that process, helping the women to build a sense of agency over their future and to reimagine life after prison," said Gaebler. "The first two hearings led the Board to spare our clients, one of whom is quite elderly, almost four years of incarceration – years that can now be spent with families and friends, returning to life as productive members of their communities."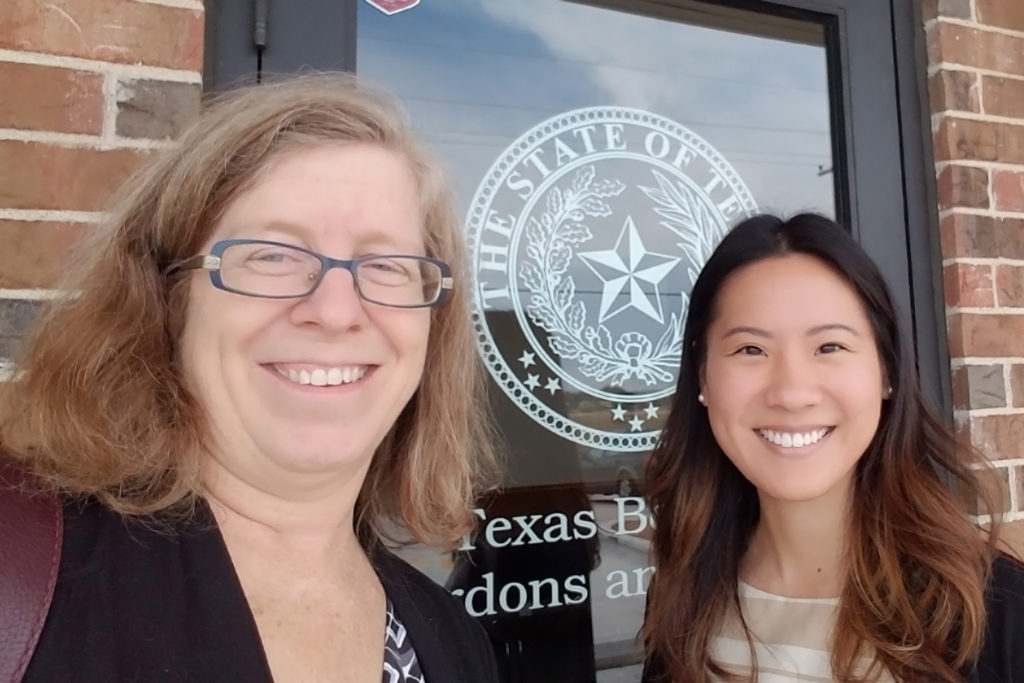 "I've gotten so much from the project," said Fine, who plans to work as a public defender following graduation. "It's been amazing to work so closely with Helen Gaebler and the rest of the Justice Center and Mithoff Program staff — we certainly couldn't have accomplished as much without the time and energy of the staff and the student volunteers. Most importantly, getting to know the women we've worked with over the last year has been a privilege. They've been so trusting, gracious, and helpful throughout the entire process."
The project provides a much-needed service while helping students build important lawyering skills. "I volunteered for the Parole Project because it provides a unique opportunity for students to develop a deeper understanding of their clients and convey their life history through a compelling narrative," said Chung, who plans to pursue a career in capital defense. "People who are incarcerated are more than just their crime. They have complex life experiences and stories worth sharing. Through this experience, I learned valuable advocacy skills that are crucial to effective lawyering."
January 2020 Update: The Parole Project won its third and final appeal request from its 2019 cases, sparing this client an additional two and a half years of incarceration. As news of the Project's success circulates, the Justice Center and the Mithoff Pro Bono Program are considering new ways to expand the project and create additional opportunities to support the many individuals in TDCJ's custody who are ready to rejoin their families and communities.