The Justice Center is pleased to announce that Rhiannon Hamam '16 has joined the Richard and Ginni Mithoff Program as a supervising attorney.
Rhiannon is a proud graduate of Texas Law, where she was Pro Bono Scholar on the Mithoff Program's Expunction Project during the 2015-2016 academic year. She also was a cofounder of GRITS, the student-run "Getting Radical in the South" conference, and served as a Rapoport Center Human Rights Scholar, vice president of administration for the Texas Law chapter of the American Constitution Society, articles editor of the Texas Journal of Civil Liberties & Civil Rights, and staff editor of the American Journal of Criminal Law.
Immediately after graduating from Texas Law in 2016, Rhiannon worked as a public defender with the Starr County Regional Public Defender based in Rio Grande City, Texas. She then moved to Austin and worked as appointed criminal defense counsel in private practice, as a mitigation specialist with the Office of Capital and Forensic Writs, and as a staff attorney with the Travis County Public Defender's Office.
"I'm thrilled that Rhiannon has returned to Texas Law and the Mithoff Program, and that our students will have the opportunity to work with her as a supervising attorney," said Mithoff Program director Andrea Marsh. "She's bringing back so much great experience from her years of practice that will benefit our students and help us support and grow our pro bono projects."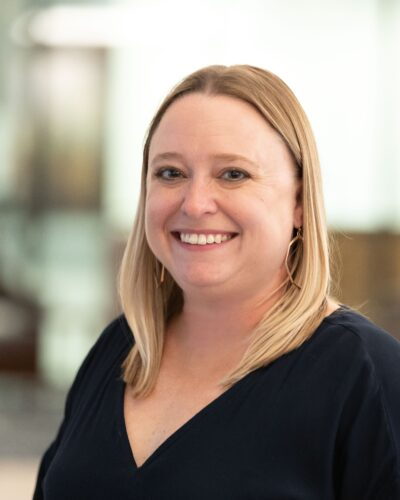 Rhiannon succeeds Meg Clifford '12, who was a postgraduate fellow with the Mithoff Program in its early years and then continued on as a staff attorney supervising students and developing projects. Meg now works in Texas Law's Student Affairs office as assistant director of academic success, where she supports students' transition to law school and helps them navigate the law school experience through passing the bar.
"The Justice Center is excited to welcome Rhiannon to our team. We are also very grateful to Meg for the ten years she spent promoting public service at the school," said Eden Harrington, director of the Justice Center. "Meg worked closely with students, faculty, and external partners to help build key pro bono projects within the Mithoff Program, including 'signature' projects focused on expunction, name and gender marker changes, and driver's license recovery. She guided over a thousand students in their pro bono work and showed an extraordinary commitment to students. The law school is fortunate now to have Meg leading our academic success initiatives."