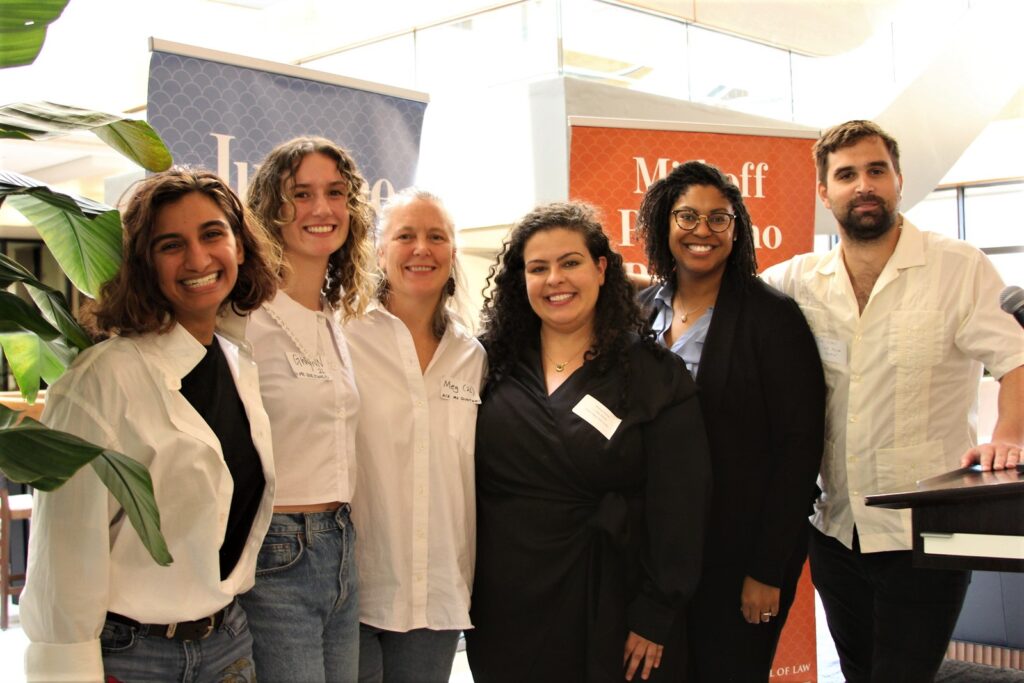 On Friday, September 8, the Justice Center hosted its annual public interest orientation. Students founded Change It Up! in 2013 with the goal of assuring public-interest-oriented 1L students of the feasibility of their social justice aspirations and introducing them to each other and to the people and programs at Texas Law that will help them get there. This year, Change It Up! was organized by law students Clara Altfeld '25, Gwynn Marotta '25, Joe O'Neil '25, and Meg Solley '25.
To kick off the event, student attendees participated in a networking lunch with local attorneys and Texas Law faculty, staff, and returning students. Each lunch table represented a different social justice issue: Death Penalty & Actual Innocence, Disability Rights, Environmental Justice, Housing Justice, Immigration, International Human Rights, Labor & Employment, LGBTQ Justice, Nonlitigation Practice Areas: Policy, Community Advocacy, & Transactional Law, Private Practice & Plaintiff-Side Litigation, Public Defense, Racial Justice, Reentry & Collateral Consequences, Religious Liberties, Reproductive Justice. Students were assigned to one discussion group for their entree, and for dessert, students switched tables for a second round of conversation on a different topic.
Change It Up! 2023 continued with a panel of alumni representing various practice areas: Jill Applegate '21, a Skadden Fellow at the Neighborhood Defender Service of Harlem in New York City, Alyssa Gordon '22, a Borchard Fellow in Law & Aging with the ACLU's National Prison Project in Washington, D.C., Noorulanne Jan '21, an associate attorney in Earthjustice's Northwest Regional Office in Seattle, and Blue Ware '22, a staff attorney with the Travis County Public Defender's Office in Austin.
The panelists discussed the value of law school clinics and internships, the impact of faculty mentorship, and the importance of community in social justice lawyering. "The panel was really special—attendees had the opportunity to hear from four very recent Texas Law alum about their public interest careers, law school experiences, and perspectives on social justice lawyering," shared Rhiannon Hamam '16, panel moderator and supervising attorney with Texas Law's Richard and Ginni Mithoff Pro Bono Program.
Student response suggests that Change It Up! 2023 was true to the 2013 founders' vision and goals. "The event was an invaluable introduction to the public interest world here at Texas Law," said Angelina Ramirez '26. "Through the panel of impressive public interest attorneys and the personal conversations with public interest professors and students, I felt more confident about how to pursue my passion for progress through human rights." Her classmate Sumaya Siddiqui '26 struck a similar note: "I left Change It Up! feeling grounded in my purpose for attending law school, and incredibly inspired by the current students, faculty, and alumni who are leading change through so many impactful and creative legal initiatives. I am so excited for the many opportunities to forge my path with the resources and support of this remarkable community."
Reflecting on her first event as director of the William Wayne Justice Center, Nicole Simmons said, "Change It Up 2023 was a great success! Congratulations to the event's student planners, Clara Altfeld, Gwynn Marotta, Joe O'Neil, and Meg Solley. We are grateful for the generous support of the 31 faculty, staff, and local attorney table hosts who lead meaningful lunch discussions centered on various public interest issue areas."