John Pollock, staff attorney for the Public Justice Center and the coordinator of the National Coalition for a Civil Right to Counsel, visited the Law School on February 19 as the spring 2019 "Lives in the Law" speaker. He gave a formal address on his work to establish the right to counsel for low-income individuals in civil cases involving fundamental rights entitled "The Right to Counsel in Eviction Cases: Successes and the Potential in Texas" in the Eidman Courtroom. He also met informally with students and participated in a class of the Civil Rights Clinic.
Pollock's work at the Public Justice Center focuses entirely on working to establish the right to counsel for low-income individuals in civil cases involving fundamental rights such as child custody, housing, and government benefits. Previously, he was enforcement director for the Central Alabama Fair Housing Center in Montgomery, Alabama, addressing systemic housing discrimination in rental, sales, lending, and insurance. He started his legal career as a fellow at the Southern Poverty Law Center in Montgomery. While at SPLC, he founded the Heirs' Property Retention Coalition, a network of dozens of organizations across the southeastern United States working on stopping the forced sales of ancestral property within low-income African-American communities, and drafted the first version of what became the Uniform Partition of Heirs Property Act, a uniform law to reduce forced sales that was adopted by the ABA and the Uniform Law Commission in 2011. To date, the Act has been adopted by eleven states and the U.S. Virgin Islands.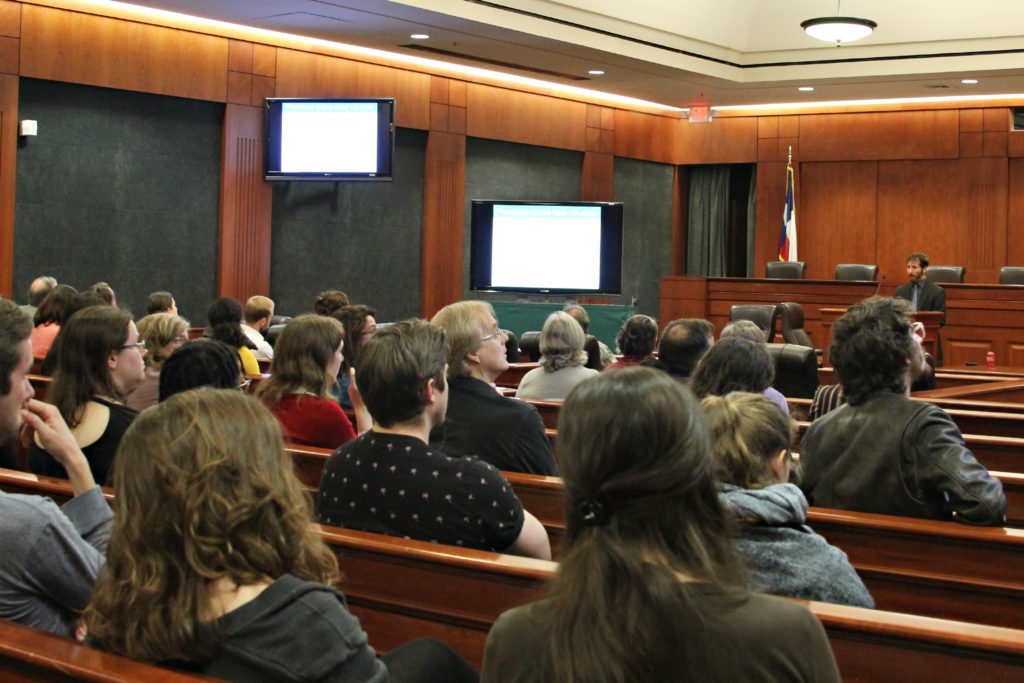 "It was great to see a packed room for John's lunchtime talk, which speaks to the broad interest in his work on the right counsel in evictions," said Heather Way, director of the law school's Entrepreneurship and Community Development Clinic. "We were all moved by his fierce dedication to his work and his ability to help build a transformative national movement on a critical issue that not many people were paying attention to 10 years ago." Third-year student Marissa Balonon-Rosen, who is currently a student in the Housing Clinic and will begin work as a public defender next fall, was also inspired and energized by Pollock's talk: "I loved hearing how he didn't give up, even when people initially doubted his idea of giving people the right to counsel when facing eviction. It was often the pushback by others that kept him going, since he knew that he was doing the right thing. I won't forget his words as I begin my practice."
The "Lives in the Law" speaker series focuses on the work and lives of lawyers who strive to improve the lives of others through litigation, advocacy, and public service, and is sponsored by the Justice Center and the Career Services Office. The UT Opportunity Forum cosponsored Pollock's talk, as did the UT Chapter of the American Constitution Society, If/When/How, and the Public Interest Law Association.