The Law School's William Wayne Justice Center for Public Interest Law and Career Services Office recently hosted Kathy Nester, Executive Director of Federal Defenders of San Diego, Inc. (FDSD), as the fall 2019 "Lives in the Law" speaker. Nester leads a staff of over 60 trial attorneys who, with the help of 70 support personnel, represent indigent persons accused of criminal offenses in the federal trial courts in the Southern District of California.
Nester gave a talk in the Eidman Courtroom entitled "Federal Public Defense on the Border," which addressed the impact of the current immigration crisis on her office's work. She also spoke about her career trajectory and underscored the importance of persistence in her work and in the long march for social justice. During her visit to the Law School, Nester also met with students individually and helped teach a class of the Criminal Defense Clinic.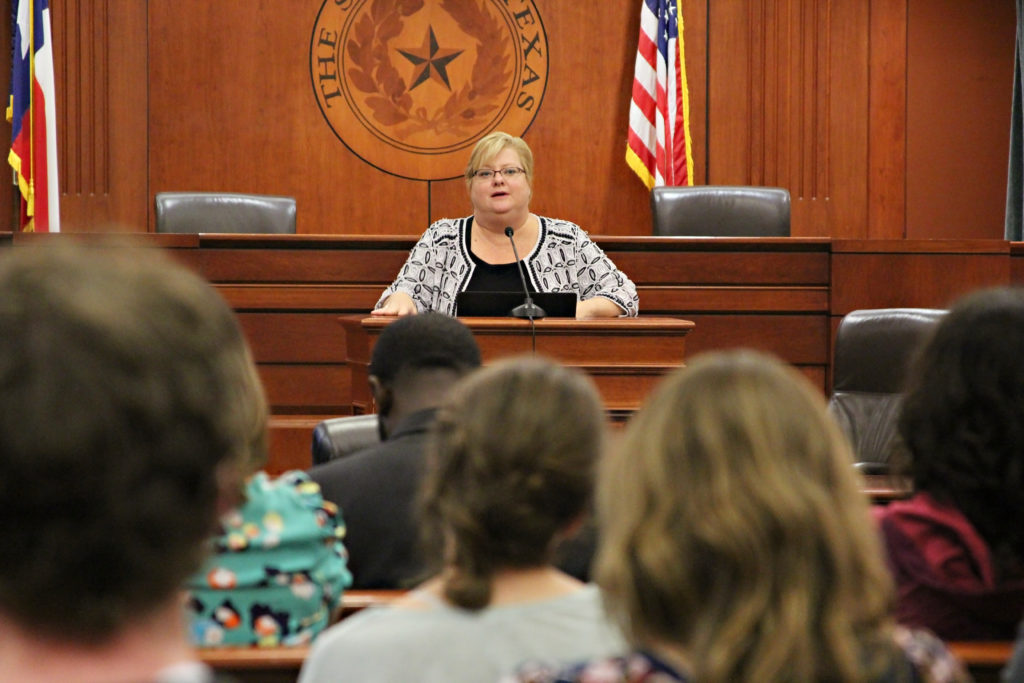 Nester earned both her undergraduate and J.D. degrees from the University of Texas. Before taking the helm at FDSD, she served as the Federal Public Defender for the District of Utah and as an Assistant Federal Public Defender for the Southern District of Mississippi. She started her career as a trial lawyer in private practice in the Jackson, Mississippi area, representing plaintiffs in personal injury and civil rights cases and federal and state criminal defendants for thirteen years.
Nester has handled over fifty jury trials including capital murder, complex fraud and wrongful death cases and was awarded Mississippi Trial Lawyer of the Year in 2001. She has appeared numerous times before the Fifth and Tenth Circuit Courts of Appeals and, in 2014, she appeared before the United States Supreme Court as co-counsel in USA v. Kevin Loughrin. Nester has served on many national committees, including the Sentencing Guidelines Committee, the National Clemency Project Steering Committee, and the U.S. Supreme Court Committee on Evidence Rules. She was inducted as a Fellow of the American College of Trial Lawyers in 2010 and as a fellow of the International Society of Barristers in 2015.
The "Lives in the Law" speaker series, hosted by the Justice Center and Career Services Office, focuses on the work and lives of lawyers who strive to improve the lives of others through litigation, advocacy and public service. Nester's talk was co-sponsored by the Budd Innocence Center, the American Journal of Criminal Law, the Chicano/Hispanic Law Students Association, the Public Defense Group, the Public Interest Law Association, and the Women's Law Caucus.