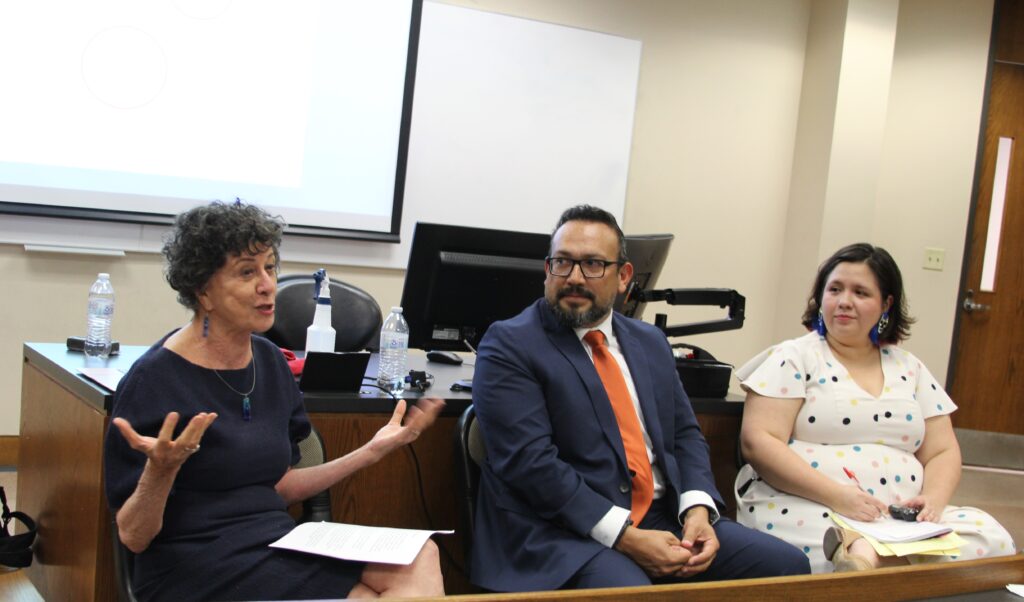 The Justice Center recently joined with the Immigration Clinic to host an event highlighting a 1992 class action brought by a group of El Paso high school students against the U.S. Border Patrol. The event, "Reflecting on Murillo v Musegades 30 years later: How El Paso's Bowie High School Took on Border Patrol and Won," featured former Bowie High School student and class member, Ernesto Munoz, and Barbara Hines, the retired founder of the Law School's Immigration Clinic, who was one of the attorneys who represented the students. Immigration attorney Lulu Ortiz '22 moderated the discussion.
Murillo v Musegades emerged from advocacy led by Bowie High School students as they saw Border Patrol entering their campus repeatedly and stopping, detaining and using force against their classmates, teachers, family and friends. The power of organizing and strategic use of legal action resulted in a settlement and a victory for the students when, in 1992, a federal district court ordered Border Patrol to stop targeting the Latino community in its enforcement actions in El Paso.
Munoz, who has had a career as an educator and now works for the University of Texas at Austin's College of Education, described his experiences with Border Patrol enforcement as a high school student in El Paso, which included Border Patrol presence on school grounds, and how he and his classmates organized to learn about their rights and eventually to find lawyers to represent them in the lawsuit. Hines talked about working with the students, the team's legal strategy, and the impact of the court's order. Both reflected on the power of collective action, the relationship between community organizing and litigation, changes in Border Patrol enforcement since 1992, and whether the students' 1992 victory would be possible today.
"The conversation offered a rare glimpse of a case outside the courtroom," said Elissa Steglich, co-director of the Immigration Clinic, who helped organize the event. "It was inspiring to hear Professor Hines, as former counsel, and Mr. Munoz, as former client, share the impact the case had on them personally as well as on the community."