Sunu Chandy, legal director of the National Women's Law Center, visited the Law School on November 13 as the fall 2018 "Lives in the Law" speaker. She gave a formal address on her work advocating for women entitled "#MeToo, TIME'S UP Legal Defense Fund, & The Resistance: Using Litigation to Protect the Rule of Law" before a large audience in the Eidman Courtroom. She also met informally with students and participated in a class of the Civil Rights Clinic.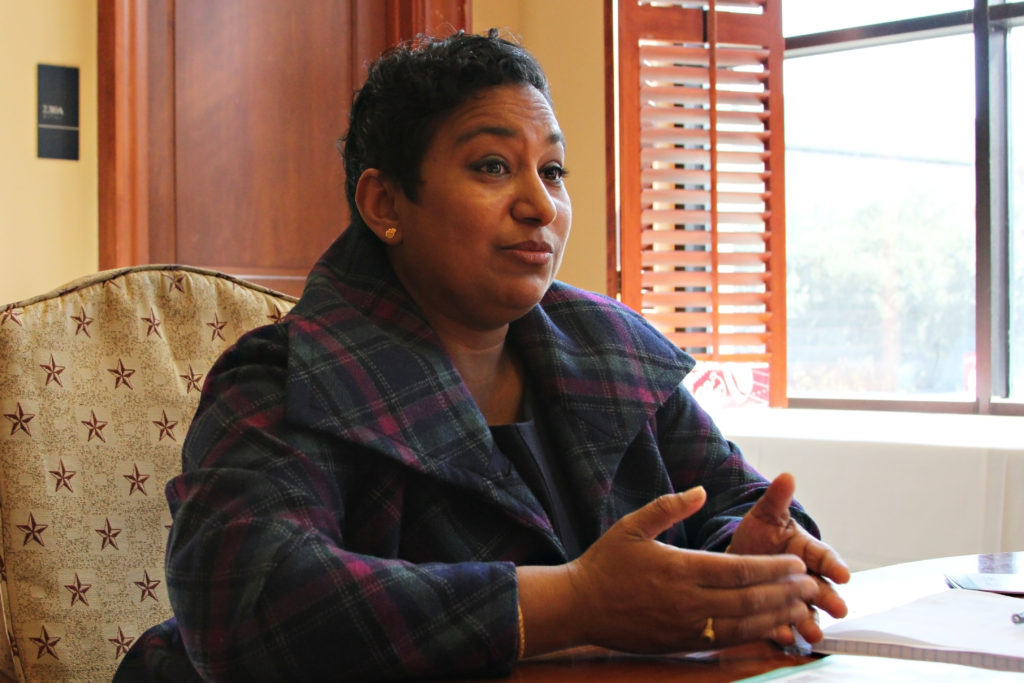 Chandy oversees the National Women's Law Center's litigation efforts, and she has been involved in the Center's response to the #MeToo movement.  In the last year, the Center has established a national legal network to combat sex discrimination and has been enlisted to administer the TIME'S UP Legal Defense Fund, an initiative spearheaded by actors and others in the entertainment industry who came together around their own experience of harassment and assault to help survivors of sexual harassment and retaliation in all industries—especially low-income women and people of color. Chandy discussed both of these cutting edge projects in her law school address. She is also a poet, and she included several of her poems in her talk.
Before joining the Center, Chandy served as the deputy director for the Civil Rights Division of the U.S. Department of Health and Human Services and as the general counsel of the Washington, D.C. Office of Human Rights. She started her legal career at the U.S. Employment Opportunity Commission, where she litigated civil rights employment cases.
Students appreciated Chandy's commitment to civil rights, her diverse career experiences, and her humanistic approach. "Sunu Chandy's visit was inspiring to me both as a law student interested in civil rights law and as an artist," said Savannah Kumar '20. "Hearing Sunu weave her poems together with her legal work affirmed for me the importance of remaining tender and open to the world as we tackle difficult legal questions." "It is rare to hear someone speak about the law and to leave the room feeling all at once smarter, more energized, more aware, and yet somehow also calmer and more whole," said Anna Roberson '20. "What a gift to hear Sunu Chandy inform us about the important work she is doing and inspire us to keep working towards justice and taking care of each other."
The "Lives in the Law" speaker series focuses on the work and lives of lawyers who strive to improve the lives of others through litigation, advocacy and public service, and is sponsored by the Justice Center and the Career Services Office. The Law School's Center for Women in Law cosponsored Chandy's talk, as did the Texas Law Chapter of If/When/How, the Public Interest Law Association, and the Women's Law Caucus.