On April 17, Mithoff Pro Bono Program director Andrea Marsh reviewed the year's pro bono accomplishments and recognized students in each class for their extraordinary contributions at the Law School's annual Celebration of Service.
Over the 2017-2018 academic year, the Mithoff Program's assisted pro se clinics and other projects provided direct assistance to over 700 individuals and families. Six hundred Texas Law students participated in at least one pro bono project. "That number represents almost two-thirds of the student body, and is our highest pro bono participation rate ever," Marsh noted. "Collectively the students enrolled in Texas Law right now have provided over 38,000 hours of pro bono service. If you average that out, each class is donating over 6,000 hours of pro bono each year they are at Texas Law."
Marsh recognized 123 class of 2018 graduates who have fulfilled their Pro Bono Pledge and thus are graduating with Pro Bono Honors. That pledge is 50 total hours for JD students enrolled at Texas Law for all three years, 40 total hours for students who transferred in as 2Ls, and 20 total hours for LLM students. Sixty-two of the students receiving Pro Bono Honors far exceeded their pledge and performed over 100 hours of pro bono service each. Marsh also noted that the 1L and 2L classes are well on their way to fulfilling the pledge: 102 1Ls have met their benchmarks by completing at least 10 hours of pro bono work this year, and 110 2Ls have completed at least 30 hours of pro bono service.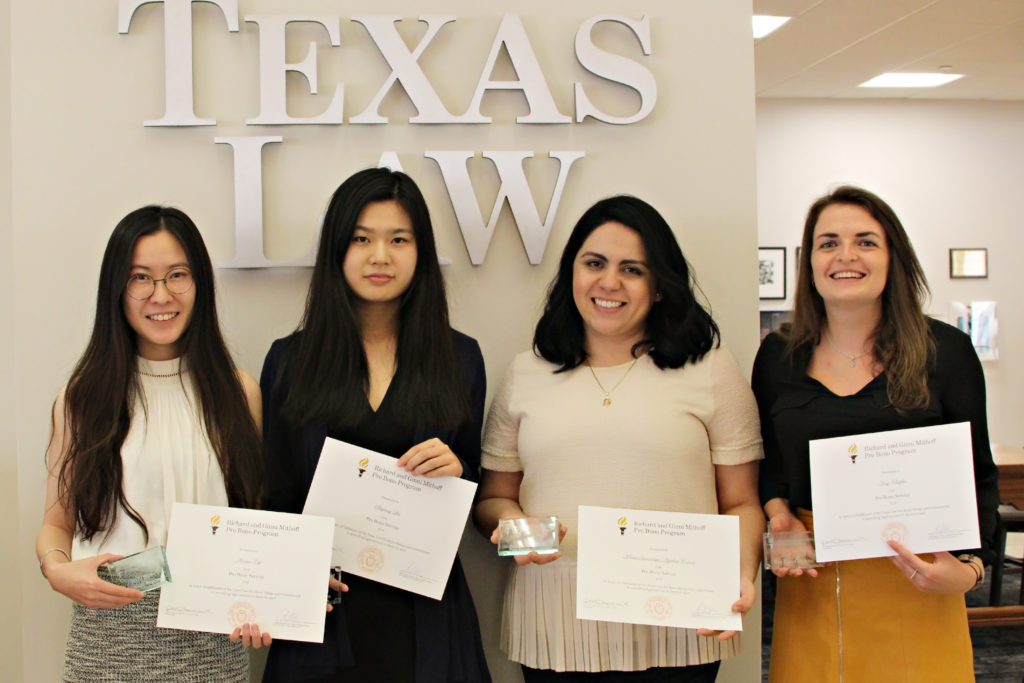 Marsh also recognized "Pro Bono Beacons," the three students in each class with the most pro bono hours. In the 1L class, Oriane Leake, Anna Roberson, and Brendan Van Winkle each performed over 140 hours of pro bono service during their first year at Texas Law. In the 2L class, Taylor Loynd, Katelin Norris, and Logan Wexler each performed over 425 hours of pro bono service, as did 3Ls Ellen Horton, Thomas Sekula, and Alex Shahrestani. Three LLMs performed over 40 hours of pro bono service during their year at Texas Law: Maria Guadalupe Aguilar Correa, Anran Chi, and Shiyang Liu. Marsh also recognized Amy Chaplin, an international exchange student who contributed 75 hours of pro bono work.