The Richard and Ginni Mithoff Pro Bono Program recently launched a new transactional pro bono initiative – the Small Business Wellness Project. The Project is designed to provide much needed legal assistance to low-income small business owners while providing students with transactional experience.
Frances Leos Martinez of Texas Law's Entrepreneurship and Community Development Clinic (ECDC) spearheads the Project. According to Martinez, many small business owners do not have access to the legal resources that help large corporations meet their obligations, a gap that has become more pronounced as small businesses have sought CARES Act loans during the pandemic. The Project was designed to address this need.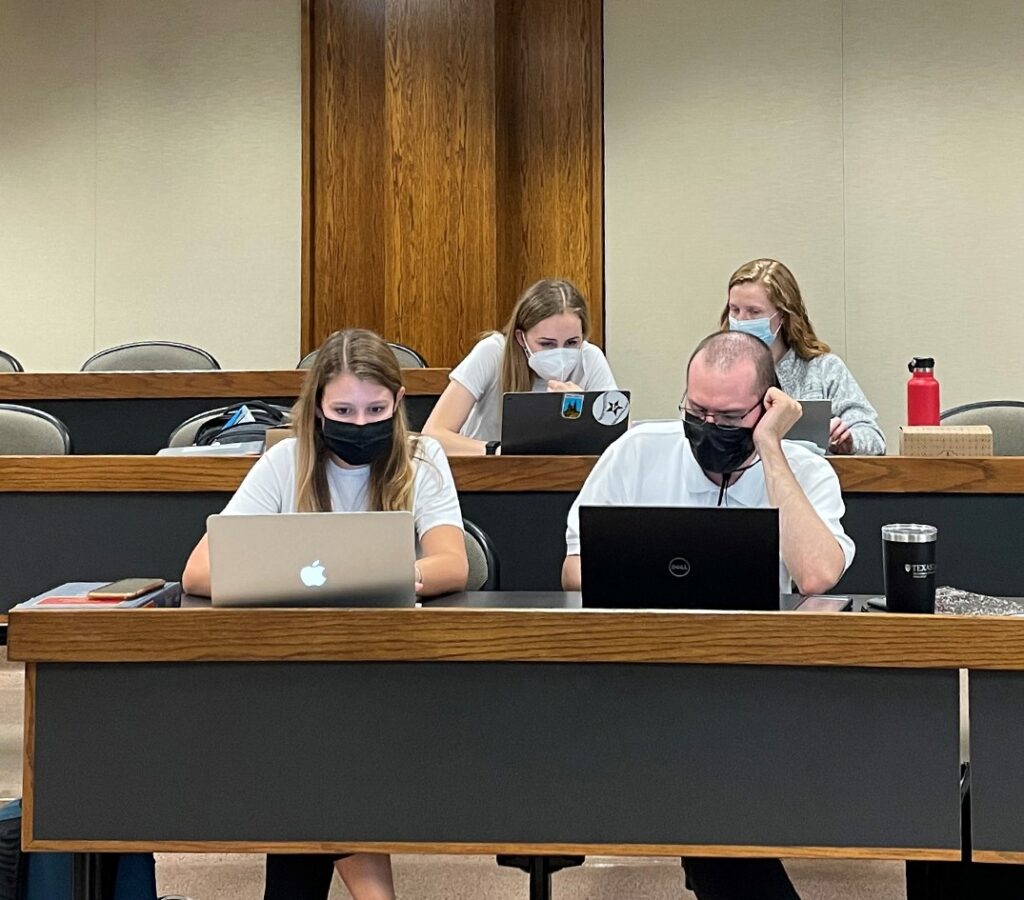 Students in the Project guide small business owners who have formed a limited liability company – or LLC – through record-keeping and corporate governance requirements and best practices. The Project started with an intake session for a group of small business owners, most of whom are LatinX and women. The small businesses owners met with legal teams composed of students and Texas Law alumni Chelsea Chan, Phillip Chang, Nina Culotta, Jake Herrel, and Ryan Yergensen, all former students in the ECDC who now practice in a variety of settings. Using structured materials, students led the sessions with the support of the volunteer attorneys. The intake session provided information that allowed the legal teams to draft documents needed by the small businesses in a subsequent work session. The Project concluded with an exit session where the teams presented documents and provided additional guidance to the small business owners.
Herrel, a recent graduate who led pro bono projects as a Mithoff Pro Bono Scholar, brainstormed with Martinez as she planned the Project and then participated as a supervising attorney. "The intake session provided an excellent opportunity for law students to sit down with a real 'client' and interview them about their business's legal needs. The students then developed a plan to produce deliverables, to be presented at a follow-up exit session," said Herrel. "Client interviewing and polished soft skills are invaluable when it comes time to practice, and the follow-up deliverable component provided an opportunity for students to do substantial legal work. The small business owners and the law students all left at the end of the first evening happy and having learned so much. Transactional practice isn't always the easiest to learn in a traditional classroom setting, so this is exactly the kind of transactional pro bono opportunity Texas Law students need."
First-year student Annie Adams was eager to sign up for the Small Business Wellness Project. "It presented opportunities I didn't have in my first-year law classes: to practice transactional client work, learn about LLCs and small business ownership, and help a small local business," said Adams. "In the process of helping a business owner get up to date on LLC obligations and paperwork, I learned so much about how small businesses operate. I was impressed by the business owner's hard work, adaptability through the pandemic, and commitment to growing the business."
Alexa Bussmann, also a 1L, agreed. "I'm interested in corporate governance. The Project has been a valuable introduction to transactional work," said Bussmann. "I appreciate the experience in client-facing work and collaborating with practicing attorneys and am excited about the possibility of the clinic expanding."
"I'm grateful to the many partners who helped launch the Project this fall, especially Joni Foster at Economic Growth Business Incubator, who identified potential clients; 3Ls Hannah Bush, Sahil Solankee, and Marguerite Zamora, who helped vet ideas; and the Texas Law Business Society, which helped recruit student volunteers," said Martinez. With very positive initial feedback from the small business owners, law students, and volunteer attorneys, the Mithoff Program plans to expand the Project in the spring.