Lezly Cardenas, a second-year student at the University of Texas School of Law, is the 2022 recipient of the National Association of Women Judge's Access to Justice Scholarship. The scholarship is awarded annually to a female student at the Law School who has demonstrated a sustained and passionate commitment to the achievement of equality of opportunity and access in the justice system.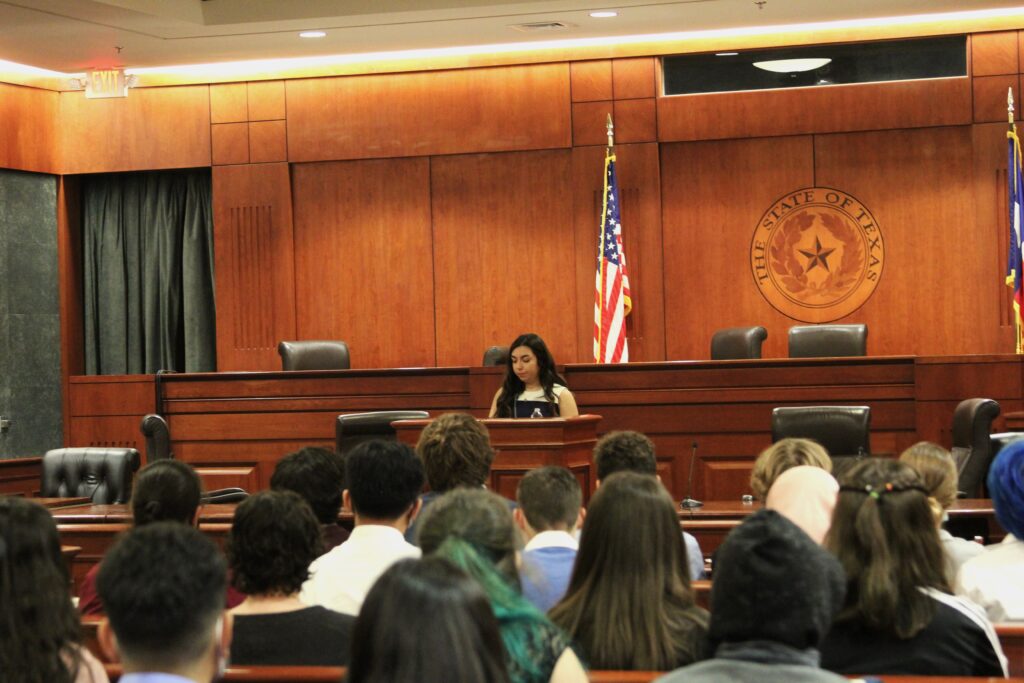 Cardenas received the scholarship April 14 in the Law School's Eidman Courtroom during the annual "Color of Justice" program, the goal of which is to encourage minority high school and middle school students from the Austin area to consider law and the judiciary as career paths. Former Travis County Civil Court Judge Orlinda Naranjo presented the award. After receiving the award, Cardenas spoke to the students about her background growing up in Brownsville, Texas, her experience as a first-generation college student, and her decision to go to law school after obtaining immigration relief with the assistance of an immigration attorney.
At Texas Law, Cardenas is a board member of the Chicano/Hispanic Law Students Association and has participated in the Immigration Clinic. She spent the summer after her first year working for Texas RioGrande Legal Aid in Edinburg and Foster LLP in Austin. She will spend the coming summer with TRLA in Brownsville. Before law school, she worked for two years as a paralegal at immigration firms. She plans to go into immigration law. "My purpose has always been to serve with the mindset that the American Dream belongs to all," said Cardenas.
The program also included panels of judges and lawyers, who spoke to the middle and high school students about their work and their paths to the law. Judge panelists included Justice Gisela Triana of the Third Court of Appeals, Travis County Civil District Court Judge Maria Cantu-Hexsel, Travis County Criminal District Court Judge Cliff Brown, and Travis County Justice of the Peace Nick Chu. The attorney panel included Juan Alcala (Holland & Knight), Roswill Mejia (Reed Smith), and Tycha Kimbrough (Kimbrough Legal), and was moderated by Ayeola Williams (CapMetro).
The 2022 Color of Justice event was cosponsored by the National Association of Women Judges, the Travis County Women Lawyers' Association, and Texas Latinx Judges, and hosted by the Law School's William Wayne Justice Center for Public Interest Law.