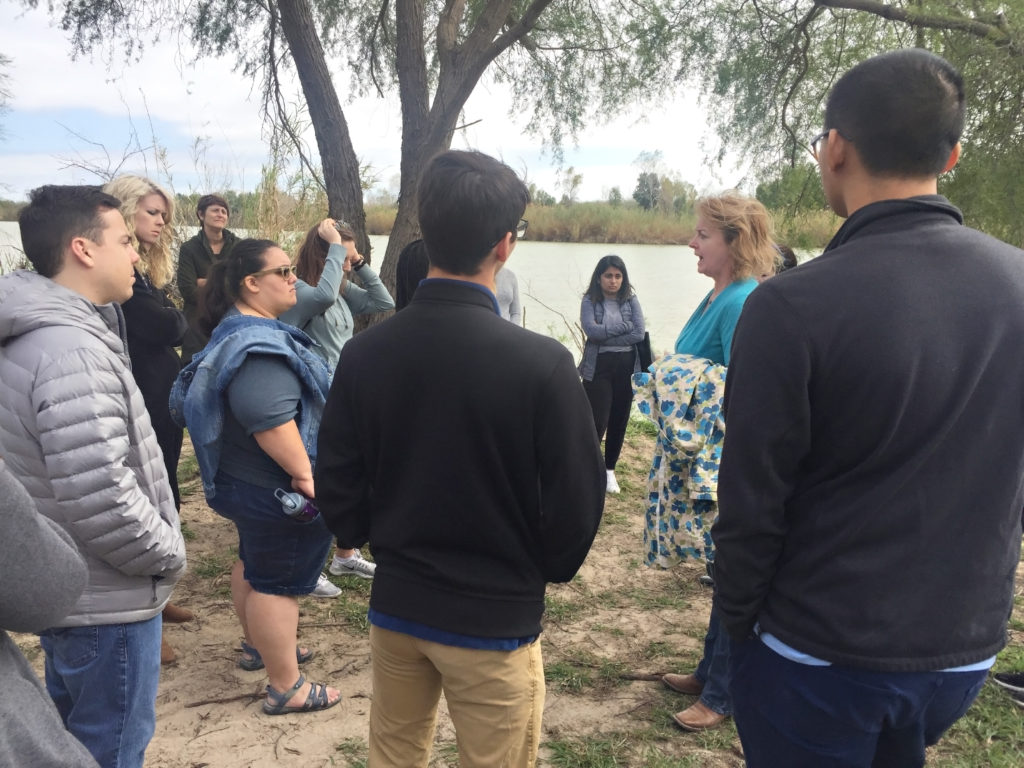 Dozens of students, faculty, and staff spent the last week of winter break on Texas Law's tenth annual Pro Bono in January trip to South Texas, organized by the Richard and Ginni Mithoff Pro Bono Program. In past years, the trip has focused on the border region, but this year the trip expanded in size and geographic scope. After two days of orientation activities and training, 73 students organized into 8 teams spread across the region, from San Antonio to the Rio Grande Valley.
Eighteen students worked with nonprofits to assist immigrants in detention. The Karnes Team worked with RAICES and Texas Law Immigration Clinic professors to assist adult immigrants detained with their children in the Karnes Family Detention Facility in Karnes City. The Pearsall Team worked with RAICES to assist adult immigrants detained in the South Texas Detention Complex in Pearsall. And the ProBAR Team worked with ProBAR's office in Harlingen to assist adult immigrants detained in the Port Isabel Detention Center.
Ten students spent the week assisting rural public defenders. The Rio Grande City Team worked with Texas RioGrande Legal Aid's (TRLA) regional public defender office in Rio Grande City to assist clients charged with criminal offenses in Duval, Jim Hogg, and Starr counties. The Beeville Team worked with TRLA's regional public defender office in Beeville to assist clients charged with criminal offenses in Bee, Live Oak, McMullen, and Refugio counties.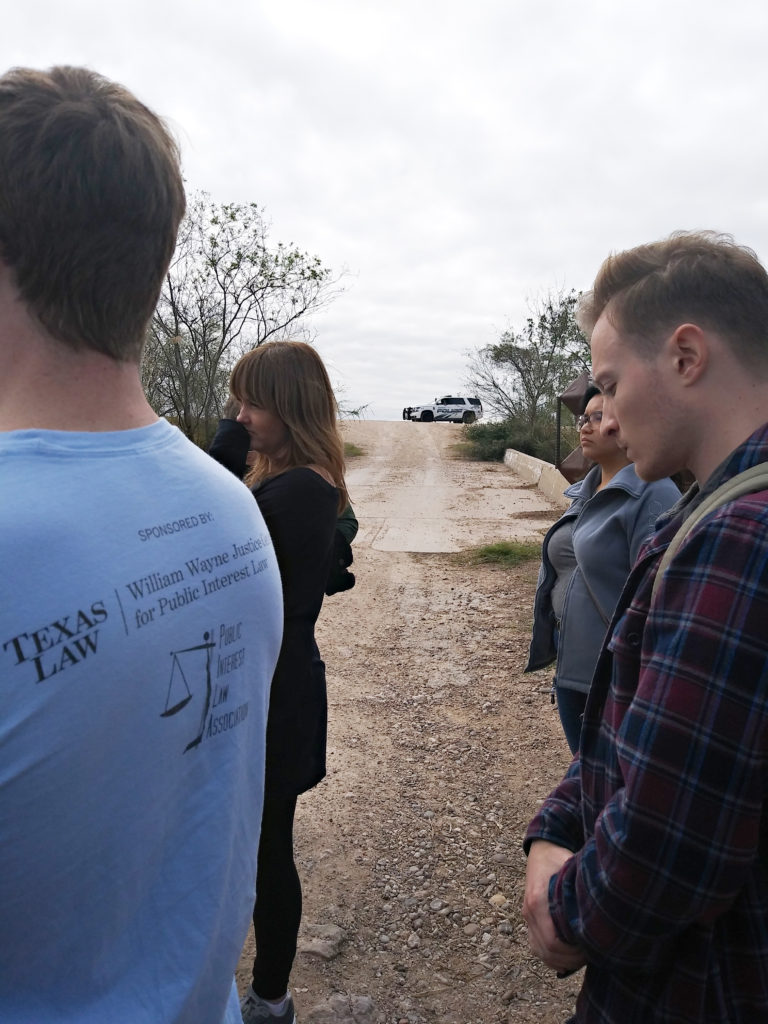 The Clinics Team, thirty-five students headquartered in Pharr, worked on a variety of projects in partnership with TRLA and local volunteer attorneys.  They helped prepare wills, transfer on death deeds, and homestead tax exemption applications for 105 homeowners in Cameron and Hidalgo Counties.  At the Region One Education Services Center in Edinburg, the team counseled over 50 young adults with disability and their families about alternatives to guardianship and, in some cases, helped them draft supported decision-making agreements.
In partnership with the Texas Fair Defense Project, the Clinics Team also hosted a Driver's License Recovery Clinic in San Juan. Students met with almost 100 drivers with license holds, researched their license suspensions, and explained steps to recover their licenses, which often included obtaining a fee waiver, fee reduction, or alternative payment plan. In many cases, students also helped attendees complete financial affidavits in support of requests for fee relief.
Ten students worked on cases in the offices of partners in the Rio Grande Valley. The Edinburg Team assisted lawyers in TRLA's general-practice Edinburg office, working on disaster recovery, immigration, and criminal cases. The Texas Civil Rights Project's Racial and Economic Justice (REJ) Program in Alamo hosted the TCRP Team, which did legal research related to border wall and civil rights litigation.
The Pro Bono in January program is open to students in all years, and each year a group of returning second- and third-year students help plan and lead the trip.  Third-year student Tom de la Torre '19 has participated for three years, the last two years as a student leader: "I attended PBinJ during each of my three years in law school because of how valuable it has been to my legal and cultural education. The Rio Grande Valley is a vibrant community and there are amazing people doing excellent work there. Through PBinJ, you can meet new people, make friends, learn practical lawyering, and help others in meaningful ways."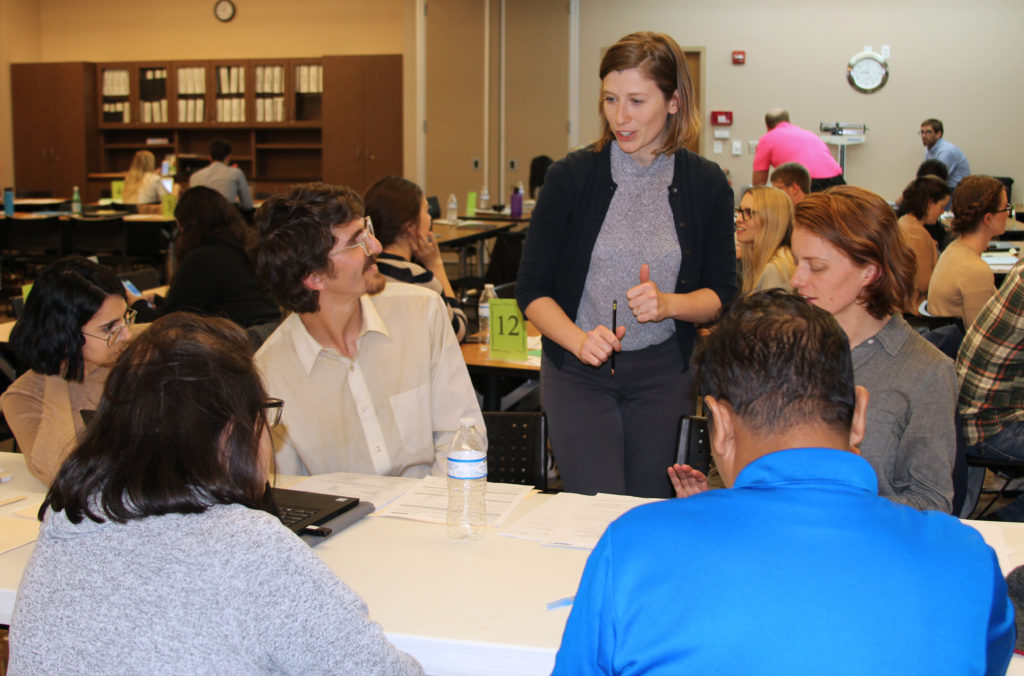 For first-year students, the trip is often their first opportunity to work with clients and to apply their legal knowledge. "PBinJ provided an excellent opportunity for me to develop new skills as an aspiring lawyer. It was a great opportunity to step out of the classroom and put learned theories and concepts into practice. I thoroughly enjoyed interacting with clients and felt as if I was making a tangible difference in their lives," said Kristin Schulz '21. "I was also able to learn more about the dynamics at the border and walked away with a greater understanding of immigration policy. I feel more prepared and look forward to participating in future pro bono opportunities because of this experience."
"The Pro Bono in January trip is a very popular program at Texas Law. Every year we receive more applications to participate in the trip than we did the year before, and some students even have told me that the opportunity to participate in PBinJ is one of the reasons they chose to attend Texas Law," said Mithoff Program Director Andrea Marsh. "This year we were able to add three new teams to the trip, bring more students, and expand our work to parts of South Texas beyond the Rio Grande Valley without compromising the legal experience that makes PBinJ a valuable educational experience for our students. We also provided over 2,500 hours of pro bono service to South Texas residents."