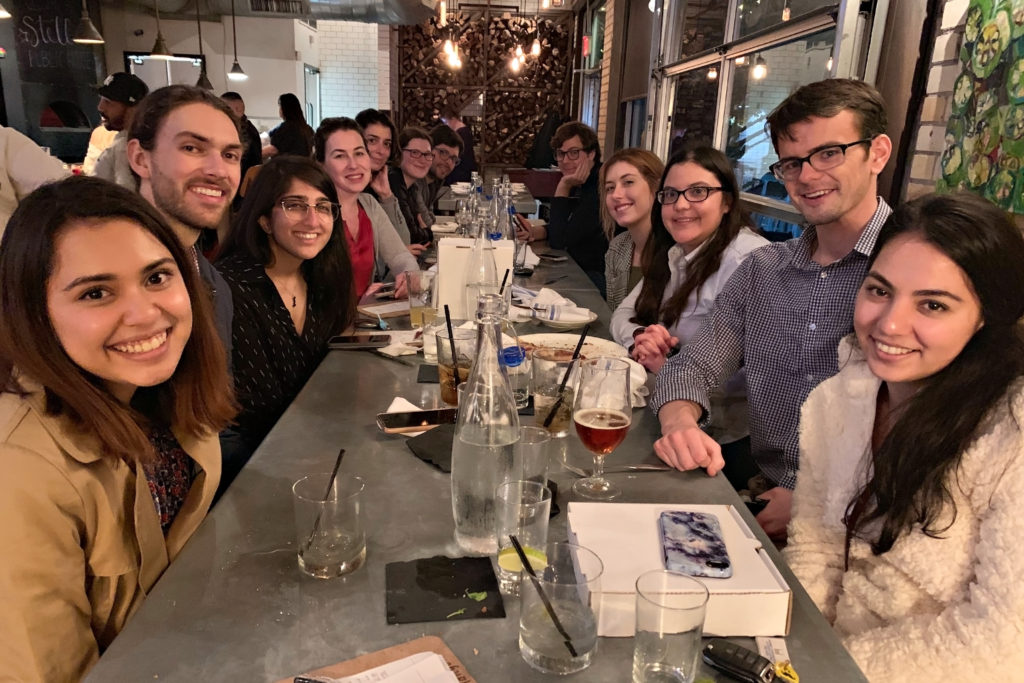 Dozens of students, faculty, and staff spent the last week of winter break on Texas Law's eleventh annual Pro Bono in January trip to South Texas, organized by the Richard and Ginni Mithoff Pro Bono Program. After two days of orientation activities and training, 65 students organized into 7 teams spread across the region, from San Antonio to the Rio Grande Valley.
This year, PBinJ had an immigration focus. Fifteen students worked with nonprofits to assist immigrants in detention. The Karnes Team worked with RAICES and Texas Law Immigration Clinic professors to represent adult immigrants detained with their children in the Karnes Family Detention Facility in immigration hearings. And the ProBAR Team worked with ProBAR's office in Harlingen to assist adult immigrants detained in the Port Isabel Detention Center with asylum petitions.
The Clinics Team, 36 students headquartered in Pharr, prepared applications for asylum seekers who have been forced to remain in Mexico while their asylum claims are pending due to the administration's "Migrant Protection Protocols." Working with a project organized by Lawyers for Good Government through which volunteers communicate with applicants across the border via text and email, the students drafted asylum applications for 17 individuals and their children. Denise Gilman of the Immigration Clinic trained the students and supervised the work. ProBAR hosted the group in Harlingen, providing workspace, equipment, and tech support.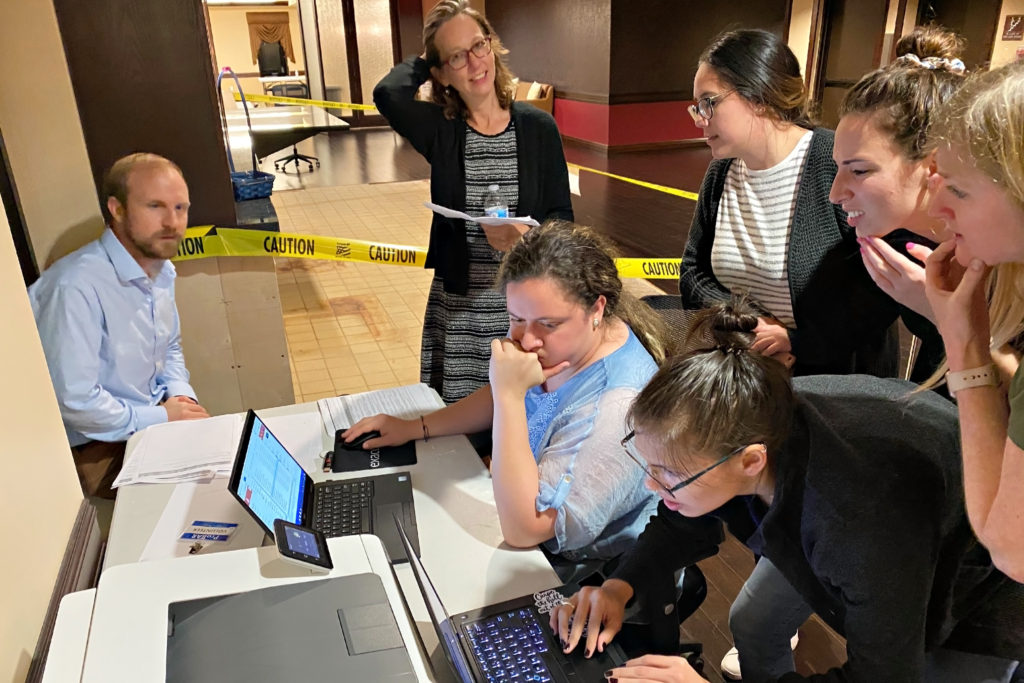 Students also had the opportunity to work on criminal and civil matters. Eleven students spent the week assisting public defenders. The Rio Grande City Team worked with Texas RioGrande Legal Aid's (TRLA) regional public defender office in Rio Grande City to assist clients charged with criminal offenses in Duval, Jim Hogg, and Starr counties. The Harlingen Team performed similar work with TRLA's public defender team in Willacy County. The Bexar County Team, which was based in San Antonio, worked with the Bexar County Public Defender's Office.
In partnership with TRLA, the Clinics Team also prepared wills, transfer on death deeds, and homestead tax exemption applications for 142 homeowners in Cameron and Hidalgo Counties. And, at a clinic in Mission, the students met with 30 transgender individuals who are seeking to correct their names and gender markers on official forms of identification, providing information and helping to prepare name and gender marker change petitions. Four students on the Edinburg Team assisted lawyers in TRLA's general-practice Edinburg office, working on disaster recovery, immigration, and criminal cases.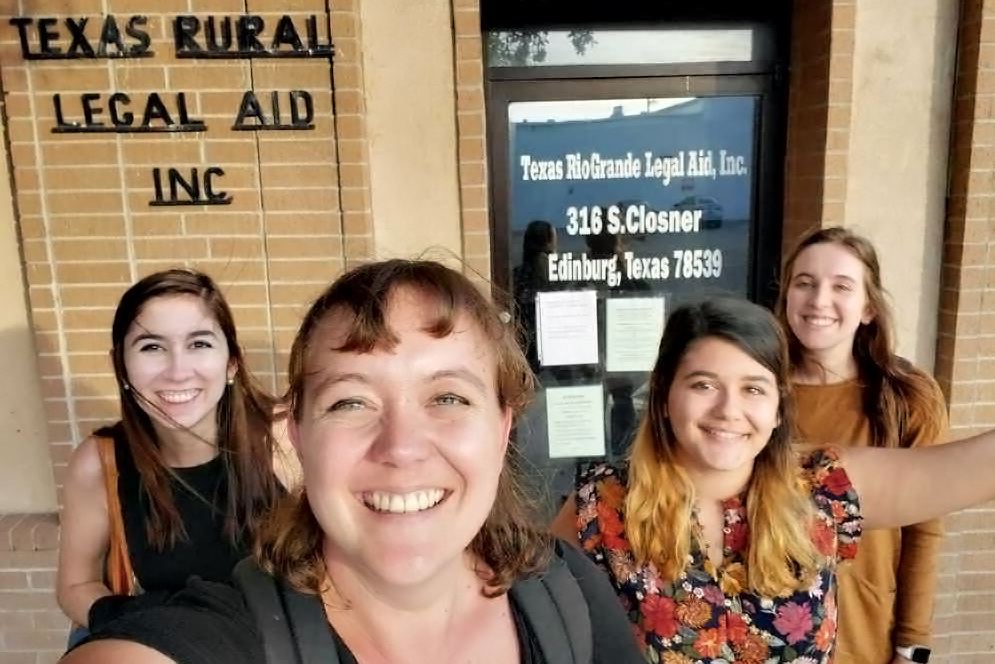 PBinJ provides many 1L students with the first opportunity to apply their legal skills. "Thanks to the Pro Bono in January program, I spent a week after my first semester of law school representing asylum seekers in review hearings before an immigration judge. This was my first exposure to real legal work," said Karnes Team member Nabeela Arshi '22. "My favorite part of the week was learning how to articulate a client's story within the elements of a legal claim. Though at times emotionally difficult, it was extremely rewarding to provide legal services and support to people who otherwise would not have access to them."
The trip is inspiring to upper-level students as well. "As the daughter of immigrants who grew up in a community a lot like the Rio Grande Valley, I felt joy and pride in using the legal skills I learned at Texas Law to give back to communities that felt a lot like my own," said Clinics Team member Laura Moedano '20. "I am grateful to have had the opportunity to participate as a 3L, and left eager to earn my law degree so that there can be one more attorney able and willing to provide much-needed legal aid to the growing number of marginalized communities."
"The student leadership team that helped me plan this year's trip wanted as many law students as possible to have an opportunity to do work that connected them to the lived experiences of the refugees we hear so much about on the news, and that would help address the shortage of lawyers available to help asylum-seekers who are in detention facilities or who have been turned back to Mexico," said Mithoff Program Director Andrea Marsh. "Our students were thrown into some very challenging circumstances and got to see first-hand how changing immigration policies are impacting refugee families and Texas communities."