Thanks to a generous gift from the G. Rollie White Trust, five rising 2Ls at the University of Texas School of Law spent the summer as G. Rollie White Trust Public Interest Summer Fellows at legal nonprofits and public defender offices.  Each fellow received a $4,500 stipend and worked full-time for 10 weeks or more, helping others, developing their legal skills, and refining their career objectives.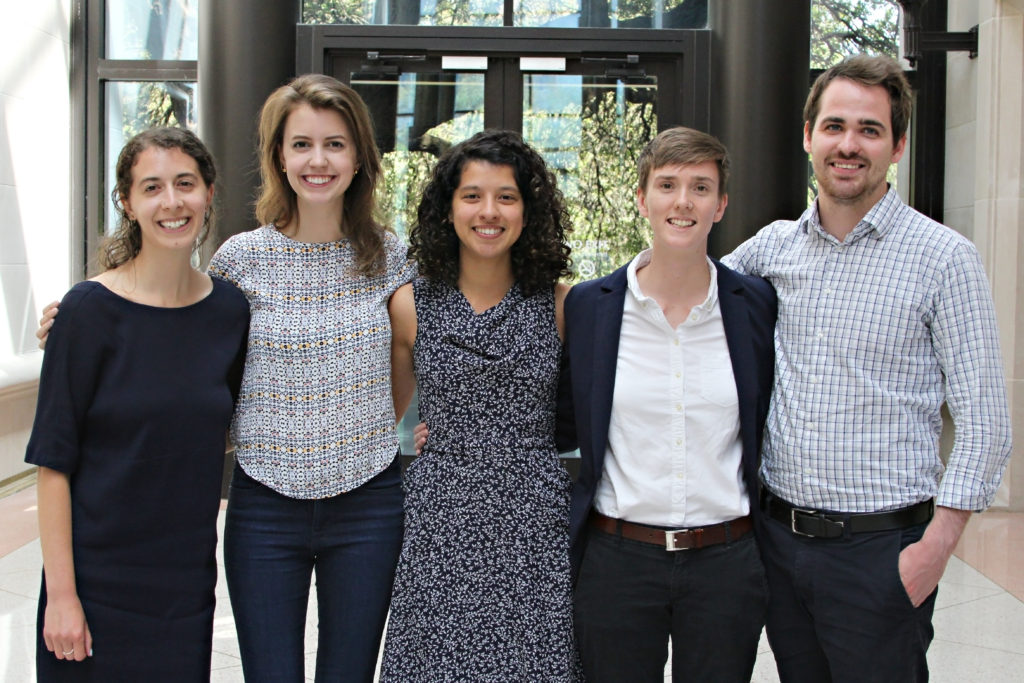 Two of the fellows spent their summers with Austin nonprofits focusing on civil matters.  Ashley Alcantara worked with the Texas Civil Rights Project on voting rights and criminal justice reform issues. "I spent most of my summer researching and writing formal memos or shorter synopses of my research. This helped to further develop my skills and cemented the value of continuing to improve my writing," said Alcantara. "I was also able to observe attorneys and staff working tirelessly on meaningful and important work, which helped confirm that I want to pursue civil rights work. It was invaluable to observe the creative ways that the law can be used to challenge injustices."
Natalie Neill worked for Texas RioGrande Legal Aid's Survivor Centered Economic Advocacy team with Carla Sanchez-Adams, '09, in Austin: "The team helps victims of sexual assault, family violence, and human trafficking deal with the economic difficulties that arise because of abuse and crime," said Neill. "I sought out Sanchez-Adams because these are the issues I am most passionate about, and my experience did not disappoint." Before law school, Neill worked as a financial educator, credit counselor, and tax preparer for low income individuals. "At TRLA, I was able to tackle the same issues in new ways. I researched questions of law, interacted with clients, and drafted pleadings. I look forward to building on my experience at TRLA to continue in this important work."
The three other fellows worked with public defender offices outside Texas:  Natalie Fine at the Colorado Public Defender in Salida, Colorado; Oriane Leake at Orleans Public Defenders in New Orleans; and Brendan Van Winkle at the Sedgwick County Public Defender's Office in Wichita, Kansas.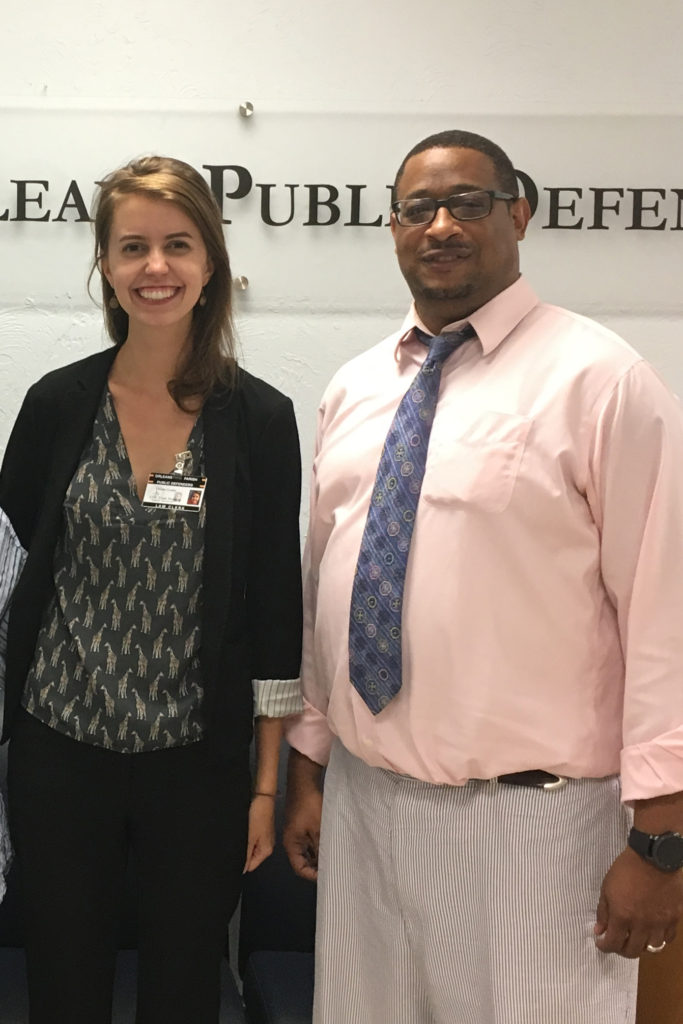 Fine wrote motions for misdemeanor and felony cases, observed trials, conducted witness interviews, and researched legal issues for clients' cases. "I appreciated the small size of the office because I worked with all of the attorneys.  I was able to observe the way each attorney approached his or her cases.  This helped me think about the way I want to develop my own practice as a future public defender," said Fine.
Leake was supervised by a junior and a senior attorney.  She became deeply involved in the junior attorney's caseload: "I had the opportunity to visit clients in jail on my own multiple times per week to update them on the status of their case or ask them for information that would be helpful to their case. I was also able to see the attorney advocate fiercely for his clients at every level, from magistrate court all the way to the conclusion of a case. I wrote research memorandums on issues of search and seizure and on the timing of Miranda Rights in the state of Louisiana," said Leake. With the senior attorney, who handled murder, aggravated kidnapping, and rape cases, Leake met with clients and assisted in investigations by reexamining all available evidence, pointing out inconsistencies or missing pieces of evidence that the prosecution had yet to turn over, and meeting with family members to obtain additional information.
Van Winkle's duties included assisting with discovery review, field investigation, and trial preparation; preparing motions and memos; sitting in on client meetings; and observing trials and court hearings. "On the typical day, I spent my morning in court, and I wrote motions in the afternoon. It was great exposure to the many sides of lawyering," said Van Winkle. "The summer also gave me a glimpse into my dream job.  After law school, I want to defend people charged with capital crimes.  My office shared space with a Kansas Death Penalty Defense Unit, and I was able to visit with the capital defenders and attend a capital hearing. I hope to work there next summer."
"We are proud of these students' impressive contributions and very grateful to the G. Rollie White Trust for supporting their work," said Eden Harrington, director of the William Wayne Justice Center for Public Interest Law, which administers the fellowship program at the Law School.