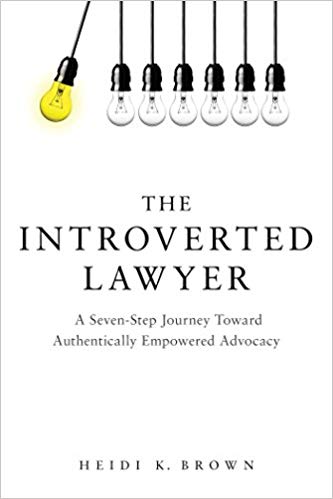 Book Talk: "The Introverted Lawyer: Championing the Strengths of Quiet Advocates, and Authentically Amplifying Our Voices"
Join the Institute for Transnational Law for a book talk by Heidi K. Brown, Director of Legal Research & Associate Professor of Law at Brooklyn Law School. Professor Brown will discuss her recent book, The Introverted Lawyer: A Seven-Step Journey Toward Authentically Empowered Advocacy.,  The book's value lies in promoting conscious lawyering across different areas of specialty, including international law, and will be of interest to both U.S. J.D.s and foreign-trained lawyers. Professor Brown will talk for 45-50 minutes, and then save time for questions.
MCLE credit hours have been approved for 1 hour of CLE, no ethics hours. After the talk, we will collect and return the bottom half of the CLE forms to UT Law CLE, and they will report credit for Texas attorneys directly to the Bar. Attorneys from other states can self-report with the certificate of attendance (provided by UT Law CLE). For assistance, contact UT Law CLE.
After the talk, the Institute and UT Law CLE will host a reception in the Jamail Pavilion, adjacent to the Eidman Courtroom. Refreshments will be served.
Registration requested. RSVP here.
Parking is available in the San Jacinto Garage, but we are unable to validate parking.
About the Book
While naturally loquacious law professors, law students, lawyers, and judges thrive in a world dominated by the Socratic question-and-answer method and rapid-fire oral discourse, quiet thinkers and writers can be sidelined. The Introverted Lawyer illuminates the valuable gifts that introverted, shy, and socially anxious individuals bring to the legal profession—including active listening, deep thinking, empathy, impactful legal writing, creative problem-solving, and thoughtful communication. This presentation also provides a practical seven-step process for amplifying our voices in an authentic manner when we need to make ourselves heard in the legal arena. Press kit.
About Heidi K. Brown
Professor Brown joined Brooklyn Law School as Director of the Legal Writing Program in 2016. A prolific scholar and author on the importance of legal writing, she has published four books on predictive and persuasive legal writing and federal litigation, as well as numerous scholarly articles for law journals. In 2017, she published her fifth book, The Introverted Lawyer: A Seven-Step Journey Toward Authentically Empowered Advocacy. Inspired by her own experience conquering the fear of public speaking during her litigation career, she is passionate about helping law students and lawyers "find their authentic lawyer voices" and overcome anxiety about Socratic legal discourse.
Prior to joining the Law School, Brown served as Associate Professor of Law at New York Law School, where she helped launch the school's Legal Practice program. Before that, she was an Associate Professor of Legal Research and Writing at the Chapman University Dale E. Fowler School of Law in Orange, California.
Brown has more than two decades of experience in law practice. She served as Of Counsel with Moore & Lee, LLP, a boutique litigation firm with offices in the Washington, D.C., area and New York City, where she handled all aspects of litigation and arbitration of complex construction contract and building development disputes. She specialized in brief writing for state and federal cases throughout the United States, and mentored the firm's junior associates in civil procedure, litigation strategy, and legal writing. Before that, she was an associate at the Manhattan firm of Thacher, Proffitt & Wood and at the Washington, D.C., area firm Watt, Tieder, Hoffar & Fitzgerald, LLP.
In 2014, Brown was appointed to the Fulbright Specialist Roster, making her eligible for two international teaching grants in the next five years through the J. William Fulbright Scholars Program. She studies Italian and has taught legal writing at the University of Trento in Italy. She received her bachelor's degree in foreign affairs and French literature from the University of Virginia, and her J.D. from the University of Virginia School of Law.