With on-campus events again limited to in-person classes due to COVID-19, the Justice Center hosted Change It Up! 2021, its annual social justice orientation for new and returning students, by Zoom for a second year. The afternoon event featured a keynote address by Mimi Marziani, president and chief executive officer the Texas Civil Rights Project; a panel discussion; and virtual reception.
"Mimi Marziani's keynote highlighted the battle to preserve voting rights here in Texas in the wake of SB 1 being signed into law. Afterwards, she answered students' questions about how they can get involved and offered advice on pursuing a public interest legal career," said Luke Freedman '23, who helped organize the keynote. "The timely nature of her talk resonated with students concerned about the protection of the right to vote in Texas and across the country."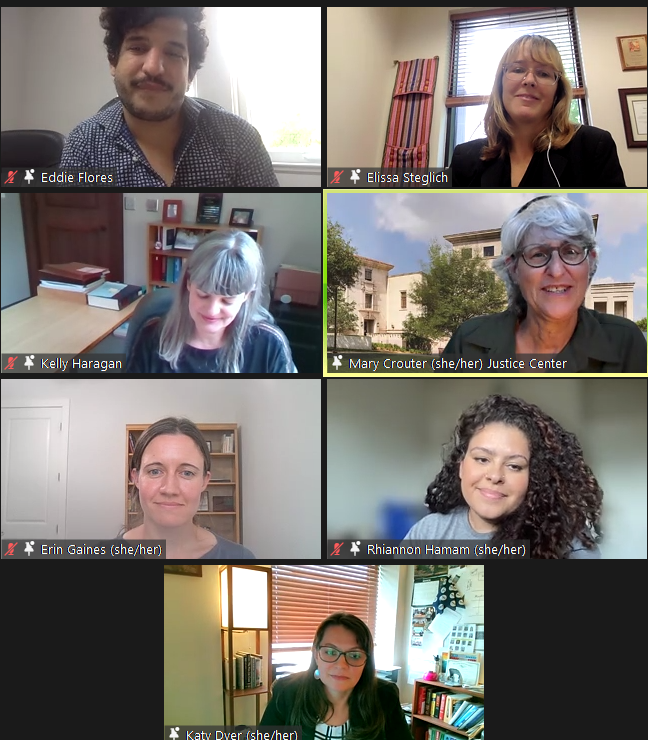 The panel featured three pairs of clinical professors and their former students across a range of fields: Katy Dyer of the Criminal Defense Clinic and Rhiannon Hamam '16, a public defender with the Travis County Public Defender; Kelly Haragan of the Environmental Law Clinic and Erin Gaines '13, a senior attorney with Earthjustice in Austin; and Elissa Steglich of the Immigration Clinic and Eddie Flores '16, a staff attorney with Catholic Charities of Central Texas. The panelists described their work and the recent graduates reflected on their paths through law school. Mary Crouter, assistant director of the Justice Center, moderated.
"The panel was a time to remember why I came to law school," said Courtney Weber '24. "The panelists' message to proactively make connections with professors and alumni, take risks, and trust that things will be okay was exactly what I needed to hear after an intense first month of classes!"
At the event's conclusion, participants had the opportunity to talk with faculty, staff, and students in 15 breakout rooms organized by subject area.  "My favorite part of Change It Up! was meeting professors, recent alumni, and fellow 1Ls during the virtual reception," reported Araceli Garcia '24. "In the criminal defense breakout room, I was able to connect with recent Texas Law alumni about how I can get hands-on experience and begin to serve marginalized communities, even as a 1L." Weber agreed that the virtual reception was a highlight: "I really appreciated the opportunity to hear directly from professors and students. And the breakout rooms shed light on student leadership on campus, as many of the breakout sessions included a current student who spoke with the confidence and passion of a future leader in their field."
Students founded Change It Up! in 2013, with the goal to assure public interest-oriented first-year students of the feasibility of their social justice aspirations and to introduce them to each other and to the people and programs at Texas Law to help them get there. This year a team of students headed by Jamie McClintock and Sally Vandenberg, both '23, helped the Justice Center plan and organize the event. McClintock and Vandenberg were joined by classmates John Conover, Stephen Fox, Luke Freedman, Zachary Kolodny, and Zach Oshin.