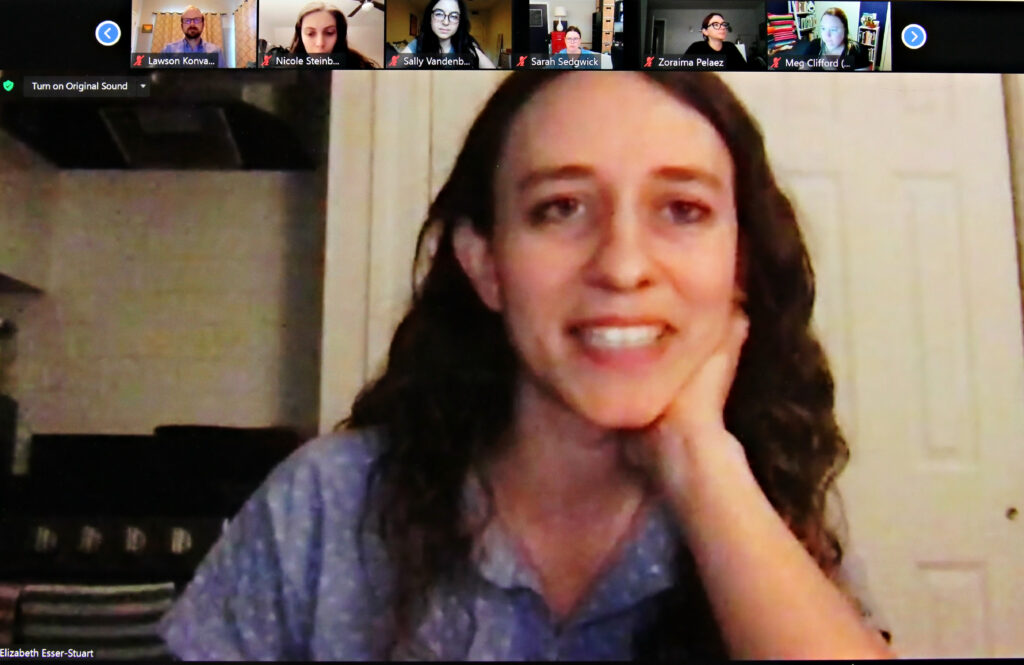 In a typical year, Justice Center staff and its student advisory board meet for breakfast four to five times each semester, and the students meet in smaller groups to discuss ideas and work on projects. Composed of students who've received tuition scholarships from the Justice Center, the board facilitates communication between staff, students, and student organizations and helps the Justice Center build the Law School's public interest community and culture of service. The group has proved to be a particularly important source of support for first-year scholars.
The pandemic posed a challenge for the student advisory board model this year. Zoom could provide a platform for meetings, but how would students and staff get to know each other and support first-year students remotely?
Remote Format Enables Alumni Visits 
One strategy was to embed each first-year student in a "pod" of students according to area of interest and to have each pod organize a conversation with an alum of their choosing. Over the course of the year, the board welcomed three graduates for pod-led discussions — Megan Sheffield '13, an immigration attorney with the Equal Justice Center in Austin; Elizabeth Esser-Stuart '18, a public defender with the New Jersey Office of the Public Defender in Newark; and Anjela Jenkins '11, Switzerland-based Manager of Partnerships for Inclusive Health at the Special Olympics.
"Megan Sheffield was so encouraging to me as an aspiring immigration attorney. Her passion for immigrants' rights and knowledge of the law is truly inspiring," said Kristin Schulz '21. "She was incredibly relatable, and I appreciated her insights on working in the non-profit sector."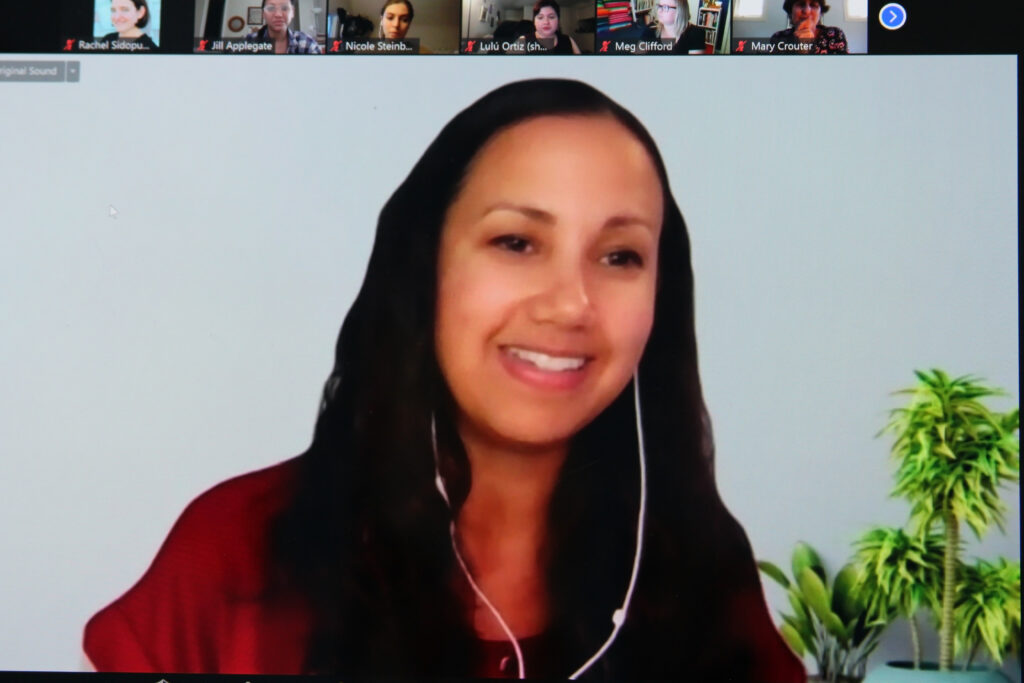 "It was great to have Elizabeth Esser-Stuart speak to us about her experience as a public defender. She is such a recent graduate that she was able to speak about classes and organizations she participated in that helped her get to where she is now," said Sally Vandenberg '23.
"I enjoyed this project! Talking to alumni is so helpful in trying to figure out a trajectory following law school. Anjela Jenkins was particularly inspiring. I loved her confidence and appreciated her candor," said Nicole Steinberg '23. Alyse Munrose '23, agreed: "This project was a great way to learn about Justice Center alumni. My pod hosted Anjela Jenkins. We appreciated her candor and practical advice."
"We're grateful to Anjela, Elizabeth and Megan for sharing their time with us," said Justice Center director Eden Harrington.  "Although we'd rather be together in person, meeting remotely meant we could easily include Elizabeth from the East Coast and Anjela from Switzerland."
Creating Community Remotely
The pod strategy had benefits beyond sparking interesting conversations with alumni. "Inviting Elizabeth to speak gave me an opportunity to get to know other student advisory board members who share my interests. I've reached out to that same group many times since then for help picking out classes and other general advice," said Vandenberg. "For example, I talked to Melissa Sopher before I accepted my summer internship at New York County Defender Services, where she plans to work after graduation, and she has given me advice about what classes to take next year. The student advisory board has been a huge help to me in other ways as well. Getting to know professors has given me confidence to reach out to other professors, which has led to a lot of great connections. And my classmates Nicole and Alyse have been a support system."
"I cannot express enough how thankful I feel for this community," said Steinberg. "This year, I've been attending classes remotely from New York. If it weren't for the Justice Center and the student advisory board, I would have felt much more isolated. With it, I am comfortable texting 2Ls and 3Ls about classes and reaching out to faculty about my interests. I feel like I belong in law school as a public-interest student."
While acknowledging that the board experience was different this year, Munrose also appreciated the opportunity to connect with students and faculty: "My experience was still great. And I'm excited for the time when the student advisory board can meet again in person, as I'm sure connections will grow."
"The Justice Center is grateful to the 2Ls and 3Ls for welcoming the 1Ls and taking them under their wing," said Mary Crouter, assistant director of the Justice Center.  "It has been a challenging year, but I think we have managed to make the most of it and are ready to hit the ground running in the fall."