Refugees International recently released a video series, "Voices from the Border," sharing stories of asylum seekers who have been impacted by U.S. policy along the southern border. One video features Jose Murillo and his family, who won asylum with the assistance of Texas Law's Immigration Clinic. Jill Applegate '21, and Natalie Fine '20, appear in the video, but multiple students in the clinic engaged in advocacy before several courts and government offices to win asylum for Murillo and reunify his family. In addition to Applegate and Fine, Josh Wagner '20, Chandler Burch '20, Meredith Luneack '20, Maria Renteria '21, and Kristin Schulz '21, represented the family.
Fine and Applegate received scholarships from the William Wayne Justice Center for Public Interest Law and served on the Justice Center student advisory board throughout law school. Fine was the class of 2020 G. Rollie White Public Service Scholar. Applegate is Texas Law's first Wayne Reaud Public Interest Scholar. Renteria received the class of 2021 Julius Glickman Fellowship in Public Interest Law. Luneack, Schulz, and Wagner have also been involved in a variety of Justice Center and Mithoff Pro Bono Program activities.
Murillo's Asylum Case
In the fall of 2018, Wagner and Burch began preparing Murillo's asylum case to be heard before the Immigration Court in San Antonio, Texas. A political activist in Honduras, Murillo had been targeted by the government and fled to the U.S. to save his life, leaving his partner and infant behind. As Murillo awaited his final hearing, his partner and daughter became targets of persecution back home because of Murillo's activism.
Applegate and Fine represented Murillo in his final asylum hearing. "We spent countless hours with Jose going over his experience in Honduras as a political activist, a role he clearly loved but one that placed him and his family in danger. We brainstormed, researched, wrote a brief, and then represented Jose at his hearing in November 2019, where he testified about the persecution he faced in Honduras and his decision to flee and seek asylum in the U.S.," said Fine. The court granted Murillo asylum.
"This experience is one of the most meaningful experience I had in law school. Jose became not only a client, but a friend, and I always looked forward to his thoughtful, chatty visits to the law school," said Fine, who had no experience in immigration law before participating in the clinic and now works as a public defender in Colorado. "It was a privilege to tell his story in immigration court, to show the judge what he's been through and what he's accomplished. Immigration is important to me because my great-grandparents on both sides immigrated to the U.S. to escape persecution in Russia and Eastern Europe–it's a part of my family history I never take for granted."
Reuniting the Family
When Fine and Applegate began working on Murillo's case, they discovered that Murillo's partner and daughter had also escaped Honduras and were caught in the Trump Administration's Migrant Protection Protocols (MPP) or "Remain in Mexico" program. Under MPP, asylum-seekers at the U.S. border were forced to wait in northern Mexico while their cases proceeded in immigration court. Murillo's family was left homeless in Matamoros, an area the U.S. State Department had deemed a "no travel" zone for U.S. citizens due to the high levels of cartel violence and crime.
Fine and Applegate first sought help from Customs and Border Protection in Brownsville, walking Murillo's partner and daughter across the bridge from Matamoros to ask for their entry on humanitarian grounds. The request was denied. The team then asked the San Antonio Immigration Court, which would hear Murillo's case in a couple of months, to join the family's cases so that all three could be heard at once. The court denied the request.
Renteria and Schulz represented Murillo's partner and daughter in their initial MPP court proceedings, which were conducted by videoconference from tent courts at the border in Brownsville, complicating the logistics of representation. While Renteria sat alongside Murillo's partner and daughter in the make-shift tent facility watching the judge on a screen, Schultz argued to the immigration judge miles away in his courtroom in Harlingen. The judge declined to favorably resolve both cases based on Murillo's asylum status. The only bit of good news was the promise of a wedding; Murillo and his partner married on the international bridge in early 2020.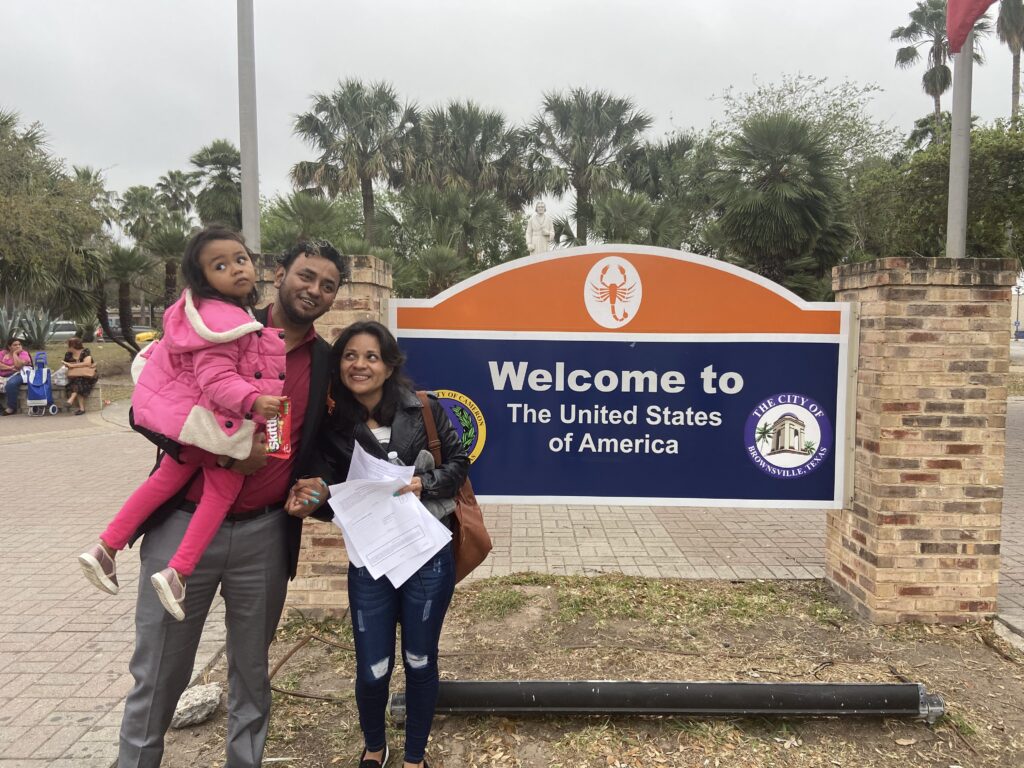 Applegate returned to the case and, together with Luneack, represented Murillo's spouse and daughter in a final hearing in the tent court, along with co-counsel from ProBar. The immigration judge appeared on screen from Arlington, Texas, and the government's attorney appeared on screen from Louisville, Kentucky. Murillo's spouse told her story through a Spanish interpreter with Applegate at her side. After a wait of several hours, the immigration judge returned on camera and explained that while she was granting some protection, new regulations prohibited her from granting asylum. With some additional advocacy, Murillo's spouse and daughter were able to enter the U.S. after the hearing. Applegate shared in the joy of seeing Murillo hug his family on U.S. soil after two years of separation. Two weeks later, the border closed with the pandemic.
While Murillo and his daughter had won asylum, Murillo's spouse had to pursue an appeal to seek asylum outright. Applegate spent part of the summer of 2020 drafting the appeal to the Board of Immigration Appeals. With the success of separate federal litigation against the regulation that prohibited asylum for individuals who traveled through third countries on their way to the U.S., Murillo's wife was now eligible for full asylum. The Board granted Applegate's appeal and returned the case to the immigration judge to enter an order granting asylum. At the end of October 2020, the family's search for permanency ended.
Life Lessons
"I am honored to have been witness to Jose and his family's journeys to safety, and I am so in awe of the bravery they had to summon in the face of the constant barriers to their reunification," said Applegate. "Jose and his family are now dear friends to me. The experience absolutely reinforced that I want to work directly with immigrants going through this system after I graduate."
"The clinic students really feel the legal and personal responsibility for their cases. This was a perfect example of students learning creative advocacy inside and outside the courtroom," said Denise Gilman, co-director of the Immigration Clinic. "I am so proud of the work of all the students who made safety for this family possible," said Elissa Steglich, who directs the clinic with Gilman. "Their work was exemplary – individually and as they worked collaboratively."
Steglich also praised Murillo for his role in the Refugees International video project: "Refugees International was looking for asylum seekers willing to share their stories to help increase awareness of the border reality. True to his activist nature, our client participated to help others."