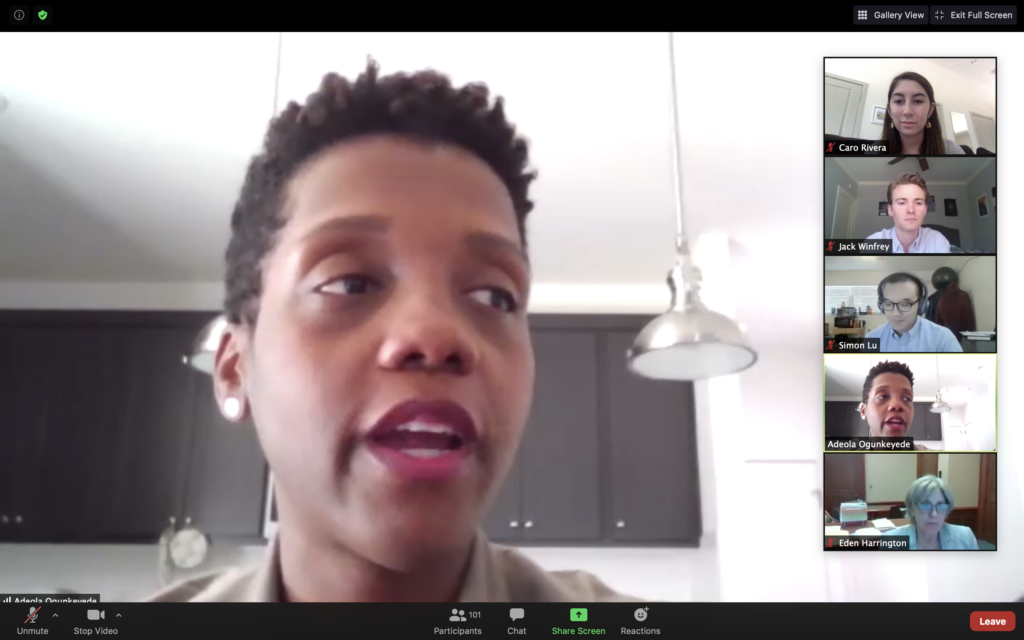 With campus closed to all but in-person classes, Texas Law hosted Change It Up! 2020, its annual social justice orientation for new and returning students, by Zoom this year. Given the virtual platform, the planners spread the event over two Friday afternoons early in the fall semester.
The first day featured a keynote address by Adeola Ogunkeyede, the inaugural Chief Public Defender of Travis County. Before coming to Austin, Ogunkeyede was legal director of Legal Aid Justice Center's Civil Rights and Racial Justice Program in Charlottesville, Virginia, and worked as a supervising attorney and the litigation supervisor of the criminal practice for the Bronx Defenders. In addition to speaking about her work as a public defender, Ogunkeyede vividly described her path through Tulane Law School, which was disrupted early in her 1L year by New Orleans's devastation in Hurricane Katrina.
"Adeola Ogunkeyede was such a great speaker. She was so timely, talking about starting law school during a crisis and how she made the best out of that. I found it all relevant and inspiring," said first-year student Jamie McClintock. Her classmate John Conover agreed: "The Change It Up! keynote reminded me why I came to law school."
Two weeks later, Change It Up! 2020 continued with a panel of recent graduates who discussed their social justice work and how they charted their paths through law school and concluded with small group breakout rooms.
Lawson Konvalinka of the Career Services Office organized and moderated the panel of alumni working across a range of practice areas and settings: Marissa Balonon-Rosen '19, of the New Hampshire Public Defender in Manchester; Jessica Cisneros '18, who works on Texas RioGrande Legal Aid's immigration team in Laredo; Taylor Loynd '19, a fellow with Georgia Legal Services Program in Atlanta, who focuses on special education law; and Gus Maxwell, '18, with the U.S. Department of Justice's Environment and Natural Resources Division in Washington, D.C.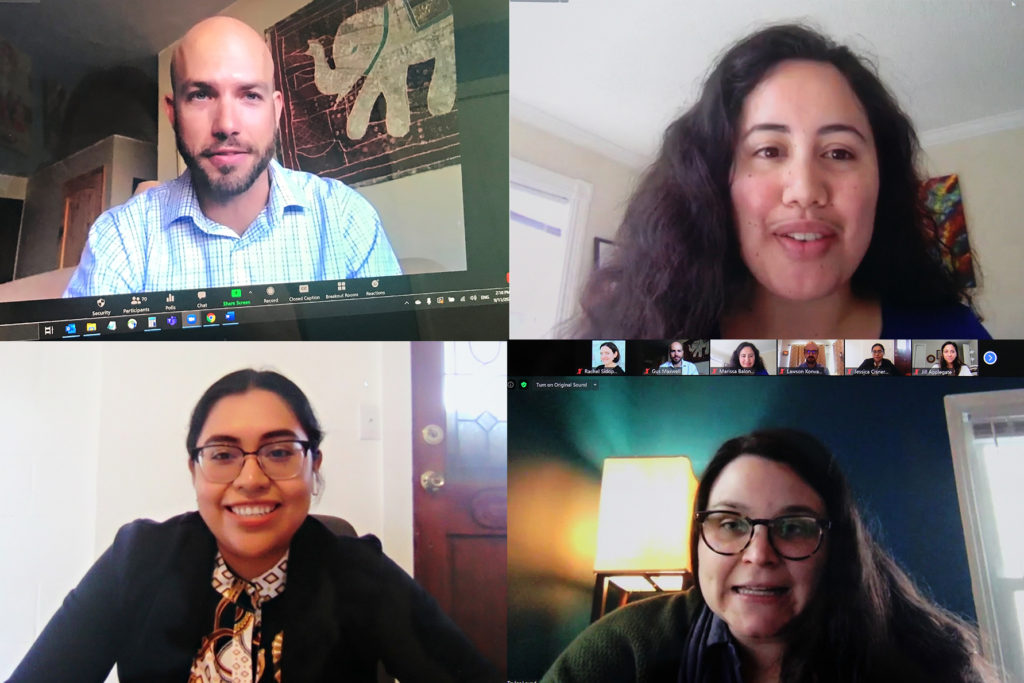 After the panel, attendees met in small groups with second- and third-year students, faculty and staff in Zoom breakout rooms organized by interest area. "It was great to meet students, faculty, and alumni with similar interests," said 1L Sally Vandenburg. "I was able to ask very specific questions relevant to my interest and experience."
Students founded Change It Up! in 2013, with the goal to assure public interest-oriented 1L students of the feasibility of their social justice aspirations and to introduce them to each other and to the people and programs at Texas Law to help them get there. This year a team of students headed by Simon Lu and Karen Sova, both '21, helped the Justice Center plan and organize the event. Lu and Sova were assisted by third-year students Jill Applegate and Melissa Sopher and second-year students June Hormell, Caro Rivera, Jack Winfrey, and Liam Veazey.