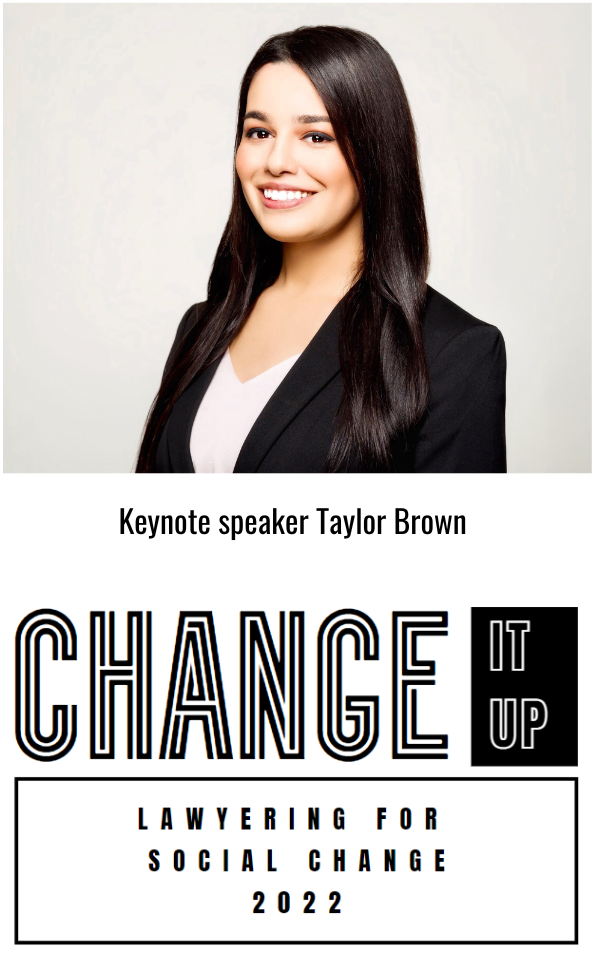 Change It Up! 2022
Location:
Jamail Pavilion, Eidman Courtroom, & Patman Family Plaza
Join us for an event for new and returning students exploring lawyering for social change, including an inspiring keynote, a clinician/alumni panel, and opportunities to connect with like-minded students, faculty, staff and attorneys. Lunches will be available beginning at 12:30. Formal program begins at 1:30.
Registration:
Register by 5pm on Monday, August 29 at https://changeitup2022.eventbrite.com.
Program:
12:30-1:30
Check in and lunch – Jamail Pavilion
Optional lunches with returning students starting at 12:30. Students will meet in Jamail Pavilion and break into small groups hosted by 2Ls and 3Ls.
1:30
Welcome and Keynote – Eidman Courtroom

Welcome: Alex Alberty '24
Dean's Welcome: Professor Robert M. Chesney
Introduction of Keynote Speaker: Julia Draper '24
Keynote: Taylor Brown, Staff Attorney, Lesbian, Gay, Bisexual, Transgender, Queer & HIV Project, Ruth Bader Ginsburg Center for Liberty, ACLU, New York, New York

2:30
Break
2:40 
Clinician/Alumni Panel – Eidman Courtroom
Recent graduates across a range of fields will be paired with c

linical faculty members with whom they worked closely. The graduates will discuss their paths through law school, including their clinical work, as well as how they participate in social change lawyering as attorneys. The faculty members will discuss their clinics and how they work with students.

Welcome: Mary Crouter, Clinical Professor, Assistant Director, William Wayne Justice Center
Introduction: Makenzie Stuard '24
Moderator: Frances Leos Martinez, Clinical Professor, Co-Director, Entrepreneurship and Community Development Clinic
Panelists:

Criminal Defense:

Luis Ortiz, Attorney, Criminal Defense Practice, Travis County Public Defender's Office, Austin
Chris Roberts, Clinical Professor, Director, Criminal Defense Clinic

Housing:
Immigration:

Closing

4:00
Reception – Patman Family Plaza
Featuring Maudie's Tex Mex! The reception will provide an opportunity to participate in three 10-minute rounds of structured conversation, providing students with the opportunity to engage with 2Ls, 3Ls, faculty and staff as well as casual mingling.
Additional Event Information:
Contact Information:
Liza Soria (Center Administrator/Event Organizer)
liza.soria@law.utexas.edu 
Cosponsors:
Bernard and Audre Rapoport Center for Human Rights, Budd Innocence Center, Capital Punishment Center, Career Services Office, and Chicano/Hispanic/Latino Law Students' Association
About the Keynote Speaker:
Taylor Brown is a staff attorney with the ACLU's Lesbian, Gay, Bisexual, Transgender, Queer and HIV Project in New York City. She litigates civil rights lawsuits across the country, to defend and expand the civil rights and liberties of LGBTQ+ people and all people living with HIV. Ms. Brown is also actively engaged in federal and state policy advocacy and stakeholder engagement.
Before joining the ACLU, Ms. Brown worked at Lambda Legal Defense and Education Fund ("Lambda"). She began her career there while in law school as a legal intern in the Transgender Rights Project. She later joined Lambda as a postgraduate fellow in Lambda's Atlanta office and then stayed on as a staff attorney.
Ms. Brown is a proud first-generation college student and first-generation law student and an openly Black transgender woman. Originally from Morganton, North Carolina, Ms. Brown attended the University of North Carolina at Chapel Hill and the Benjamin N. Cardozo School of Law. For more information, visit https://yphconsultingllc.com/person/taylor-brown/