On Friday, September 9, Texas Law held its tenth annual social justice orientation for new and returning students. Students founded Change It Up! in 2013 with the goal to assure public-interest oriented 1L students of the feasibility of their social justice aspirations and to introduce them to each other and to the people and programs at Texas Law that will help them get there. This year a team of law students led by Alex Alberty and Chloe Gossett, both '24, helped the Justice Center plan and organize the event, which included a program with a keynote and panel bookended by social activities.
Change It Up! 2022 featured a keynote address by Taylor Brown, a staff attorney with the ACLU's Lesbian, Gay, Bisexual, Transgender, Queer and HIV Project in New York City. Brown litigates civil rights lawsuits across the country to defend and expand the civil rights and liberties of LGBTQ+ people and people living with HIV. Brown, a first-generation college student, first-generation law student, and openly Black transgender woman, spoke about her fight against health care discrimination in college and law school and how her lived experience informs her current work. During her visit to Texas Law, Brown also met individually with students and had lunch with OUTLaw.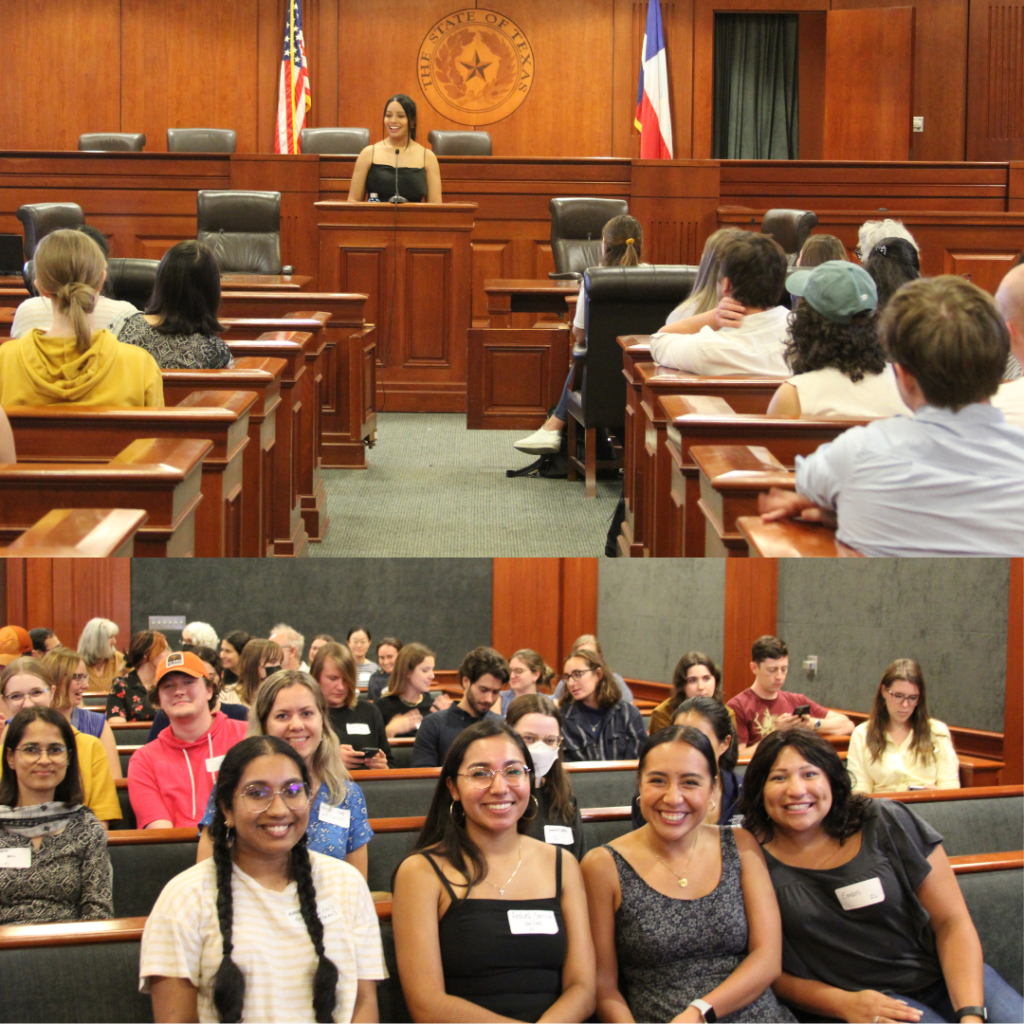 The panel featured three pairs of clinical professors and their former students across a range of fields: Nelson Mock of the Housing Clinic and Kelly Hogue '20, an attorney with Texas RioGrande Legal Aid in San Antonio; Chris Roberts of the  Criminal Defense Clinic and Luis Ortiz '18, an attorney with the Travis County Public Defender's Office in Austin; and Elissa Steglich of the Immigration Clinic and Cristina Cigarroa '13, an attorney with American Gateways in Austin. The panelists described their work and the recent graduates talked about their paths through law school. Frances Leos Martinez, co-director of the Entrepreneurship and Community Development Clinic, moderated.
"After two years of having this event virtually due to COVID, it was wonderful to host the 10th Change It Up in person again this fall," said Mary Crouter, assistant director of the Justice Center. "We are very grateful to the students who brought us the idea for Change It Up ten years ago and to the teams of students who have helped plan it each year since. The 2022 organizers included co-leads Alex and Chloe, along with 2Ls Julia Draper, Natalie Bayer, Allie McIntosh, Jared Schwartz, Makenzie Stuard, and Crystal Tran and 3L Zachary Kolodny. They did a great job."
In addition to the formal program, attendees had the opportunity to meet in small groups with second- and third-year students over lunch. The event concluded with an outdoor reception with faculty, staff, and attorneys.