Projects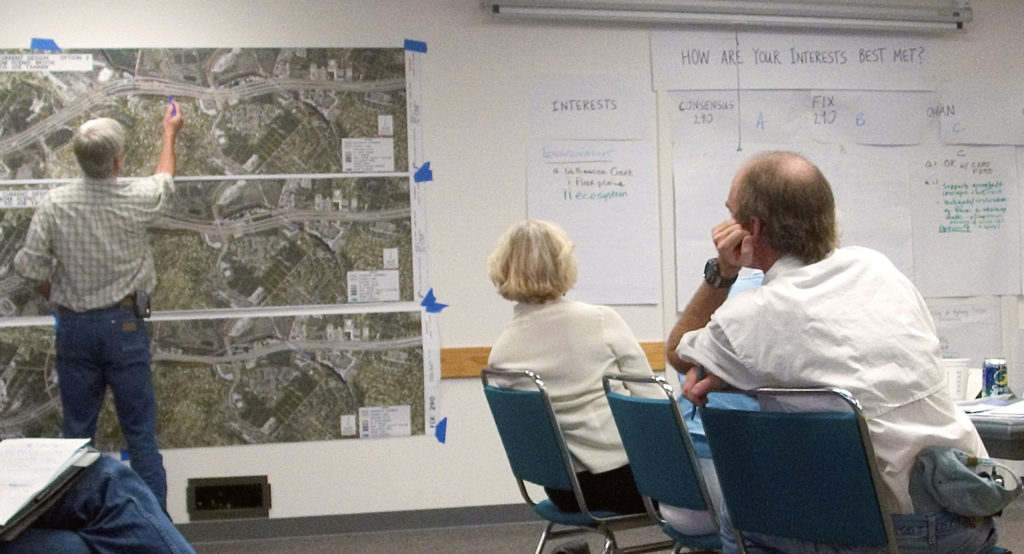 The Center has assisted numerous governmental entities and public-interest organizations plan, prepare, and implement processes for collaboration on and sometimes resolution of specific policy issues. The following are highlights of past projects:
Improving Austin Streams TMDL Implementation Plan
The Center facilitated development of an implementation plan to meet water quality parameters for bacteria in four Austin-area streams. The multi-year effort included formation of a stakeholder Coordination Committee with diverse representation, establishing goals for improving stream quality, expanding citizen and expert involvement through work groups, and adopting an implementation plan that was approved by Texas Commission on Environmental Quality. The Coordination Committee continues to implement and refine its plan. Learn more.
Texas Environmental Flows
Staff helped a 21-member Colorado-Lavaca rivers and bay and estuaries stakeholder group reach consensus on recommendations to the Texas Commission on Environmental Quality on environmental flow standards, and strategies to meet those standards, in a legislatively mandated process that included assessment of highly complex science and significant policy issues.
Pay-Day Lending
At the request of a legislator and Center Fellow, staff provided mediation services during the 2011 legislative session to address concerns with payday and auto title loans. The mediation included consumer advocates and industry representatives who negotiated amendments to filed legislation.
Texas Department of Insurance
Center staff met with Texas Department of Insurance Inspection Division and organized a facilitated dialogue between TDI and appointed engineers concerning the windstorm coverage inspection process. This dialogue was the basis for a review of revisions to rules on windstorm inspections.
Greensboro: Closer to the Truth Dialogues
Active Voice is an organization that uses film, television and multimedia to spark social change. It provided the Center with the opportunity to show Adam Zucker's film, Greensboro: Closer to the Truth that documents the first ever Truth and Reconciliation Commission of its kind held in the United States 25 years after what is now known as "The Greensboro Massacre." The Center sponsored a viewing of the film, a faculty panel, and facilitated dialogue for students on campus.
Texas Instream Flow Program
Staff designed and facilitated meetings to allow stakeholders to give input and come to agreement on design and implementation of scientific studies in three river basins with Texas Commission on Environmental Quality, Texas Parks and Wildlife Department and Texas Water Development Board.
Architects and Engineers
Staff provided mediation services over the period of several days to representatives of the Texas Board of Architectural Examiners and the Texas Board of Professional Engineers to address perennial issues over the demarcation and overlap concerning scope of work.
Groundwater Management Area 1 Mediation
Staff conducted a mediation among two entities protesting the GMA 1 desired future conditions and one of the GMA 1 districts, with the goal of determining whether facilitation among all districts in the GMA and protestants was possible. This course of action followed our presentation and discussion of the entire GMA as to whether mediation/facilitation of this matter was appropriate. The decision was made not to continue further efforts of the entire GMA at this time.