Bernard Rapoport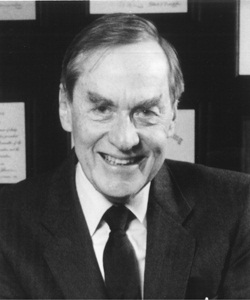 Bernard ("B") Rapoport lived a life dedicated to philanthropy, education, political activism, and human rights advocacy. His and Audre Rapoport's generous donation made possible the Rapoport Center for Human Rights and Justice, which seeks to pursue their vision of and dedication to social justice and academic inquiry.
Early Years: Family, Principles, and Education
On July 17, 1917, B Rapoport was born in San Antonio, Texas to Riva Feldman and David Rapoport, Jewish Russian immigrants who fostered, among other things, his understanding of poverty and immigration, his rigorous work ethic, his love of reading, his pursuit for the intellectual, and his passion for politics. B credits his own path to his parents' experiences and lessons, saying, "During my Childhood, my father taught me Marxism and hard work. My mother taught me to love learning. To know these simple facts is to know much about who I am and why I have led my life the way I have."
In September of 1936 he began his studies in economics at the University of Texas at Austin where, as he likes to say, "my life really began." As B put it in a speech in 1987 recalling his undergraduate experience, "this darn University had some unbelievably fantastic professors like Montgomery and Hale and Ayres…I came here knowing positively that I knew the truth and then from this happy state, this institution called the University of Texas causes all this confusion." After graduation, B Rapoport never stopped giving back to his beloved alma mater.
Marriage, Work, and Political Action
After graduation, B moved to Wichita Falls and, while traveling through Waco, Texas, "serendipitously" met Audre Newman. After a short engagement, the two married in 1942 and began a life of political action together. Although they began with meager means, their philanthropic resources grew after B started American Life Insurance Company in 1951. The company focused on providing low-cost insurance policies to labor union members as a part of B's lifelong advocacy for workers' rights.
B had long been a supporter of the progressive and populist wings of the Democratic party. He actively financed and fundraised for those candidates he felt were most likely to make a positive difference on the local, state, and/or national community. Throughout B's political endeavors he noted that his contributions had not sought to buy policy, but instead to give him an opportunity to present his views of a better society. B spread his political support across the country. As he put it, "I am politically active in nearly every state because I care about the entire country."
Supporting Public Dialogue, Education, and Community Development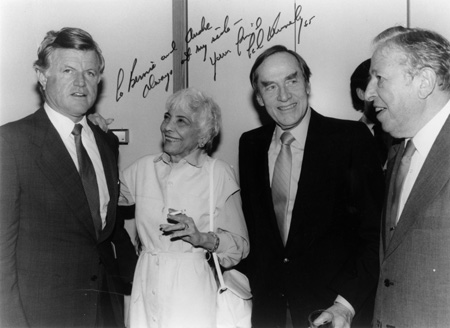 A strong proponent for the active role of critical and free voices, B Rapoport did not limit his support to politicians. He was, for example, a key contributor to the Texas Observer, a nonprofit news magazine founded in 1954 that is dedicated to covering issues underreported by mainstream Texas news outlets. Although B Rapoport confessed, "[T]he Observer has angered me [regarding specific issues] more times than I can remember," he continued to support the journal because he believed it "plays a fundamentally healthy role in the civic life of Texas. It has long been the state's leading journalistic advocate for social, economic, and racial justice."
B and Audre Rapoport established the Bernard and Audre Rapoport Foundation in 1986 to promote peace, justice, and education. According to the Foundation's website, it prioritizes programs that "have the broadest possible impact in meeting important human needs and aspirations, with an emphasis on the needs of the least advantaged members of society." To further those goals, the Foundation contributes to schools and youth programs in Waco, Texas. It funds scholarships for University of Texas students who enhance their academic pursuits with community service. Among the Foundation's myriad beneficiaries, community programs and political education initiatives cultivate participation and dialogue within communities in ways that are both sustainable and replicable. B and Audre's son, Ron Rapoport, currently chairs the Rapoport Foundation.
UT and the Rapoport Center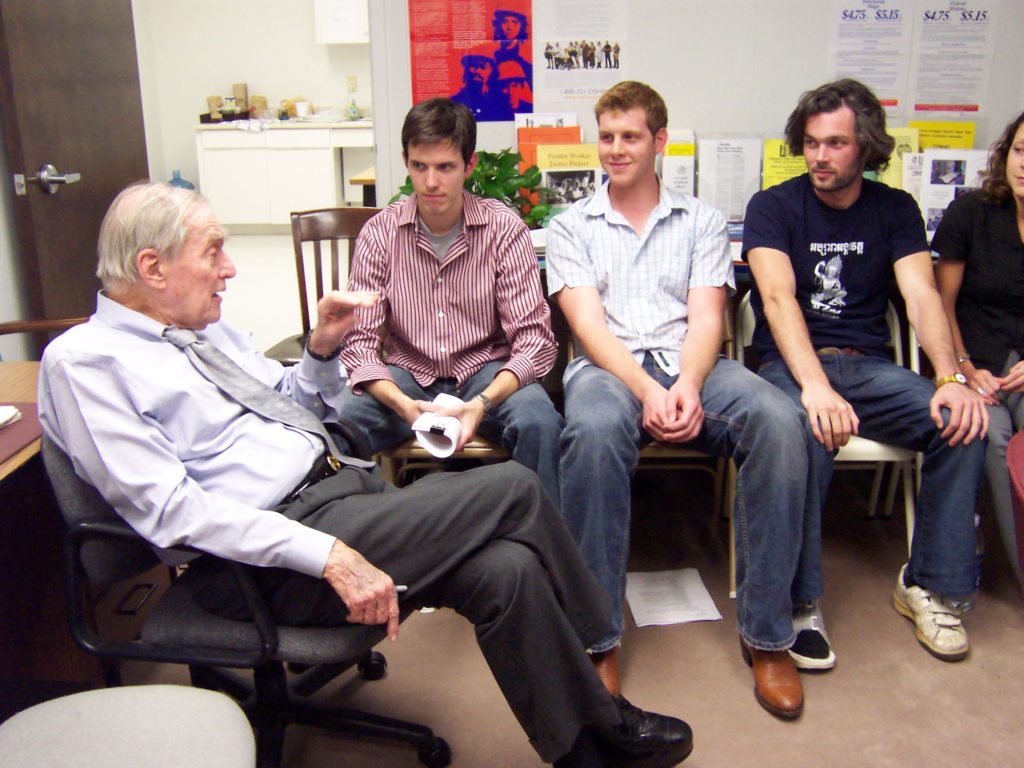 The University of Texas has long been a beneficiary of B's vision and support. From 1991 to 1997, B served on the University's Board of Regents and was Chairman from 1993-1997. During his tenure on the board, B helped implement numerous changes that increased the funding and efficiency of the University, which in turn enhanced the resources for students and faculty throughout the UT system. He also implemented programs to help public schools and increase opportunities for students in the earlier years of their education. The accomplishment he considers most substantive, however, was the creation of the South Texas-Border Initiative, a program that improved the accessibility of higher education for adolescents from the Rio Grande Valley and San Antonio.
B and Audre generously donated millions of dollars to the University of Texas over the years. The Rapoport Center is one of their legacies. With its mission to "serve as a focal point for critical, interdisciplinary analysis and practice of human rights and social justice." the Rapoport Center facilitates dialogue among academics, advocates and policymakers on pressing human rights and justice issues of our day. Its programs are uniquely interdisciplinary and regularly draw a large audience from inside and outside the law school. The Center also provides funding for students to engage in human rights advocacy by working with non-governmental and international organizations promoting social justice both locally and globally.
The Rapoport's passion for giving continues through their foundation as well as through their son, daughter-in-law, and two granddaughters. B's and Audre's political and social activism has influenced policymakers, academics, journalists, and other public figures all over the country. Though their influence was expansive, B Rapoport always sought opportunities to help others.  Always thinking of the greater good, B said, "I think I could contribute more and be more effective… I want to be a better citizen."
Bibliography
"Priorities," The Bernard and Audre Rapoport Foundation, http://rapoportfdn.org/who-we-are/ (last accessed January 25, 2016)
Rapoport, Bernard, as told to Don Carleton. Being Rapoport: Capitalist with a Conscience, 1st ed. Austin: The University of Texas Press, 2002. Print.
"Speech to University of Texas at Austin", 1987, Bernard Rapoport Papers, 1941-, Dolph Briscoe Center for American History, The University of Texas at Austin.
"Vision and History," The Texas Observer, http://www.texasobserver.org/about (last accessed April 18, 2011)
"Who We Are," The Bernard and Audre Rapoport Foundation, http://rapoportfdn.org/who-we-are/ (last accessed January 25, 2016)
Except where noted otherwise, all information is credited to Being Rapoport: Capitalist with a Conscience.